Latest News on Walter Slezak
Stage Credits
  [Broadway]
1958
Elliott Nash
  [Broadway]
1957
The Prince Regent of England
  [Broadway]
Original Broadway Production, 1954
Panisse
  [Broadway]
1953
Joseph
  [Broadway]
1941
Emil Onzain
  [Broadway]
1941
Performer
  [Broadway]
Original Broadway Production, 1938
Harry Mischka Szigetti
  [Broadway]
Original Broadway Production, 1935
Prof. Johann Volk
  [Broadway]
1934
Policeman
  [Broadway]
Original Broadway Production, 1932
Karl Reder (The Schoolmaster)</i>
Karl Reder
  [Broadway]
1930
Eric Molinar
  [Los Angeles]
LACLO Production, 1949
Performer
Stage
Performances
  [Broadway]
1958
Elliott Nash
  [Broadway]
1957
The Prince Regent of England
  [Broadway]
Original Broadway Production, 1954
Panisse
  [Broadway]
1953
Joseph
  [Broadway]
1941
Emil Onzain
  [Broadway]
1941
Performer
  [Broadway]
Original Broadway Production, 1938
Harry Mischka Szigetti
  [Broadway]
Original Broadway Production, 1935
Prof. Johann Volk
  [Broadway]
1934
Policeman
  [Broadway]
Original Broadway Production, 1932
Karl Reder (The Schoolmaster)</i>
Karl Reder
  [Broadway]
1930
Eric Molinar
  [Los Angeles]
LACLO Production, 1949
Performer
Walter Slezak Awards and Nominations
Tony Awards - 1955 - Best Performance by an Actor in a Leading Role in a Musical

Walter Slezak, Fanny
Walter Slezak News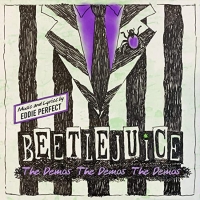 New and Upcoming Releases For the Week of November 2 - BEETLEJUICE Demos, First Song From THE PROM, and More!
by Stephi Wild - Nov 5, 2020
This week's list includes an album of demos from Beetlejuice the Musical, as well as the first single from the forthcoming film adaptation of The Prom. Plus, the first song from Andrew Lloyd Webber's production of Cinderella has been released.
THE RONALD REAGAN PICTURE SHOW Begins 8/25 at Museum of the Moving Image
by A.A. Cristi - Aug 16, 2017
The outstanding new CNN Films documentary The Reagan Show uses archival footage of President Ronald Reagan, much of it documented by U.S. Naval Photographic unit for the White House and maintained by the Ronald Reagan Presidential Library and Museum. The documentary has inspired a week-long film series at Museum of the Moving Image. The series The Ronald Reagan Picture Show, which runs August 25 through 30, includes a special screening of The Reagan Show (on August 30) followed by a discussion with filmmakers Sierra Pettengill and Pacho Velez, CNN senior media correspondent and host of Reliable Sources Brian Stelter, and presidential historian Tim Naftali. During the weekend prior to this screening, the Museum will present rare screenings of some of Ronald Reagan's most memorable film roles, all presented in 35mm.  
The Adobe Theater to Present MY THREE ANGELS
by Ashlee Latimer - Oct 22, 2016
The Adobe Theater is presenting the delightfully offbeat Christmas comedy My Three Angels from December 1st through the 18th, 2016. Written by the husband and wife team of Samuel Spewack and Bella Spewack from the French play "La Cuisine des Anges" by Albert Husson, My Three Angels opened on Broadway on March 11th, 1953, directed by Jose Ferrer and starring Walter Slezak, Jerome Cowan, and Darren McGavin as the "Angels," and ran for 344 performances. It was brought to the big screen in 1955 as We're No Angels, with Michael Curtiz directing, and Humphrey Bogart, Peter Ustinov, and Aldo Ray as the three unlikely heroes.
Kurt Weill's VIEL LÄRM UM NICHTS feiert Europa Premiere an der Staatsoperette Dresden
by Iris Moebius - Oct 25, 2013
Mit "Viel Larm um Liebe" ("The Firebrand of Florence") hebt die Staatsoperette Dresden einen Schatz aus der amerikanischen Schaffensperiode von Kurt Weill. Als Vorlage fur diese 1945 am Broadway uraufgefuhrte Operette diente das 1924 entstandene Schauspiel "The Firebrand" von Edwin Justus Mayer uber die amourosen Eskapaden des Bildhauers und Goldschmieds Benvenuto Cellini:
BWW Reviews: Encore Dinner Theatre Has a FIDDLER ON THE ROOF
by Don Grigware - Sep 17, 2013
Now onstage at Encore Dinner Theatre in Tustin, Fiddler is a beautiful reminder of the true meaning of family and making one's way through life's shaky journey. This production, directed by Michael Lopez, is lovingly conceived from top to bottom.
Utah Star of Broadway Dies at 86
by Blair Howell - Mar 17, 2012
Melva Niles Barborka, a Broadway leading lady, passed away on March 12 in South Jordan, Utah. She succumbed to chronic inflammatory demyelinating polyneuropathy, a neurological disease, at age 86. As Melva Niles, she stared in the Broadway runs "Song of Norway" and "Magdalena," creating the role of Solis.
BWW Interviews: Florence Henderson
by Joseph F. Panarello - Feb 5, 2010
It's hard to pinpoint the exact moment when Florence Henderson became a household name. It was certainly through the media of television, but was it her numerous appearances on the then-popular variety shows? Perhaps it was because of the proliferation of commercials she did for Polident and Wesson Oil; the latter in which she helped coin the phrase 'Wessonality'. Obviously her long stint as Mrs. Carol Brady in 'The Brady Bunch' played a major role in her becoming not only a name people easily recognized, but a talent that has genuinely been appreciated by different generations down through the years.
Walter Slezak Frequently Asked Questions
How many Broadway shows has Walter Slezak been in?
Walter Slezak has appeared on Broadway in 11 shows.
How many West End shows has Walter Slezak been in?
Walter Slezak has not appeared in the West End
What awards has Walter Slezak been nominated for?
Best Performance by an Actor in a Leading Role in a Musical (Tony Awards) for Fanny .
What awards has Walter Slezak won?
Best Performance by an Actor in a Leading Role in a Musical (Tony Awards) for Fanny.