Latest News on Viggo Mortenson
Viggo Mortenson News
New York Talent Manager Bill Treusch Has Passed Away
by Chloe Rabinowitz - Nov 16, 2022
Esteemed New York talent manager Bill Treusch died following a long illness on Tuesday, November 15th in New York City. Born March 16, 1942, Bill lived his life in New York City.  Bill was a beloved brother, uncle, manager, mentor, and friend wholeaves behind a wonderfully eclectic group of friends and colleagues.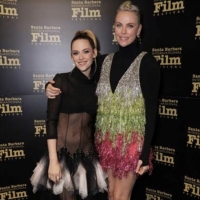 Kristen Stewart Wins The American Riviera Award at the Santa Barbara International Film Festival
by Marissa Tomeo - Mar 5, 2022
Day 3 of the 37th Annual Santa Barbara International Film Festival presented by UGG concluded with a live tribute to Kristen Stewart, who received the American Riviera Award. Stewart was honored at an in-person conversation about her career leading up to this year's performance as Princess Diana in Pablo Larraín's SPENCER from NEON.
Renee Zellweger to be Honored by Santa Barbara International Film Festival
by Kaitlin Milligan - Oct 8, 2019
The Santa Barbara International Film Festival announced today that Renée Zellweger is set to receive the illustrious American Riviera Award in January 2020. Zellweger will be recognized for her many attributes to the art of film over the years, and most recently, her work as Judy Garland in LD Entertainment and Roadside Attractions' JUDY. The tribute will take place at the historic Arlington Theatre during the 35th Santa Barbara International Film Festival.
Jim Klock Must Save His Family In SyFy's New Shark Thriller SANTA JAWS
by Julie Musbach - Aug 8, 2018
Actor Jim Klock (Alex & Me, Cloak & Dagger) is on a mission to save his family in the new sci-fi thriller movie, SANTA JAWS, premiering on the SyFy Network as part of Sharknado Week on August 14th.

Linda Cardellini, Matt Dillon, Kyle Maclachlan And Kathrine Narducci Join Tom Hardy In FONZO
by A.A. Cristi - Mar 16, 2018
BRON announced today that Linda Cardellini, Academy Award nominee Matt Dillon, Golden Globe winner Kyle MacLachlan and Kathrine Narducci will join Academy Award nominee Tom Hardy in the Al Capone bio-pic Fonzo, written and to be directed by Josh Trank (Chronicle).
Miramax Names Daniel Pipski Vice President, Television
by Caryn Robbins - Jun 19, 2014
Global film and television studio Miramax today announced that Daniel Pipski has joined the company in the newly created position of Vice President, Television, effective immediately.
HITCHCOCK, LIFE OF PI Among AFI FESTIVAL's Gala Lineup
by Caryn Robbins - Oct 11, 2012
The American Film Institute's annual festival announced the line up for its Centerpiece Galas today. Featured in the top spots will be Ang Lee's Life Of Pi, Walter Salles' On The Road, DreamWorks Animation's Rise Of The Guardians and Jacques Audiard's Rust And Bone starring Marion Cotillard. Also included will be the world premiere of HITCHCOCK, starring Anthony Hopkins in the title role.
Photo Coverage: The 2012 Genie Awards!
by Kelly Cameron - Mar 12, 2012
The 2012 Genie Awards were handed out last Thursday in Toronto, celebrating the best in Canadian film and television. Many stars were on hand, including Viggo Mortensen (showing some major support for the Montreal Canadiens) and Jason Priestly. Hosted by George Strombolopolous, the night was filled with fun and recognition for the great work Canadians are doing in film. BWW was thrilled to be on hand to capture photos of the event.