Latest News on Troy Bruchwalski
Troy Bruchwalski News
BWW Review: GRUMPY OLD MEN at Dutch Apple Dinner Theatre
by Rich Mehrenberg - Feb 20, 2020
One of the Act 1 numbers in Grumpy Old Men the Musical is titled, 'I Like The Way Things Are'. The lyrics deal with a dislike for change and a strong appreciation for 'the good old days'. This message could also extend to the musical itself. The show is based on the very funny and very popular 1993 movie of the same name starring Jack Lemmon, Walter Matthau, and Ann-Margret. It begs the question, why mess with success?
BWW Review: SOUNDS OF CHRISTMAS at Broadway Palm Dinner Theatre is Musical and Merry!
by Emily Yorgey - Nov 26, 2019
SOUNDS OF CHRISTMAS at Broadway Palm Dinner Theatre, created, directed, and choreographed by Amy Marie McCleary, tells a new yet still very nostalgic Christmas story. 
Celebrate The Season With SOUNDS OF CHRISTMAS At Broadway Palm!
by A.A. Cristi - Nov 21, 2019
Broadway Palm proudly presents Sounds of Christmas playing now through December 25, 2019. Bring your family and friends as we celebrate the season with festive production numbers, beautiful dancing and dazzling costumes!
BWW Previews: MIDLANDS THEATRE ROUNDUP in Columbia, SC 2/15 - Broadway in Columbia presents THE WIZARD OF OZ!
by Patrick Michael Kelly - Feb 15, 2019
USC and Village Square lower their curtains while Sumter opens BASKERVILLE and THE WIZARD OF OZ rolls through the Koger Center!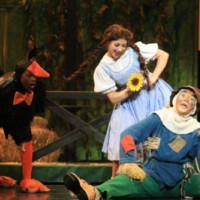 Photo Flash: First Look at THE WIZARD OF OZ At SPAHouston
by Stephi Wild - Feb 12, 2019
This magical production is a celebration of the 1939 MGM movie, and will be presented with breathtaking special effects that will sweep audiences away from the moment the tornado twists its way into Kansas. The national tour will play for two days only February 23- 24, 2019 at SPAHouston/Jones Hall.
THE WIZARD OF OZ Travels Over The Rainbow To Houston
by Julie Musbach - Jan 11, 2019
Society for the Performing Arts presents the greatest family musical of all time, THE WIZARD OF OZ. THE WIZARD OF OZ touches down in Houston at Jones Hall for the Performing Arts from February 23-24 for four shows.

Monty Python's SPAMALOT Launches New Tour in Vermont Next Week
by Stephi Wild - Oct 16, 2018
The Tony Award-winning best musical Monty Python's Spamalot is coming to a city near you!

BWW Review: SHOW BOAT at Dutch Apple Dinner Theater
by Rich Mehrenberg - Mar 24, 2018
Come see Show Boat at Dutch Apple Dinner Theater and stimulate your brain, heart, and stomach all in one night!
BWW Review: WHITE CHRISTMAS at Dutch Apple Dinner Theater
by Rich Mehrenberg - Nov 18, 2017
Dutch Apple's production of White Christmas is a great night of theater for those wishing for some nostalgic memories of holidays from long ago. Simply put, If the Ghost of Christmas Past had a favorite musical, this would be it.
The Exquisite Masterpiece PHANTOM Comes To Broadway Palm!
by A.A. Cristi - Dec 15, 2016
Broadway Palm is proud to present the exquisite masterpiece, Yeston and Kopit's Phantom, playing December 29, 2016 through February 11, 2017. From the Tony Award-winning team of Maury Yeston and Arthur Kopit who wrote Titanic, Grand Hotel and Nine comes Phantom in an epic and passionate tale of murder, intrigue and romance!