Latest News on Rowan Meyer
Rowan Meyer News
Photo Flash: Inside Opening Night Of ABNORMAL At Theatre Row, NYC
by Stephi Wild - Jan 20, 2020
ABNORMAL (a new play by Scott Miesse) presented by Tessa Faye Talent, along with co-producers Kevin Martinez (Off Broadway's THE OTHER JOSH COHEN), David Lambert (Broadway's A CHRISTMAS CAROL), Shawn Arani (Broadway's A CHRISTMAS CAROL), StavisFilm LLC , Doug Anning, Kirk Isenhour, Sarah Baum, and Jon Baum opened Friday, January 17th at Theatre Row, to a sold-out house.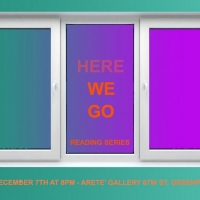 HERE WE GO Is Launching the First Reading Series
by Chloe Rabinowitz - Dec 3, 2019
HERE WE GO is launching the very first Reading Series, featuring 4 original plays at Areté Gallery in Greenpoint, Brooklyn.

Center For Performing Arts Of Bonita Springs Announces Line Up For Stage It! 2 Ten-Minute Play Festival
by Julie Musbach - Apr 12, 2018
Ten plays from the second annual Stage It! 10-Minute Play Festival will premiere at the Center for the Performing Arts of Bonita Springs Saturday and Sunday, April 28 and 29. The event in includes a Book Release Party to celebrate the publication of all the winners.

Village Playwrights Present Staged Reading of 10 Minute Plays
by Stephi Wild - Jan 21, 2018
The Village Playwrights presents Valentine's Gay -- Romance Our Way, a staged reading of 10 minutes plays on Wednesday February 14, 2018, 8 pm to 10 pm at the LGBT Community Center, 208 W. 13th St., NYC.

Spend Valentine's Day With Shakespeare's Greatest Lovers and One Horrible Monster at Bartell Theatre
by Stephi Wild - Jan 18, 2018
Madison Shakespeare Company announces the upcoming premiere of A Valentine's Affair: Love Scenes From Shakespeare, directed by Emily Morrison Weeks. The limited run opens February 13 at Capital Brewery in Middleton and closes February 14 at the Bartell Theatre in Madison.
THE ELEPHANT MAN Opens this Month at Gallery Players
by BWW News Desk - Oct 10, 2017
Following the sold-out run of Annie, Gallery Players continues their 51st season with the haunting and powerful play, The Elephant Man by Bernard Pomerance.
BEST OF PICK OF THE VINE to Showcase Best Short Plays from 15 Seasons at Little Fish Theatre
by BWW News Desk - Aug 4, 2017
In commemoration of its 15th anniversary, Little Fish Theatre will present Best of Pick of the Vine as the crown jewel in its already sparkling 2017 season.
PICK OF THE VINE Opens Tonight at Little Fish Theatre
by BWW News Desk - Jan 8, 2016
Little Fish Theatre today announced the first production of the 2016 season, the fourteenth annual PICK OF THE VINE, a collection of original short-subject plays that has become the signature production of this local arts landmark.
DON GRIGWARE Picks The BEST PRODUCTIONS AND PERFORMANCES in LOS ANGELES THEATRE for 2015
by Don Grigware - Dec 28, 2015
There are undoubtedly other productions worthy of merit in 2015 which I did not cover. This list is based only on what I saw and reviewed. (alphabetical listings; Equity, Equity-waiver & Non-Equity productions are mixed) (artists performing outside LA may be included in performance categories) No set, costume, or technical awards. I leave that to the bigger awards and to the expertise of those who really know those fields inside out.