Latest News on Rebecca Budig
Rebecca Budig News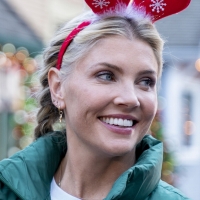 Interview: Amanda Kloots Talks Returning to Acting In FIT FOR CHRISTMAS
by Michael Major - Dec 2, 2022
Amanda Kloots stars in Fit For Christmas, the new CBS original holiday film, which she also co-created and executive produces. BroadwayWorld caught up with Kloots to discuss how the tragic loss of her husband, Nick Cordero, inspired her to create the film, why fitness should be a part of the holiday season, and if she would ever return to Broadway.
SESAME STREET, THE VIEW, and More Are Nominated for DAYTIME EMMYS - Full List!
by Kaitlin Milligan - May 21, 2020
The National Academy of Television Arts & Sciences (NATAS) today announced the nominees for the 47th Annual Daytime Emmy® Awards, which will be presented in a two-hour special on Friday, June 26 (8:00-10:00 PM, ET/PT) on the CBS Television Network.
GENERAL HOSPITAL Invites Fans Stars to Celebrate at First Official Convention
by A.A. Cristi - Jan 23, 2017
Television's most passionate fans will gather to celebrate the longest running American soap opera currently in production and the third longest American soap in American TV history, "General Hospital," MARCH 11-12, 2017, at the beautifully renovated Los Angeles Marriott Burbank Hotel Convention Center.
Drew Barrymore & More Turn Out for SAFE KIDS DAY
by Caryn Robbins - Apr 27, 2015
On Sunday afternoon, Safe Kids Worldwide hosted Safe Kids Day, presented by Nationwide, at The Lot in West Hollywood to raise awareness and funds to stop preventable injuries, the number one cause of death for children in the United States.
41st Annual Daytime Emmy Awards: Complete List of Winners
by BWW Special Coverage - Jun 23, 2014
Tonight was the 41st Annual Daytime Emmy Awards and the winners have been announced. It was a big night for The Young and the Restless, which took home 6 Emmys. CBS also managed to take home 8.
Photo Flash: Hayley Faith Negrin, June Lockhart and More at 41st Daytime Creative Arts Emmy Awards
by TV News Desk - Jun 22, 2014
On Friday, June 20th, the brightest stars of televisions below the line talent in Daytime gathered at the Bonaventure Hotel in Los Angeles to honor their own at the 41st Daytime Creative Arts EMMY Awards. Although many of the individuals associated with nominated projects may not have been household names, there were many recognizable personalities such as Ron Howard, George Lucas, Leeza Gibbons, Jack Hanna and even Cookie Monster (David Rudman). On hand to disperse awards to over 50 categories were such noted performers as Melody Thomas Scott, George Chakiris, Ashley Tisdale, Lauralee Bell and June Lockhart, who has started her 81st year as a paid actress that included her role of Maria Ramirez on General Hospital for many years. Scroll down for photos from the event!
2014 Daytime Entertainment Creative Arts Emmy Award Winners Announced!
by TV News Desk - Jun 21, 2014
Last night, June 20, The National Academy of Television Arts & Sciences (NATAS) announced the winners of the 41st Annual Daytime Entertainment Creative Arts Emmy Awards in a sold-out, grand gala for over 1,200 attendees at the Westin Bonaventure, in downtown Los Angeles. Scroll down for the full list of winners!
THE BETTER SHOW Hosts Nominated For Daytime Emmy Award
by Caryn Robbins - May 7, 2014
The Better Show, Meredith Videos Studios' nationally syndicated lifestyle talk show, is pleased to announce that its co-hosts, JD Roberto and Rebecca Budig, have been nominated for a Daytime Emmy Award
Rebecca Budig Videos
BWW TV: All My Children Stars Talks LA and ABC/SOAPnet Salutes BC/EFA
by Robert Diamond - Mar 11, 2010
Last week, the Beverly Center welcomed the cast of 'All My Children' to LA. Production of the show just moved to the west coast from New in January. BroadwayWorld's Audra Stafford spoke with some of the stars about what they miss most about New York ('everything') and what they're most enjoying about California ('the weather'). She also spoke with Cameron Mathison about the highly anticipated 6th Annual ABC Daytime and SOAPNet Salute to Broadway Cares benefit taking place at Town Hall in New York City on March 21, 2010.