Ray Rizzo Awards and Nominations
Drama Desk Awards - 2007 - Outstanding Music for a Play
Ray Rizzo, Essential Self-Defense
Ray Rizzo News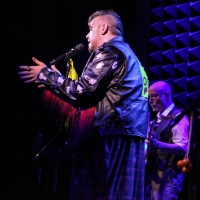 Review: Oso Is SoSo & NotSo Fabuloso At JoeJoe's In OSO FABULOSO AND THE BEAR BACKS At Joe's Pub
by Bobby Patrick - Jun 25, 2022
The one reason to have seen OSO FABULOSO AND THE BEAR BACKS was and will remain C. Julian Jiménez, and while that might be a very good reason, given his talent, we hope our next experience of this Beary gifted performer will have more heft.
OSO FABULOSO AND THE BEAR BACKS! to be Presented at Joe's Pub for Pride
by Chloe Rabinowitz - May 31, 2022
INTAR and Radio Drama Network announced today that Joe's Pub at the Public (425 Lafayette Street, NYC), will present a return Pride 2022 engagement of their musical, ¡Oso Fabuloso & The Bear Backs!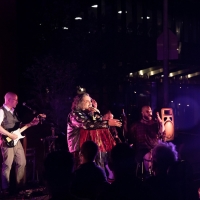 Oso Fabuloso And The Bear Backs Come To Joe's Pub In March
by Stephi Wild - Jan 31, 2022
INTAR (Paul Slee Rodriguez, Executive Director, Lou Moreno, Artistic Director, Nidia Medina, Artistic Producer) and Radio Drama Network announced today that Joe's Pub will present the new musical, ¡Oso Fabuloso & The Bear Backs!.
OSO FABULOSO AND THE BEAR BACKS! to be Presented at The McKittrick Hotel
by Chloe Rabinowitz - Nov 12, 2021
INTAR and Radio Drama Network announced today that The McKittrick Hotel (530 West 27th Street, NYC), will present a late-night residency of their new musical, ¡Oso Fabuloso & The Bear Backs!
Off-Broadway's INTAR Announces Return to Live Performances With OSO FABULOSO & THE BEAR BACKS!
by Chloe Rabinowitz - Jun 3, 2021
INTAR announced today that the Off-Broadway theater company is back on the boards and will present the new musical, Oso Fabuloso & The Bear Backs!. Performances begin this Saturday, June 5 on an outdoor stage in front of the theater at 500 West 52nd Street (just West of 10th Avenue).
Rhett Miller's New Solo Album Out Today
by Tori Hartshorn - Nov 9, 2018
ATO is excited to announce that Rhett Miller's new solo album, THE MESSENGER, is out today. Recorded earlier this year over five days at The Isokon in Woodstock, NY with producer/musician Sam Cohen (Kevin Morby, Benjamin Booker), THE MESSENGER sees Miller playing it faster and looser than perhaps any other time in his quarter century career, instilling what might be his most personal songs to date with a groovy limberness that belies the reflective darkness within. Backed by a white hot backing combo comprised of Cohen (Electric & Acoustic Guitars, Pedal Steel Guitar, Piano, Organ, Second Drumset), Brian Betancourt (Bass), and Ray Rizzo (Drums), Miller goes deep into his own youthful experiences with suicide and depression, placing 'a long distance phone call to myself as a 14-year-old' on surprisingly buoyant new songs like 'The Human Condition' and 'Permanent Damage.' Miller has also teamed with Caldecott Medalist and bestselling artist Dan Santat for No More Poems, a riotous collection of irreverent poems for modern families to be published March 5, 2019 by Little, Brown Books For Young Readers.
Old 97's Release Holiday Album & Rhett Miller Releases Solo Album
by Sarah Jae Leiber - Sep 20, 2018
The Old 97's are excited to announce the release of their first ever collection of original Christmas songs, LOVE THE HOLIDAYS. Out Friday, November 16 via ATO, the album was produced, mixed & engineered by John Pedigo in the band's home state of Texas. The LP presents a sack full of rockin' new Yuletide favorites, as well as Old 97's take on the New Year's Eve standard, 'Auld Lang Syne.' Among its many highlights are the title track, co-written with Kevin Russell (The Gourds, Shinyribs), 'Gotta Love Being A Kid (Merry Christmas)' and 'Snow Angels,' both co-written with acclaimed writer Ben Greenman, and the continuing saga of everyone's favorite reindeer, 'Rudolph Is Blue,' co-written by Old 97's and Dan Bern.

BWW Review: Justin Vivian Bond Colors Outside the Lines with BOYS IN THE TREES at Joe's Pub
by Troy Frisby - May 8, 2018
In Bond's latest show, BOYS IN THE TREES, the performer seems particularly interested in exploring what happens when one colors outside prescribed lines of gender---masculinity, in particular---primarily performing songs by men who did just that.
Josh Ritter Set To Debut At Nashville's Ryman Auditorium with Sold Out Show Tonight
by Macon Prickett - Feb 16, 2018
Currently celebrating 20 years of making music, Josh Ritter will made his debut at Nashville's historic Ryman Auditorium with a sold out show tonight. The performance is in support of his critically acclaimed new album, Gathering, out now via Pytheas Recordings/Thirty Tigers.

Josh Ritter Debuts New Single 'Miles Away' + Extensive Winter Tour Dates
by Caryn Robbins - Jan 9, 2018
'Miles Away,' a new stand-alone single from acclaimed artist Josh Ritter, debuts today-listen here:http://spoti.fi/2CIcbts.
Ray Rizzo Videos
BWW TV: First Look at Highlights of Barrow Street Theatre's HIT THE WALL
by BroadwayWorld TV - Mar 11, 2013
Producers Scott Morfee, Jean Doumanian and Tom Wirtshafter present the New York premiere of the new play, Hit The Wall by Ike Holter, a theatrical exploration of the first night of the 1969 Stonewall Riots, at the Barrow Street Theatre. Directed by Eric Hoff, with original music & music supervision by Dan Lipton, Hit The Wall opens Sunday, March 10, 2013. Tickets for the production are now on sale.
Ray Rizzo Frequently Asked Questions
What awards has Ray Rizzo been nominated for?
Outstanding Music for a Play (Drama Desk Awards) for Essential Self-Defense .