Latest News on Patricia Kelly
Stage Credits
  [Broadway]
Original Broadway Production, 1968
Mrs. Heink
  [Broadway]
Original Broadway Production, 1964
Cookie, nurse, deputy, townsperson, pilgrim, tourist
  [Broadway]
Original Broadway Production, 1960
Grand Duchess Marie Nicholaiovna
Singer
The Grand Duchess Marie Nicholaiovna
Mrs. McGlone (Understudy)
  [Broadway]
Original Broadway Production, 1959
Ensemble
Patricia Kelly News
Photos: First Look At The World Premiere Of SEVEN DAYS AT SEA, Now Playing Through June 5 At The Edge Theater
by A.A. Cristi - May 19, 2022
Light and Sound Productions has announced the world premiere of Seven Days at Sea, written by Martha Hansen and directed by Margaret Knapp, now playing through June 5, at The Edge Theater.
Light And Sound Productions Presents The World Premiere Of SEVEN DAYS AT SEA At The Edge Theater
by A.A. Cristi - Apr 19, 2022
Light and Sound Productions has announced the world premiere of Seven Days at Sea, written by Martha Hansen and directed by Margaret Knapp, May 19 - June 5, at The Edge Theater.
Photos: The Hollywood Museum Re-Opens with A Tribute to Ruta Lee
by A.A. Cristi - Jul 7, 2021
The 1st Event In over a year at the Historic Hollywood Landmark Founder/President, Donelle Dadigan and The Hollywood Museum created what can only be described as a first class who's who celebration for friend and museum supporter Ruta Lee, 'the first of what we hope will be many events back at the Museum,' says Ms Dadigan.
Virtual Theatre This Weekend: March 27-28- with Ashley Spencer, Kara Lindsay and More!
by Nicole Rosky - Mar 27, 2021
Broadway might be dark, but that doesn't mean that theatre isn't happening everywhere! Below, check out where you can get your daily fix of Broadway this weekend, March 27-28, 2021.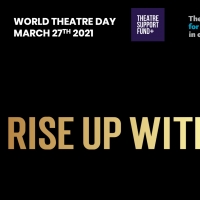 Aaron Tveit, Kerry Ellis & More Will Take Part in RISE UP WITH ARTS Benefit
by Nicole Rosky - Feb 22, 2021
Rise Up With Arts is a global, virtual event, celebrating the magical connection and transformative power of musical theatre, dance and inspirational stories. The virtual event will unite artists from every part of the industry to inspire, empower and raise money for charity Theatre Support Fund+ and Actors Fund.
Bristol's Spiegeltent Presents SINGIN' IN THE RAIN
by Kaitlin Milligan - Dec 5, 2019
A fantastic 'cinematic experience' of Singin' In the Rain will be taking place at Bristol's Spiegeltent as part of the BFI Musicals tour on 18th December.
GENE KELLY: THE LEGACY Comes to QPAC
by Stephi Wild - Oct 17, 2019
Patricia Ward Kelly, wife and biographer of the late Hollywood legend Gene Kelly, will bring her acclaimed show Gene Kelly: The Legacy to Australia for the first time in February 2020.

BWW Review: THE JOHN WILSON ORCHESTRA: AT THE MOVIES, Brighton Dome
by Fiona Scott - Dec 9, 2018
The dazzling orchestra are travelling around the UK with their new At the Movies concert tour, packed full of classic film scores.
Photo Flash: MEMPHIS Makes Rock and Roll History in Kick-Off to MCCC's Kelsey Theatre Season
by A.A. Cristi - Aug 21, 2017
The curtain goes up on a new season at Mercer County Community College's (MCCC's) Kelsey Theatre with "Memphis." Presented by PinnWorth Productions, this hit Broadway musical offers up a dramatized account of the roots of rock and roll and radio's role in embracing the new sounds that transformed the country. Dates and show times are: Fridays, Sept. 8 and 15 at 8 p.m.; Saturdays, Sept. 9 and 16 at 8 p.m.; and Sundays, Sept. 10 and 17 at 2 p.m. Kelsey Theatre is located on the college's West Windsor Campus, 1200 Old Trenton Road. A reception with the cast and crew follows the opening night performance on Sept. 8.
Phoenix Productions to Present BEAUTY AND THE BEAST
by A.A. Cristi - Apr 18, 2017
This classic story of everlasting love tells of Belle, a young woman in a provincial town who doesn't quite fit in, and the Beast, an arrogant young prince trapped under the spell of an enchantress. If the Beast can learn to love and be loved, the curse will cease,and he will be transformed into his former self -- however, if time runs out, his castle and everyone inside will be doomed for all eternity. This 'tale as old as time' offers a great opportunity to bring your entire community together for family theatre at its best!
Patricia Kelly Frequently Asked Questions
How many Broadway shows has Patricia Kelly been in?
Patricia Kelly has appeared on Broadway in 4 shows.
How many West End shows has Patricia Kelly been in?
Patricia Kelly has not appeared in the West End