Latest News on Matt Krieg
Photos
A British lieutenant (Carter Bratton) threatens to shoot a sergeant (Matt Krieg) for fraternizing with the enemy. (Photo by Mikki Schaffner)
From: 
Date:
12/15/2014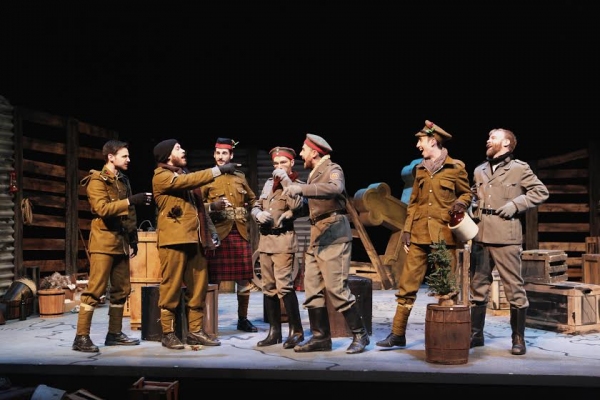 British and German soldiers celebrate Christmas. Left to right: Jared Earland, Aaron Epstein, Matt Krieg, Michael Gettinger, Patrick McWillilams, Jack Manion, Jeffrey K. Miller. (Photo by Mikki Schaffner)
From: 
Date:
12/15/2014
Matt Krieg News

Laughter is on the Menu at NKU's Commonwealth Theatre
by Julie Musbach - May 15, 2019
Commonwealth Theatre Company at Northern Kentucky University's School of the Arts is proud to present the Noel Coward comedy of FALLEN ANGELS, and the farewell production of CHURCH GIRLS: THE MUSICAL. A buffet dinner will be served in the NKU SOTA Art Gallery with performances taking place in the NKU Robert & Rosemary Stauss Theatre.

FIVE WOMEN WEARING THE SAME DRESS Now Open at Incline
by Julie Musbach - Jan 26, 2018
During an ostentatious wedding reception at a Knoxville estate, five reluctant, identically clad bridesmaids hide out in an upstairs bedroom, each with her own reason to avoid the proceedings below.

The Children's Theatre of Cincinnati's PETER PAN JR. Opens This October!
by A.A. Cristi - Sep 20, 2017
The Children's Theatre of Cincinnati presents PETER PAN JR. October 21-30, 2017 at the Taft Theatre. Based on J.M. Barrie's enchanting play, Peter Pan, or The Boy Who Wouldn't Grow Up, Peter Pan JR. is a modern version of the timeless tale about the adventures of a mischievous boy. This is the first production in TCT's 2017-2018 MainStage season at the Taft Theatre.
CELEBRATION Opening at ABET
by BWW News Desk - Jan 3, 2017
On a magical New Year's Eve, a young Orphan stumbles into the home of the richest man in the world, whose bizarre entourage includes a beautiful fallen Angel.