Latest News on Laura Louie:
Latest News on Laura Louie
Laura Louie News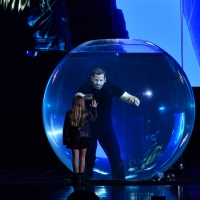 Photos: Inside Opening Night of DAVID BLAINE: IN SPADES at the Resorts World Theatre
by Blair Ingenthron - Oct 2, 2022
Magician, extreme illusionist and stunt artist, David Blaine, debuted his first-ever residency, DAVID BLAINE: IN SPADES, at the Resorts World Theatre in Las Vegas. Blaine mesmerized the sold-out crowd with never-before-seen acts, awe-inspiring illusions and death-defying stunts. Check out a look inside the opening night festivities below!
Photo Coverage: Oscar Arrivals - Part 2
by Jessica Lewis - Mar 8, 2010
Last Night, March 7, stars from all over the world came out for the 82nd Annual Academy Awards Ceremony at the Kodak Theatre in Hollywood California. 'The Hurt Locker' won Best Picture and the film's director Kathryn Bigelow took home the award for Best Director. Jeff Bridges took home the Oscar for Best Actor for his work in 'Crazy Heart', Sandra Bullock won Best Actress for 'The Blind Side', Christoph Waltz took home Best Supporting Actor for 'Inglourious Basterds' and Mo'Niqe garnered the award for Best Supporting Actress for her role in 'Precious'.