Latest News on Jenny Worton
Jenny Worton News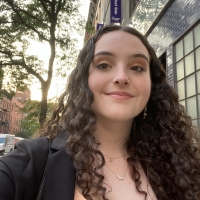 Student Blog: Have You Heard of A Dramaturg?
by Student Blogger: Grace Cutler - Sep 14, 2021
I highly recommend that those who enjoy history, english, and theater, work as a dramaturg. This is a more scholarly part of the theatrical process and it aids the storytelling unlike anything else. Dramaturgs live in the world of the play from the production's beginning to its end and work from the perspective of the audience as well as the actors. Though an often overlooked and unknown part of a production team, a dramaturg's work greatly aids the rehearsal process and telling of the for the actors and audience.
Cast Announced For EVERYWOMAN at the Bunker
by Stephi Wild - Feb 7, 2020
Imy Wyatt Corner today announces Jade Williams will perform Everywoman. The one-woman show, directed by Amelia Sears and written anonymously, opens on 18 February, with previews from 17 February and runs until 22 February.

Simon Stephens' ON THE SHORE OF THE WIDE WORLD Opens Tonight at the Atlantic
by BWW News Desk - Sep 12, 2017
Atlantic Theater Company presents the New York premiere of Tony and Olivier Award winner Simon Stephens' (Harper Regan, The Curious Incident of the Dog in the Night-Time) Olivier Award winning play On the Shore of the Wide World, directed by Neil Pepe (Marie and Rosetta, Hands on a Hardbody).

Qui Nguyen and Lloyd Suh Among Playwrights for ASIAN AMERICAN MIXFEST at the Atlantic
by BWW News Desk - Aug 9, 2017
Atlantic Theater Company will present Asian American Mixfest, a series of free readings co-produced by playwrights Lloyd Suh and Qui Nguyen that will run Today, August 9 through Thursday, August 17 at Atlantic Stage 2 (330 West 16th Street).
ANIMAL, Starring Rebecca Hall, Extends at the Atlantic
by BWW News Desk - Jun 2, 2017
Atlantic Theater Company has announced that the New York premiere play Animal by Clare Lizzimore (Mint) and directed by Gaye Taylor Upchurch (Harper Regan, Bluebird) has been extended an additional week through Sunday, July 2 in advance of officially opening next Tuesday, June 6.
Jenny Worton Frequently Asked Questions
How many shows has Jenny Worton written?
Jenny Worton has written 1 shows including Through a Glass Darkly (Adaptor).