Latest News on Henry Nemo
Stage Credits
Productions
[Broadway, 1959]
Composer
Writing
Composer
Lyricist
Lyricist
Henry Nemo News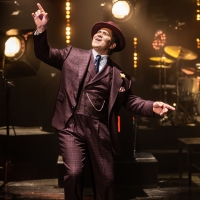 Christopher Jackson to Star in AFTER MIDNIGHT at Signature Theatre
by Chloe Rabinowitz - Mar 30, 2021
Signature Theatre has announced the full cast and creative team for After Midnight, the fourth production in the Signature Features 2021 Season. Featuring a cast of 12, headlined by Christopher Jackson and Nova Y. Payton, After Midnight showcases 28 of the big band era's most famous songs, all framed by the poetry of Langston Hughes. 
BWW Review: AARON AKINS Goes Smoothly INTO THE COLE at E Spot Lounge
by Don Grigware - Oct 26, 2015
On Friday October 23 at the E-Spot Lounge upstairs at Vitello's, jazz, soul, R&B singer Aaron Akins delivered his striking Into the Cole show in honor of the music of legendary Nat King Cole. It is so rich to hear someone that can replicate with such class the smooth, distinctive, unforgettable sound of Nat King Cole. I came early and was seated during sound check. Akins was so nice, asking if we could hear everything OK. This is a performer who cares about his audience. Like Cole himself, he is there to sing for you. Even during the actual set, he asked the sound/light man several times to dim the lights onstage so he could see beyond the footlights. 'I like to see my audience!' A really warm, engaging performer!
Ryan Greer & John Feliciano To Play The Metropolitan Room, 10/11
by Patrick Nugent - Sep 28, 2012
Vocalist Ryan Greer teams with bandmate John Feliciano on upright for a standard-bending collaboration between voice and bass. Ryan and John spark a solid chemistry with their imaginative interplay on classic jazz compositions. The performance will take place on Thursday, October 11th at 9:30 pm at The Metropolitan Room.
Henry Nemo Frequently Asked Questions
How many shows has Henry Nemo written?
Henry Nemo has written 2 shows including Cotton Club Parade (Lyricist), After Midnight (Composer).