Latest News on Ernie Anastos
Ernie Anastos News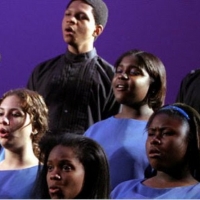 Brooklyn Youth Chorus To Perform At Brooklyn Borough President's Tree Lighting and Holiday Shows
by A.A. Cristi - Dec 5, 2019
The GRAMMY Award-winning Brooklyn Youth Chorus---recently featured in the New York Times, on The Tonight Show with Jimmy Fallon, on Jimmy Kimmel Live, and on Fox 5 News at Six with Ernie Anastos---performs four free/cheap shows for the home borough this holiday season next week. Locals can catch the starry Chorus for free at the Brooklyn Borough President's Tree Lighting (Dec. 11 at 5:15p), and with affordable tickets to three concert programs at Co-Cathedral of St. Joseph with Holiday Harmonies (Dec. 13th at 7:30pm and Dec. 14th at 2:30pm), as well as Winter's Eve (Dec. 14th at 7:30pm). The 28-year-old Brooklyn institution draws 7-17 year old singers from all five boroughs, and has established a national profile as the go-to youth choir for classical, pop, theatrical, and out-of-the-box collaborations with A-list artists and institutions like Bon Iver, The National, Beyonce & Jay-Z, Barbra Streisand, Elton John, the New York Philharmonic, Nico Muhly, and Caroline Shaw.

American Composers Orchestra Announces 2019 Gala Honorees
by Kaitlin Milligan - Jan 17, 2019
 On Wednesday, March 20, 2019, American Composers Orchestra (ACO) celebrates four individuals - true forces of nature - who have effected change in the American musical landscape at its annual Gala: Jon Deak, Founder & Artistic Director of New York Philharmonic's Very Young Composers; violinist Jennifer Koh; composer and conductor Tania Leon; and Frederick Wertheim, ACO Board Chairman. 
Photo Coverage: Steve Tyrell, Cady Huffman, Haley Swindal & Others at Will & Anthony Nunziata Friars Birthday Bash
by Stephen Sorokoff - Nov 27, 2018
Do you want to have the best birthday party ever? First…. be talented and admired entertainers who have lots of talented friends. Then, have many adoring fans and a large loving family. Next, have Sunny Sessa and Craig Neier create and produce your celebration at the Friars Club. The Friars Club which is the ground zero gathering place for show business folks and one of a kind events (most recent the Billy Crystal Icon Award Gala) hosted Will & Anthony Nunziata's Birthday Bash last night and here is a look inside the celebration.
Photo Coverage: Dean Larry King at His Table as The Friars Club Salutes Le Cirque
by Stephen Sorokoff - May 10, 2018
Last night the show at the Friars Club was all about the food and two legendary kitchens united to create a culinary event that got a four star rating and standing ovation from the audience. The lore, lure and legacy of Le Cirque was celebrated at the club and a classic four course dinner prepared under the direction of Le Cirque chef and CEO/owner Mauro Maccioni.
Photo Coverage: Olympia Dukakis & Tony Danza at Doodle for Hunger Gala
by Stephen Sorokoff - Nov 4, 2016
Tony Danza performed, and Olympia Dukakis was the guest of honor last night at the 27th annual charity event 'Doodle for Hunger' for the benefit of St. Francis Food Pantries and Shelters.  The evening was hosted by Fox News Anchor Ernie Anattos, and the celebrity auctioneer was Tony Lo Bianco. 
MSG Network Leads New York Emmy Award Nominations
by Sarah Moore - Feb 18, 2011
MSG Network received a whopping 60 nominations Thursday for the 54th Annual New York Emmy Awards. Among the other regional sports networks, the YES Network notched 46 nominations, while MSG Varsity picked up 32 nods. SNY was recognized 23 times.