Latest News on Dane Van Brocklin
Dane Van Brocklin News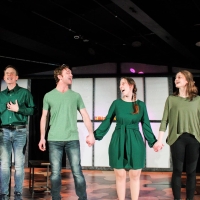 BWW Review: NEXT TO NORMAL at Carousel Theatre Of Indianola
by DC Felton - Mar 21, 2022
Every so often, a show comes out that asks its audience to take a look at something they may feel uncomfortable discussing. When care is taken, it can make for a powerful and thought-provoking production that evokes a dialogue to happen following the show. One of those shows is 'Next to Normal,' which tackles mental illness. The musical by Tom Kitt and Brian Yorkey is being presented in an intimate production with Carousel Theatre of Indianola.
BWW Review: MOONVINE at TheatreWorks
by Austin McLellan - Jul 11, 2016
MOONVINE opened this weekend at TheatreWorks. Directed by Ken Zimmerman, this play by Teri K. Feigelson won the 2014-15 NewWorks@TheWorks Playwriting competition. It plays Thur- Sat evenings, with Sunday matinees through July 31.
Circuit Playhouse to Present PETER AND THE STARCATCHER, 6/3-26
by Tyler Peterson - May 16, 2016
Best described as a grownup's prequel to Peter Pan, Peter and the Starcatcher begins when young starcatcher-in-training, Molly, meets an orphan boy longing for a home of his own. Together, the duo embarks on the adventure of a lifetime. Join them as they discover how the captain got that famous hook, how a young boy named Peter became the boy who wouldn't grow up, and how one courageous young woman can change the fate of the world. A dozen talented actors play over 100 different characters in this Tony Award-winning play with music that is sure to have you leaving the theatre grinning from ear-to-ear.
Playhouse on the Square to Stage MEMPHIS, 5/6-29
by Tyler Peterson - Apr 11, 2016
?Inspired by actual events, Memphis centers around a white disc jokey, Huey, who wants to change the world, and black club singer, Felicia, who is ready for her big break. Their incredible story takes them to the ends of the airwaves and on a journey filled with laughter, emotion, and a whole lot of Memphis soul.
BWW Review: Circuit's PAGEANT Offers 50 Shades of Pink
by Joseph Baker - Mar 14, 2016
If you decide to attend Circuit Playhouse's production of PAGEANT in the next few weeks, and if you find yourself blushing at some of the eyebrow-raising humor, there's no need for alarm: Pink cheeks will blend right in, as the stage, many of the dresses and gowns, and much of the make-up are redolent with that color. However, the musical tends more toward the 'purple' at times, with innuendo, knowing looks, and pregnant pauses. Nonetheless, Robert Longbottom's lightweight little satire (with Book and Lyrics by Bill Russell and Frank Kelly and Music by Albert Evans) is a relatively harmless (and highly enjoyable) outing.
The Circuit Playhouse to Present PAGEANT
by Tyler Peterson - Feb 17, 2016
Pageant is back at The Circuit Playhouse by popular demand! This laugh-a-minute musical experience is like no beauty pageant you've ever seen before, as six beautiful woMEN vie for the title of Miss Glamouresse. Watch these handsome contestants compete in swimsuit, talent, gown, and spokesmodel categories. Judges are selected from the audience, so no two performances are the same!
BWW Review: Green Day's AMERICAN IDIOT Pulsates at Playhouse
by Joseph Baker - Jan 23, 2016
Now that Peter has returned to Neverland and the good citizens of Tuna have returned their yard ornaments to their garages and attics, Green Day's AMERICAN IDIOT has seen to it that all the kiddies need to be tucked away in bed: Playhouse's electrifying production of the punk rock musical odyssey, with Book and Lyrics by Billie Joe Armstrong and Book by Michael Mayer, has traded in pirates for pushers; and the result must have Rodgers and Hammerstein scratching their heads in musical heaven and asking the question, 'What in the name of Bali Hai is going on here?' However, if like me, you're primed for some stimulating adult entertainment, you'll find more than your toes tapping in this 'in your face' assault on the idiocy that is America -- that is we the audience.
AMERICAN IDIOT Set for Playhouse on the Square
by Tyler Peterson - Dec 14, 2015
Playhouse on the Square is proud to present the regional premiere of Green Day's American Idiot! American Idiot follows the exhilarating journey of a new generation of young Americans, lead by friends Johnny, Tunny and Will, as they struggle to find meaning in a post-9/11 world, borne along by Green Day's electrifying score. When the three disgruntled men flee the constraints of their hometown for the thrills of city life, their paths are quickly estranged when Tunney enters the armed forces, Michael is called back home to attend familial responsibilities, and Johnny's attention becomes divided by a seductive love interest and a hazardous new friendship. This high-octane show includes every song from Green Day's album American Idiot, as well as several songs from follow-up release, 21st Century Breakdown.