Latest News on Coco Dolenz
Coco Dolenz News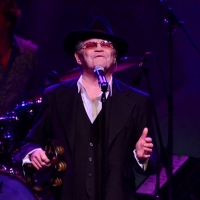 Photos: Micky Dolenz and Felix Cavaliere Bring 'THE LEGENDS LIVE!' to the Patchogue Theatre
by Genevieve Rafter Keddy - May 15, 2022
Last night, Saturday, May 14th at 8pm, Felix Cavaliere (The Rascals) and Micky Dolenz (The Monkees) teamed up for a joint concert, 'The Legends Live!' Cavaliere is a member of Rock & Roll Hall of Fame, Songwriter Hall of Fame, Vocal Group Hall of Fame, Grammy Hall of Fame and Musicians Hall of Fame. He has three songs that were Number 1 hits, and many others within the top fifty. Micky Dolenz has won two Emmys. With The Monkees, he has earned four Grammy nominations and released many songs that were in the top fifty on the charts.  

Full Lineup Announced for ROCKERS WEST OF BROADWAY
by A.A. Cristi - Mar 27, 2018
Final line - up set for The Path Fund Inc with full cast announced for ROCKERS WEST OF BROADWAY on Friday, March 30, 2018 at Tin Roof, A Live Music Joint ( 401 G St, San Diego, CA 92101 ) from 7 : 00 - 9 : 00 p.m. ROCKERS WEST OF BROADWAY, based on the original Broadway rock concert series, a fun unique charity event, featuring Broadway's best rockin ' out with Southern California's best band, Calphonics.
Ridgefield Playhouse to Welcome Micky Dolenz, 8/1
by Tyler Peterson - Jul 17, 2014
For tickets ($60), all or visit the box office at 203-438-5795, or order tickets online at ridgefieldplayhouse.org. The Ridgefield Playhouse is a not-for-profit performing arts center located at 80 East Ridge, parallel to Main Street, Ridgefield, CT.