Latest News on Carl Maultsby
Stage Credits
Productions
[Broadway, 1992]
Associate Conductor
[Broadway, 1980]
Dance Music Arranger
Carl Maultsby News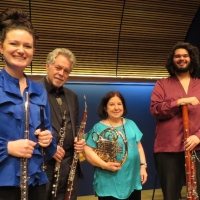 Quintet Of The Americas to Present FESTIVE SOUNDS Concerts In Queens This December
by Chloe Rabinowitz - Nov 23, 2022
Quintet of the Americas will present three Festive Sounds programs of commissions on December 14 at Church-in-the-Gardens, 50 Ascan Ave., Forest Hills, December 17 at Queens Public Library in Jackson Heights, and December 18 at The Center At Maple Grove Cemetery.
Quintet of the Americas to Present IN PURSUIT OF FREEDOM Concert on Mother's Day
by BWW News Desk - May 1, 2015
Quintet of the Americas will present In Pursuit of Freedom, a special Mother's Day program honoring Maya Angelou on Sunday, May 10 - 3:30 PM at St. Marks Church-in-the-Bowery, 131 E. 10th Street in New York, NY. The program will feature music and poetry for and by Maya Angelou and others related to the African-American experience and the In Pursuit of Freedom exhibition at Brooklyn Historical Society.
Random Access Music Hosts Queens New Music Festival, Now thru 5/13
by BWW News Desk - May 10, 2012
The New York-based composers' group, Random Access Music, presents the first Queens New Music Festival from today May 10 through May 13, 2012 at the Little Secret Theatre (Studio 104, 44-02 23rd Street, Long Island City, Queens). This 'trailblazing festival seeks to highlight and promote composers, musicians, and ensembles living and creating new music in the borough of Queens.'
Random Access Music Announces Queens New Music Festival, 5/10-12
by Kelsey Denette - Mar 22, 2012
The New York-based composers' group, Random Access Music, announces the first Queens New Music Festival from May 10-13, 2012 at the Little Secret Theatre (Studio 104, 44-02 23rd Street, Long Island City, Queens). This 'trailblazing festival seeks to highlight and promote composers, musicians, and ensembles living and creating new music in the borough of Queens.'