Latest News on Brenan Dwyer
Latest News on Brenan Dwyer
Brenan Dwyer News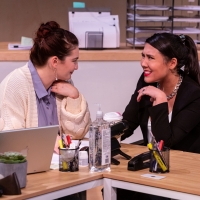 BWW Review: GLORIA at Profile Theatre
by Krista Garver - Jan 20, 2022
GLORIA, which premiered Off-Broadway in 2015 and was a finalist for the Pulitzer Prize in 2016, speaks with eerie coincidence to two of the biggest national conversations taking place today.
BWW Review: Corrib Theatre's BELFAST GIRLS is Full of Fascinating History, Could Use More Emotion
by Krista Garver - Nov 21, 2017
BELFAST GIRLS, opening Corrib Theatre's 2017-2018 season, tells the story of five women who traveled from Belfast to Australia during the Irish Famine of the mid-1850s.
Corrib Theatre's 2017-18 Season to Feature Three Contemporary Irish Plays
by BWW News Desk - Aug 30, 2017
For its fifth year of offering Portland plays by contemporary Irish playwrights, Corrib Theatre brings these three gripping, politically relevant works: Belfast Girls by Jaki McCarrick, Lifeboat by Nicola McCartney and Quietly by Owen McCafferty.
Theatre Vertigo presents THE ELECTRIC BABY
by A.A. Cristi - Apr 6, 2017
Who can account for the odd ways in which people meet and affect the existence of others? Winner of the Francesca Primus Prize, THE ELECTRIC BABY tells the story of a group of fractured souls who have to rewrite their lives due to a car accident and an encounter with a magical dying baby.
CoHo Productions Presents PLAYHOUSE CREATURES
by BWW News Desk - Feb 15, 2017
What does it take to be (or not to be) a woman in the theatre? Playhouse Creatures shamelessly reveals their historic struggle to survive and thrive on stage and behind the scenes.