Stage Credits
Productions
[Broadway, 1976]
Stage Manager
Assistant Stage Manager
Bob Blume News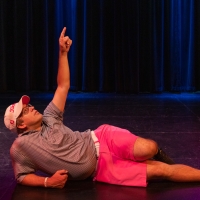 CHEESE FRIES AND FROOT LOOPS by Chris Fuller Will Perform in Westport Connecticut Before New York Transfer
by Grace Cutler - Jul 1, 2022
Step Forward Entertainment, helmed by Producer Bob Blume, today announced two upcoming benefit performances of CHEESE FRIES AND FROOT LOOPS,a humorous and poignant new solo show written and performed by Chris Fuller about his pursuit of a life-long dream: to play on the PGA Tour, while living with Bipolar Mental Disorder.

ON KENTUCKY AVENUE Sweeps 46th Annual Audelco Awards With Six Wins
by Julie Musbach - Nov 23, 2018
On Nov. 19, 2018, the 46th Annual Vivian Robinson AUDELCO Recognition Awards for Excellence in Black Theatre were held at Tribeca Performing Arts Center. On Kentucky Avenue, a new original musical created by Jeree Wade and written by Adam Wade and Ty Stephens, was nominated for 10 AUDELCO Awards, taking home a total of six, the highest number of wins for the evening, including for "Best Musical."
Photo Flash: Adrienne Haan Debuts New Show ROCK LE CABARET! at the Cutting Room
by Sally Henry Fuller - Apr 25, 2015
Adrienne Haan, one of Europe's and America's most electrifying concert and cabaret stars, debuted her new show, Rock Le Cabaret! at The Cutting Room on April 18. Haan was joined by her five-piece rock band for a rock version of French chansons from the 1920s and 30s. Check out photos from the show below!
Thomas Chapin Film Project Launches Shooting in Hartford, CT
by Ben Peltz - Jul 2, 2013
The moving story of Connecticut native and NYC jazz man, the late Thomas Chapin, will begin to unfold for documentary film cameras starting July 8 at a Hartford, CT concert, which will feature musicians who knew him and played with him during his short but remarkable 20-year musical career.
Photo Coverage: Goldman-Sondheim 'PRIMROSE' Debut and Awards Gala
by Kevin Thomas Garcia - Oct 26, 2010
Last night, October 25th, James Goldman and Stephen Sondheim's never-before-staged Evening Primrose took a one-night-only bow to benefit the St. George's Society of New York 's Anglo-American Cultural Awards at the Gerald W. Lynch Theater at John Jay College. The production starred Candice Bergen, John McMartin, Sean Palmer, Bill Duell, John Windsor Cunningham, and Jessica Grove. BroadwayWorld was on hand for the curtain call and after party and brings you photo coverage below.
TODAY Guests Incude Newton-John, Caine, et al. 10/18-29
by Nicole Rosky - Oct 15, 2010
The following guests are set to star on Today: Monday, October 18 (7-9 a.m.): The best and worst political ads. Today's Health: What happens in the womb, doesn't stay in the womb. Take It Off Today: How healthy is your yogurt?