Latest News on Billy Rogan
Billy Rogan News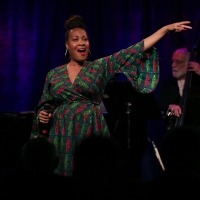 Photos: May 3rd THE LINEUP WITH SUSIE MOSHER at Birdland Theater Through the Stewart Green Lens
by Stephen Mosher - May 10, 2022
Susie Mosher starts May with another stellar episode of The Lineup.
Photo Flash: Jim Caruso's Cast Party to Hit Delray Beach This Spring
by BWW News Desk - Mar 2, 2017
Once a month, Delray Beach is occupied with a taste of Manhattan, when host Jim Caruso and musical director Billy Stritch take over the Crest Theater with 'Cast Party!' These long-time New Yorkers have been hosting the 'extreme open mic' at Birdland (the jazz corner of the world) and across the globe for the past 15 years, and have recently put Delray on their schedule of places to celebrate incredible local talent.
Photo Flash: HANDS ON A HARDBODY Cast and Creators Perform at Birdland
by BWW News Desk - May 15, 2013
The cast and creators of the Tony nominated musical Hands On A Hardbody were cheered and celebrated when they performed at Birdland on Monday night during the weekly Jim Caruso's Cast Party open mic extravaganza. Co-writer Amanda Green (Tony-nominated for her Hardbody work, as well as Bring It On), Tony nominee Keala Settle, as well as Kathleen Monteleone, Jim Newman, and Jay Armstrong Johnson all sang from the show, guaranteeing some future record sales just from the few hundred folks enjoying Cast Party. BroadwayWorld has photos from the concert below!
Photo Flash: Broadway at Birdland's Latest Cast Party and the Songs of Jack Lechner!
by Kelsey Denette - Jun 27, 2012
On Monday, June 25, the Broadway at Birdland concert series was presented songwriter Jack Lechner and a very talented cast of singers to the historic stage. Singing Lechner's songs and praises were Nancy Anderson, Chris Critelli, Desmond Dutcher, Jeannine Frumess, Andy Monroe, Jeremy Schonfeld, Lucas Steele, and Karen Ziemba, with musical direction by Boko Suzuki. Lechner is best known for his 2010 off-Broadway musical The Kid, co-written with composer Andy Monroe and librettist Michael Zam.
Photo Flash: Georgia Stitt, Susan Egan et al. Perform at Birdland!
by Nicole Rosky - May 22, 2012
The Broadway at Birdland series was proud to present both Susan Egan, Tony-nominated for her performance as Belle in Beauty and the Beast, and Georgia Stitt, the award-winning theatrical composer, in concert together. The duo sang about and discussed their shared passions in an evening of new music and re-conceived classics that touched upon every aspect of their modern, multi-tasking lives! Susan was even subjected to an impromptu voice lesson from renowned and reviled vocal coach/YouTube superstar, Miranda Sings.
Photo Flash: Jim Caruso's CAST PARTY Visits Florida!
by Nicole Rosky - Mar 6, 2012
Last night, Jim Caruso's Cast Party made it's debut at The Crest Theatre in Delray Beach, Florida for the first of two nights. The 'extreme open mic,' hosted by Jim Caruso and musical director Billy Stritch, celebrated and showcased local Florida talent, including singers Chloe Dolandis, Zoralis Calle Perez, Lily Forte, Sarah Dreben, guitarist Billy Rogan, pianist Joey Lieber and impressionist Sharon Daniels.
Seeing Place Theatre to Hold Fundraiser and Silent Auction, 8/20
by BWW News Desk - Aug 20, 2010
The Seeing Place Theater Group presents a night not to be missed, Fundraiser casino night and silent auction, to bid online or for more information please visit www.seeingplacetheater.com. 50/50 raffle, hors d'oeuvres, poker games with only a $5 cover, $5 drinks also available advance Tickets for John Osborne's Look Back in Anger, opening October 13th runs through October 30th.