Review: MONTY PYTHON'S SPAMALOT at Palm Canyon Theatre is Fabulous.
This top-notch production runs for only one more weekend.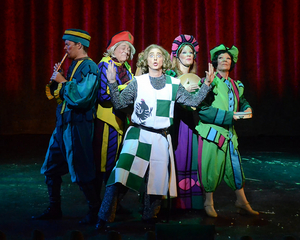 Palm Canyon Theatre's musical productions, with their terrific costuming, top-quality dance numbers, live music, and professional singing, usually dazzle audiences. MONTY PYTHON'S SPAMALOT, now playing at PCT, is no exception. The production is thoroughly professional in every way. Theatregoers who enjoy Monty Python's zany humor will have a great deal of fun.
SPAMALOT's program notes describe the show as "lovingly ripped off from" the motion picture MONTY PYTHON AND THE HOLY GRAIL, but it pays homage to (or skewers, depending on one's views) numerous targets. The musical's copyright lawyers must have been kept busy trying to figure out how to gain rights to the meshugas that book and lyrics writer Eric Idle and composers Idle and John DuPrez lifted from other shows. A good portion of the fun is keeping an eye or ear out for borrowed music and words, such as the snippets from WEST SIDE STORY, and for insults directed at well-known musical theatre personalities, such as Andrew Lloyd Webber. Since I am especially enamored of Yiddishkeit, my favorite song is a sendup of FIDDLER ON THE ROOF, "You Won't Succeed on Broadway." Another highly enjoyable parody is the LES MISERABLES send-up at the end of Act I, complete with someone waving the tricoleur. (Yes, the flag is anachronistic, but if you're worried about such technical matters, Monty Python probably isn't for you, anyway). All the silliness worked out well for the Broadway production - it won the 2005 Tony award for best musical.
PCT's version is a visual feast. J.W. Layne's scenery is clever, but spare, which allows enough room for the dancers to move about freely. Nick Edwards' hilarious projections fill in for other sets. I especially enjoyed the "expensive" forest, where the trees contain dollar signs.
Derik Shopinski's extraordinary costumes, many of which contain sparkles of one kind or another, literally dazzle the eyes when J.W. Layne's and Kay Van Zandt's top-notch lighting reflects off them. Some of the costumes are actually humorous, such as the Lady of the Lake's concoction with clamshell bra cups. The more traditional costumes are breathtaking, including the white dresses the dancers wear in a wedding scene.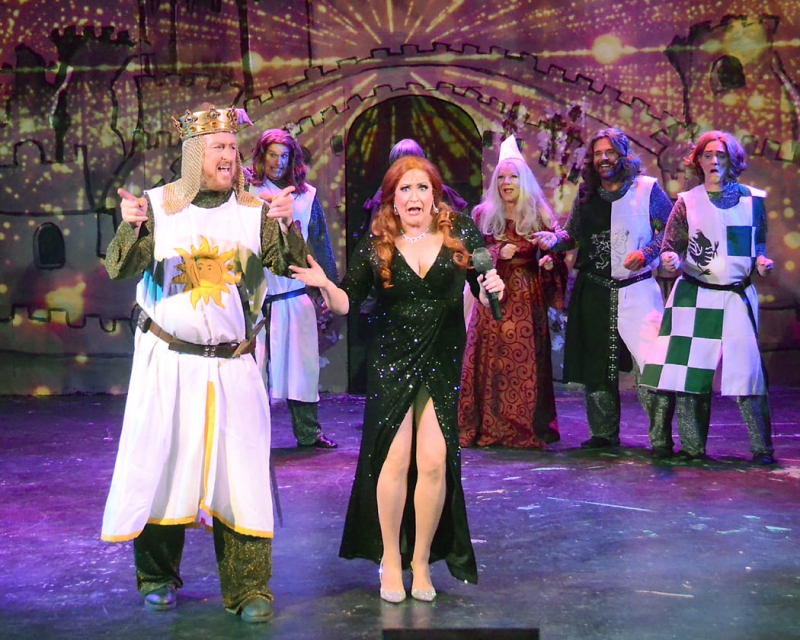 Any satire about Broadway musicals must contain at least one over-the-top production number. SPAMALOT has several. Often, local theatres lack the dance capabilities to perform complex dance breaks, but that is not a problem for PCT, whose dance troupe is smaller than those in many professional companies, but no less accomplished. The dancers - and singers and musicians, for that matter - several of whom have performed professionally, make the production numbers soar. Kudos to choreographers Se Layne and Anthony Nannini for taking full advantage of their dancers' capabilities.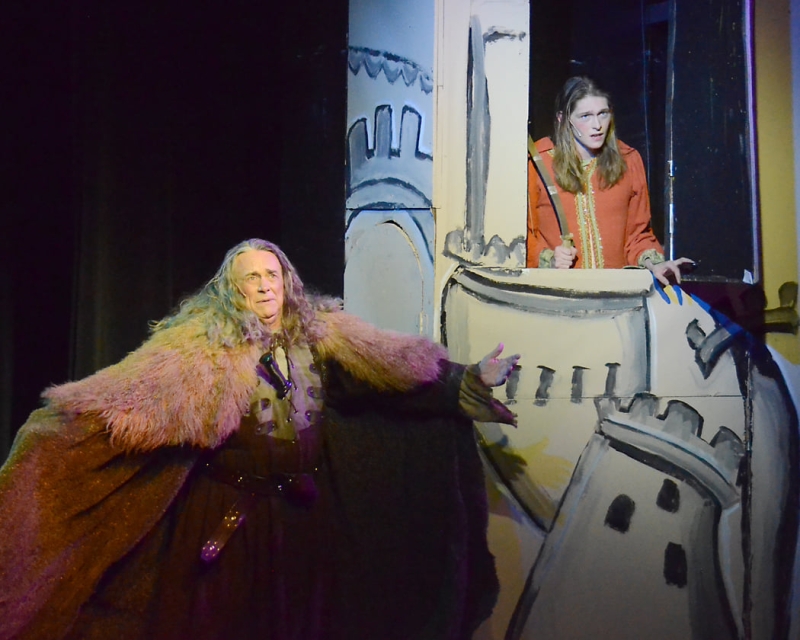 Paul Grant, who has performed with PCT on multiple occasions, slays as King Arthur, in both meanings of the word. Jaci Davis, a well-known Coachella Valley singer and musician, is equally adept with her role, including the Lady of the Lake's "Whatever Happened to My Part?," a sendup of the cuts that frequently bedevil Broadway productions. The two are extraordinary in their duet, "The Song that Goes Like This." Director Dane Whitlock can certainly be proud of the production, as can all the members of the supporting cast and ensemble, including, among others, Alan Berry (Sir Bevedere), Nick Edwards (Sir Robin), Cameron Keys (Prince Herbert/Not Dead Fred), Ben Reece (Sir Galahad/Black Knight), Dr. Eric Stein-Steele (Lancelot and others), and Mark Ziemann (Patsy).
There is a lot more to be enjoyed in this production. It is only playing for one more weekend, so get thee to the theater.
MONTY PYTHON'S SPAMALOT will play through Sunday, May 1, 2022, with performances Thursday, April 28th at 7 p.m.; Friday and Saturday, April 29th-April 30th at 8 p.m.; and Sunday, May1st, at 2 p.m. Ticket prices are $36 for most adults, $32 for those over 60 years of age, and $15 for students and children. For tickets, call 760-323-5123 or log onto www.palmcanyontheatre.net. The theater is located at 538 N. Palm Canyon Drive, Palm Springs, CA 92262, between N. Palm Canyon Drive and Indian Canyon Drive, on the north side of E. Alejo Road.
The final two productions of the season will be INTO THE WOODS (May 13 - 22, 2022) and GODSPELL (July 8-17, 2022).
PHOTO CREDIT: Paul Hayashi