BWW Review: CHESS Has The Moves at CVRep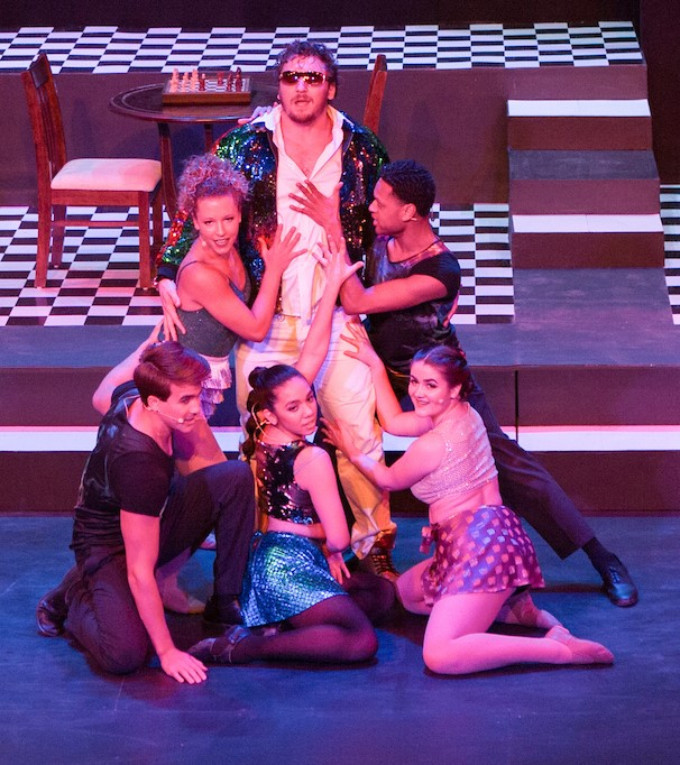 In my opinion, CHESS did not deserve the ignominy that its disastrous Broadway 68-performance run gave it. Before Broadway, it ran for a respectable 1209 performances in London. It was also later revived in New York. The music (by Benny Andersson and Björn Ulvaeus, of ABBA) is lovely and received a drama desk nomination. Two of the performers received Tony nominations, in a year dominated by THE PHANTOM OF THE OPERA and INTO THE WOODS. In other words, CHESS is a worthy show.
Coachella Valley Repertory's (CVRep's) production, the first in its spectacular, new theater building, is highly enjoyable. Most of the acting, singing, and dancing is superb and two of the leads - David Sattler (Anatoly) and Gabriela Carrillo (Florence) - demonstrate an electrifying stage presence. A six-piece orchestra (directed by Scott Storr), which includes a violin, avoids the need for pre-recorded tracks.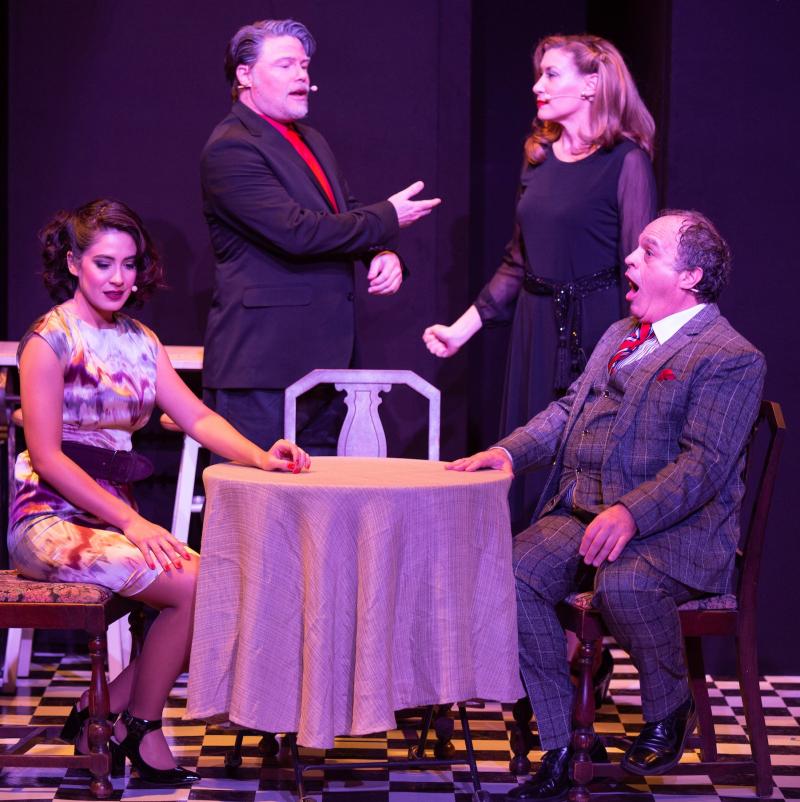 CHESS, with book by Richard Nelson and lyrics by Andrew Lloyd Webber's former collaborator, Tim Rice, is the tale of two Cold War chess champions who compete for a title and a woman. The convoluted plot is impossible to boil down into a short paragraph, but, it concerns an obnoxious, egotistical American champion named Fred Trumper and the Soviet champion, Anatoly. (Fred's name is almost certainly coincidental but the coincidence creates humor when Fred hurls the invective, "Loser!"). The compromises the competitors must make in the midst of a charged political atmosphere apparently are meant to stand for the compromises competing nations must make. The theme, as I see it, is whether the good guys can win without undermining their moral beliefs.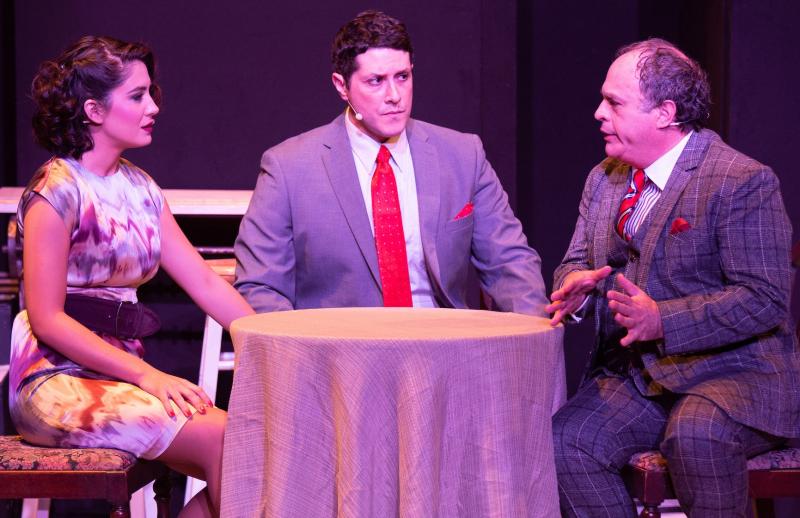 Despite Andersson's and Ulvaeus's reputations for writing upbeat pop tunes, the ballads in CHESS are haunting. "Where I want to Be" and "Anthem," sung by Anatoly, and "You and I," sung by Anatoly, Florence, and Svetlana (Anatoly's on-again, off-again wife, played superbly by Ashley Hunt), are especially moving, as is the instrumental introduction to "One Night in Bangkok."
Although I do not know how the London and Broadway productions handled the dancing, the large stage allows major dance routines (choreographed by Michael Nickerson-Rossi), most of them derived from ballet. The company uses dancers who also play members of the crowd and sing the ensemble numbers. Their stunning costumes (designed by Aalsa Lee) are black, white, or combinations, in keeping with the chess theme.
Jimmy Cuomo, assisted by Doug Morris, has, as usual designed an extraordinary set, but this one has a different feel from the ones in the old space. Mr. Cuomo uses black and white floor tiles and large squares on the side walls to emphasize the theme of a chess board. He uses small amounts of furniture in the hotel room and bar areas, and platforms to allow the actors to stand on different levels. His usual settings are haimish, but this one is forbidding and cold, in keeping with the Cold War theme and the emotional austerity of the characters' lives. The lighting (designed by Moira Wilkie Whitaker) tends to be dim, probably for the same reason.
I have a few complaints despite my enjoyment of the production and my recommendation to attend. The sound system was delivering pops and cracks at the performance I attended. I suspect that sound designer Kate Fechtig will shortly have those bugs worked out. A bigger problem, and again, it is one of personal preference, is that I did not like Garrett Marshall's interpretation of Freddie Trumper. Although Freddie is an enfant terrible, he has one song that shows how and why his anger developed. Yet, in my opinion, Mr. Marshall played Freddy as if Freddy affected the persona as a deliberate joke, always using the same growls when angry, always storming around with the same walk, and even using the same facial expressions. This interpretation would work in a satirical comedy or farce (think Shakespeare in SOMETHING ROTTEN), but I did not connect with it in such a serious musical. Nevertheless, despite my few misgivings, I very much enjoyed CVRep's production of CHESS. I recommend it to audiences.
CHESS will run thru March 31st, with Friday, March 22, 2013 sold out. The performance schedule is set out at https://cvrep.org/tickets/ . Tickets are $53 each. CVRep's last production of the season will be GOOD PEOPLE, which will run from May 1st to May 19th, 2019. The CVRep Playhouse is located at 68510 E. Palm Canyon Drive (the former IMAX Theater), Cathedral City, CA. The telephone number is 760-296-2966.
PHOTO CREDIT: Jim Cox