Interview: Gene Gillette Says CURIOUS INCIDENT is Unlike 'Anything You've Ever Seen Before'
Tomorrow night, for the first time a straight play will open at the Dr. Phillips Center for the Performing Arts as part of the Fairwinds Broadway in Orlando series. However, this play is unlike nearly anything else you've ever seen before. Based on the 2003 book by Mark Haddon, THE CURIOUS INCIDENT OF THE DOG IN THE NIGHT-TIME dives deep into the mind of Christopher Boone, a special boy intent on getting to the bottom of a neighborhood mystery.
With creative choreography, lights, and technology, the play takes on a life of its own. The show won five Tony Awards in 2015, including Best Play, and last week, I spoke with Gene Gillette, who plays Christopher's father Ed while the tour was in Greenville, SC, to help explain why this play is so special in a theatrical world so focused on musicals.
---
BWW: You guys have been out on the road for about a month now, how are things going?
Gene Gillette: They're great, man. We had a crazy couple of weeks of tech up in Rochester, then a week of previews, and then we opened at the Kennedy Center, and got to play there for about three weeks, which was pretty much a dream come true; that's a bucket list kind of thing right there. I went to school in D.C., that's where I did my grad school at, and just getting a chance to play there, and have teachers that I learned under get a chance to see my work on that stage was pretty unbelievable.
BWW: Now that you are in South Carolina, are you settling into the touring life now that you aren't in one place for three weeks?
G.G.: Yea, I did WAR HORSE for a year, so I kind of got that routine, and it's coming back to me. We played Greenville (SC) on WAR HORSE too, so I know the town. It's cool, I kind of get to revisit all of these great towns that I remember, and go to all of the cool spots that I found before.
It's been a blast, but it's challenging. You kind of get settled, then it's time to move again, but I'm having a great time.
BWW: Obviously this show had a great run on Broadway, it's still running in London, and I think it's going to do really well on the road, but you don't see a lot of plays go out on tour, especially not as widely as you guys are. What is it about this show that makes it so different and unique that allows it to have such wide, broad appeal outside of New York?
G.G.: It's a lot like WAR HORSE in that sense, they're both directed by Marianne Elliott obviously, and they're both from the National Theatre in Great Britain, and (CURIOUS INCIDENT) kind of incorporates these amazing lights and sounds and this beautiful choreography; with WAR HORSE, you had these huge puppets that took over the stage. On CURIOUS INCIDENT, it all takes place inside of Christopher's brain, and it's kind of this sensory overload effect.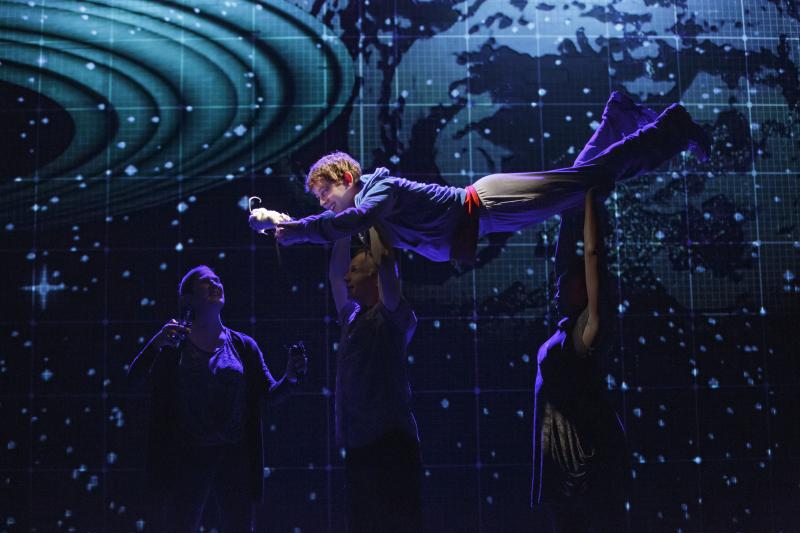 All of this movement, this beautiful choreography, that's been choreographed by Frantic Assembly, when Christopher thinks he's in space, the actors come and make him go into space. And, it's got this really beautiful story underneath it too, that WAR HORSE had. It's a coming-of-age story about this young man, and I think it appeals to a lot of people. It's a really beautiful show.
BWW: I read the book years ago, long before it was play, so I remember the basic story, but not many of the details. You play Christopher's father, Ed., so remind me a little bit about that character.
G.G.: Well, Ed is Chris' father. At the beginning of the play, he has a lot of weight on his shoulders; his wife is out of the picture, and he's learning what it's like to be a single parent, and constantly be dealing with a son who has his own set of challenges, and his own set of gifts. He doesn't always make the best decisions in life, but he loves his son deeply, and he has a good heart.
BWW: You kind of alluded to this, there is obviously something unique about Christopher, but they never say what that is. I assume that's to avoid putting a specific label on the character, and perhaps allow that to be something that anybody can identify with, rather than specifically naming a condition that narrows how relatable it can be.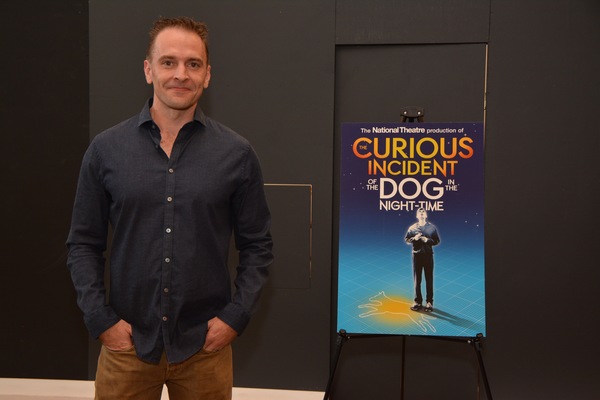 G.G.: Yea, I think it's the hallmark of all great drama; you leave it open to the audience's interpretation, and whatever each audience member sees, then that's the way it is for them. What Christopher is dealing with, his gifts and his challenges, Mark Haddon (novel) and Simon Stephens (play) have never defined; I think they just want to leave that up to the audience to interpret.
BWW: You mentioned the rehearsal process and the choreography earlier, CURIOUS INCIDENT is a little unusual in that as a straight play it received a Tony nomination for choreography, what was the rehearsal process like to get all of that stuff nailed down?
G.G.: It was the most difficult thing I've ever done. I kept telling the director, "It's like I'm back in grad school." I thought we were working on this really cool experimental project and then all of a sudden, we're gonna have 2,500 people out there tonight.
In the morning, we would did a boot-camp for an hour, like circuit training and trying to get in shape.
BWW: Oh, like legit fitness, CrossFit bootcamp?
G.G.: Yea, we would set up stations, and you'd go around and do burpees, you'd jump rope, you'd do push-ups, you'd do squats. You'd do that for an hour, and then we'd work on movement stuff for three hours. Then we would have lunch, and then we would come back and do scene work.
You'd come back from lunch just exhausted from the mornings, and then you've got to dive into these really emotional scenes. I kind of found that I do the show better when I'm tired, because I'm not thinking as much, because that's the way we did it in the rehearsal process. It's just reacting off of what the other actor's doing. It's challenging, but it's also really rewarding. It's been an absolute blast.
BWW: What's interesting to me is that we've talked about WAR HORSE and CURIOUS INCIDENT, these two new shows that have really inventive elements in them, but your background is in classic works. How do those two types of theatre inform each other? How does your graduate work at the Academy of Classical Acting prepare you for something like this show?
G.G.: Well, the whole basis at the Academy of Classical Acting is that it all comes down to the words, it all comes down to the text, but also, we'd have mask class for eight hours every Monday; neutral mask and commedia mask, and this is all stuff that we did in CURIOUS INCIDENT. It really helped me prepare for what we got involved with.
There's this exercise, it's called "slauking," it's where you move as one group through space, and it's just peripheral movement with your other actors and other students, and it's just finding how the space moving. It's all stuff I learned in grad school, and it's stuff that we're doing on stage now. It's been great to be able to put that to work.
It was so cool, my mask teacher came to see the show, and she just commented on all of the things that we did in school. She was excited for me, and I was like, "I wouldn't be able to do this if I hadn't gone to school here."
It was really beautiful, but it just comes down to the text again; to digging through there and finding who your character is in those words.
BWW: To finish up, for a straight show going on a national tour, CURIOUS INCIDENT has really good name recognition, but there is still a lot of mystery as to what this show is. I think a lot of people know the boiler plate description of what the show's about, but if you had to wrap up what the experience is of coming to see this show, how would you describe it?
G.G.: I think it's a really beautiful story told with some amazing technical aspects, and it doesn't sugar-coat anything. I think it's truthful, and I think it's universal. I know people say this a lot, but I don't think it's like anything you've ever seen before. The spectacle to it is amazing, and the heart that it has underneath it is amazing too. I think people are going to be in for a really special night if they're able to come out and see it.
To purchase tickets to THE CURIOUS INCIDENT OF THE DOG IN THE NIGHT-TIME, running November 1st-6th, visit the Dr. Phillips Center website or call 844-513-2014.
---
Are you excited to see this amazingly heartfelt spectacle? Let me know on Twitter @BWWMatt. And, "Like" and follow BWW Orlando on Facebook and Twitter using the buttons below.
You can listen to Matt on BroadwayRadio or on BroadwayWorld's pop culture podcast Some Like it Pop.