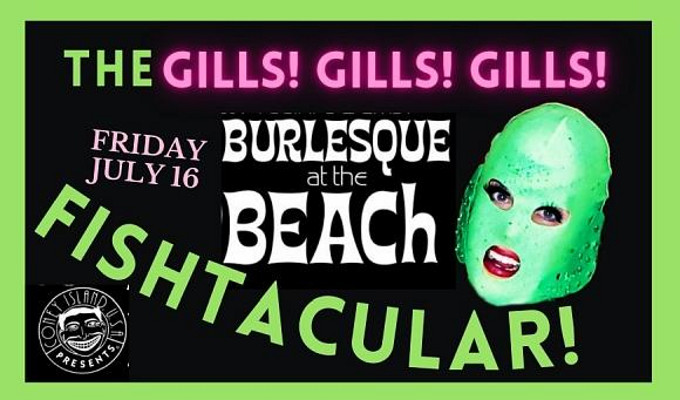 Gills Gills Gills: A Coney Island Burlesque Fishtacular at Sideshows By The Seashore
Dates

7/16/2021

Theatre


1208 Surf Avenue
Brooklyn,NY 11224
Instagram

Tickets Info

$20
Phone: 5866660143




Experimental nightlife glamazon, Tallulah Talons, hosts the oFISHial opening night extravaganza for the triumphant return of Coney Island's famed Burlesque At The Beach productions. This Coney Island staple has been going strong for 27 years and was integral to the modern burlesque revival that we enjoy today.
Dressed as her hideous sea creature alter ego, real life giantess Tallulah Talons will serve as your FISHtress of Ceremonies in this anything goes show. She cast her net far and wide to reel in a carefully curated cast of neo burlesque performers, including a catch of Coney Island favorites. Gleefully spouting dad jokes and singing naughty cabaret songs between acts, she'll introduce you to some of the most interesting burlesque you've ever seen!
The artists include a cross section of the many flavors of burlesque and art: surreal comedy, sing-n-strips, balloon pops, contortion, cirquelesque, boylesque, nerdlesque, high glamour, and styles you've probably never conceived of. It's a jam packed show filled with the unexpected, just like you'd hope for from a Tallulah Talons / Coney Island collaboration.
Be sure to grab your $20 tickets early as we're sure to sell out. You don't want to miss it! You can reserve them online with no added fees.
THE CAST:
Tallulah Talons
Bambi The Mermaid
Nina La Voix
The Maine Attraction
Ben Franklin
Chartuice
Joshua Dean
The Misfit Mime
Aerial Mae as Shrimp Shrimply
Chinny Cherry
Sucklord
And more surprises!
Ages
: 18+ to enter, 21+ to drink