ON THE RIGHT TRACK Kicks Off AMT Theater's 2023 Season
Performances begin April 5th.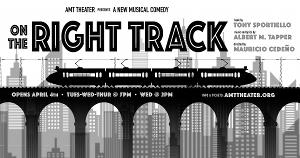 AMT Theater is thrilled to announce the opening of "On The Right Track", a musical comedy, music and lyrics by Al Tapper, book by Tony Sportiello, directed by Mauricio Cedeño, opening at its beautiful new theater on West 45th Street April 5th in Hell's Kitchen. The show is open ended. Casting will be announced later in the month.
"On The Right Track" tells the story of One Magical Night, onboard a New Jersey Transit Train with Three Couples (played by the same actors) with three very different problems. The Conductor, whose powers are for more than collecting tickets, oversees an evening of music, magic and laughs as AMT kicks off its 2023 season with a new comedy whose next stop could well be Broadway.
Al Tapper is the writer/composer of the Off Broadway hit "Sessions" which ran for more than 300 performances. Other shows include "ImPerfect Chemistry," "David," "An Evening at the Carlyle," "National Pastime," and "The Paparazzi". He has produced two award winning documentaries on theater "Broadway: The Golden Age" and "The Broadway Musical: A Jewish Legacy."
Tony Sportiello is the Artistic Director of the AMT Theater and the author of several plays including "Second Chance," "Suicide Rngs," "Star Power," "LOL," "The Summer of Katya" and "Zoom In." With Al Tapper he has written the book for "National Pastime," "The Paparazzi" and the upcoming new musical "Upside Down".
A longtime staple in Mexican theater, Cedeño has directed dozens of top-tier productions, including "Godspell" (2000) and "Cats" (2001). In 2006 he directed "Cyrano El musical", and "Animal Mundi". Also the musical "RENTA", the first Broadway franchise in the city of Guadalajara and Amor Pop. In 2015 he received an award for his theatrical career from the National Institute of Fine Arts.
For more information, contact Tony Sportiello at tony@amttheater.org or call 917 388 2630. Or go to amttheater.org website.