The Acting Company to Present New York Performances of Louanna O. Carlin & John MacDonald Reading Series
The series will feature two reimagined classics and one new musical.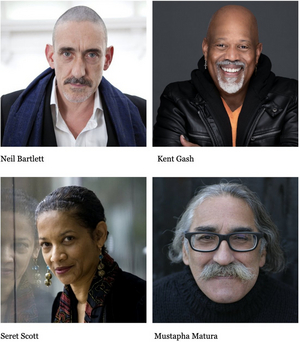 The Acting Company has announced the New York performances for their annual Louanna O. Carlin & John MacDonald Reading Series. The series will feature two reimagined classics and one new musical, curated by The Acting Company's new artistic department, written and directed by the acclaimed artists Neil Bartlett (The West End's Orlando, The BBC's Make Death Love Me; Shakespeare's Antony and Cleopatra Reimagined, A Vision of Love Revealed in Sleep), Seret Scott (Off-Broadway's Mujeres Y Hombres, Birdie Blue, The Acting Company's Native Son), Mustapha Matura (Off-Broadway's Rum and Coca Cola, Play Mas, Welcome Home Jacko, Playboy of the West Indies), and Rob Zellers (Co-Author The Chief, Harry's Friendly Service).
Each season, The Acting Company hosts a series of staged readings. A mixture of new texts, classics of the canon, and forgotten favorites, these readings are a showcase of The Acting Company's alumni and a chance to explore other works by playwrights and directors featured in the company's National Tours. The Acting Company gratefully recognizes the generous supporters of The Louanna O. Carlin and John MacDonald Reading Series, including Richard J. Reilly, Jr. (Producer) and John and Jill Gilbert (Underwriter).
The Misanthrope

By Molière
Translated by Neil Bartlett
Directed by Producing Director Devin Brain
Monday, February 6 at 7:00 PM
Peter Jay Sharp Theater
416 West 42 Street, New York, NY, 10036
Bartlett's uproarious translation of Molière's comedy of manners transports the formal court of Louis XIV into a Hollywood film studio, while retaining the rhymed couplets and verse of classical French.

Music and Lyrics by Billy Strayhorn
Book by Robert Zellers with Kent Gash
Directed by Artistic Director Kent Gash
Musical Direction by Matthew Whitaker
Monday, March 6 at 7:00 PM
Mainstage Theater
416 West 42 Street, New York, NY, 10036
This captivating story of openly gay jazz innovator Billy Strayhorn and his collaborations with Duke Ellington features his rousing hits, including "Take the 'A' Train" and "Lush Life," in charting Strayhorn's groundbreaking creativity, activism, and relationships.
Three Sisters (after Chekhov)
Written by Mustapha Matura
Directed by Seret Scott
Monday, May 22 at 7:00 PM
Peter Jay Sharp Theater
416 West 42 Street, New York, NY, 10036
In Colonial Trinidad 1941, three sisters endure a mundane but privileged life in the capital, Port of Spain. Adapted from one of Chekhov's greatest works, Mustapha Matura examines the question of cultural identity and the way people transform themselves - willingly or unconsciously - in order to survive.
How to Purchase Tickets
Tickets are now available for the Louanna O. Carlin & John MacDonald Reading Series' New York performances. Tickets for each show may be purchased separately, or, for a limited time only, together at a special price. Seating is subject to availability. Visit theactingcompany.org/2023ReadingSeries or call 212-258-3111 to purchase tickets.
Under the leadership of Artistic Director Kent Gash, Managing Director Erik Schroeder, and Producing Director Devin Brain, The Acting Company brings professional productions and education programs, in-school residencies, and teacher training workshops to thousands of audience members and students in underserved communities and schools each year. Founded by John Houseman and Margot Harley, the company seeks to develop emerging actors and build enthusiastic, knowledgeable audiences for the theater in towns across the United States. The Acting Company launched the careers of nearly 500 actors, including Kevin Kline, Patti LuPone, Mary Lou Rosato, Keith David, Rainn Wilson, Lorraine Toussaint, Frances Conroy, Harriet Harris, Lisa Banes, Jeffrey Wright, Hamish Linklater, Jesse L. Martin, Roslyn Ruff, Jimonn Cole, and Kelley Curran.
Over 5,000 students in New York City and across the country benefit from The Acting Company's in-school residencies and educator workshops every year. Annually, over 30,000 audience members see an Acting Company production across the country who otherwise lack access to professional classical theatre.
Among many accolades, The Acting Company received the 2003 Tony Award for Excellence in the Theater, and recently won the 2019 Audelco Award for Best Play for its production of Nambi E. Kelley's Native Son directed by Seret Scott.
Since 1972, The Acting Company has performed for over four million people in 48 States, 10 foreign countries, on and Off-Broadway, and at leading resident theaters including The Guthrie and The Kennedy Center. New works commissioned by the company include plays by William Finn, Marcus Gardley, Rebecca Gilman, John Guare, Beth Henley, Tony Kushner, Lynn Nottage, Meg Miroshnik, Ntozake Shange, Maria Irene Fornés, Spalding Gray, Marsha Norman, Charles Smith, Samm-Art Williams, and Wendy Wasserstein.