Review Roundup: The Critics Weigh in on THE WOLVES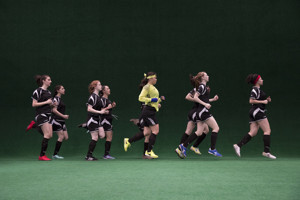 Lincoln Center Theater is bringing the critically-acclaimed, Drama Desk and Obie award-winning production of The Wolves, a new play by Sarah DeLappe, directed by Lila Neugebauer, to the Mitzi E. Newhouse Theater this fall.
Left quad. Right quad. Lunge. A girls indoor soccer team warms up. From the safety of their suburban stretch circle, the team navigates big questions and wages tiny battles with all the vim and vigor of a pack of adolescent warriors. The Wolves is a portrait of life, liberty, and the pursuit of happiness for nine American girls who just want to score some goals.
Let's see what the critics have to say!
Isabelle Biedenharn, Entertainment Weekly: The Wolves' most impressive feat is its subtlety: DeLappe's script is empty in all the right places, as the audience pieces together aspects of the characters' lives from clues given by her or her teammates. Someone's pained reaction to a joke and another's simple, "Oh... your mom. I forgot," can tell a more nuanced story about a girl's past than an expository speech would. This, of course, is also a testament to both Lila Neugebauer's direction and the cast's innate understanding of their characters' fears, hopes, and shifting mental states. Only one moment, towards the play's end and featuring its sole adult character (Mia Barron), feels like it could have been handled more deftly.
David Rooney, The Hollywood Reporter: A deserving finalist for this year's Pulitzer Prize for Drama, this is a coming-of-age play that quietly digs deep while creating the illusion of simple fly-on-the-wall observation. The subtlety of the craftsmanship, the assurance of tone and the thematic incisiveness are remarkable, astonishingly so for a first work.
Steven Suskin, Huffington Post: She assaults the air with dialogue as fast paced as a quick-pass exercise. While lulling us, she plants seeds of character. Quite astoundingly, the author creates a stage filled with fully-rounded characters without even giving them names; just numbers. And as in an impressionist painting-one with harsh colors and jagged edges-the numerous strands and snatches jaggedly form into a compelling whole in the gripping final scene. (Not only does DeLappe do it without naming her characters; the end revolves around a missing character, and the playwright leaves playgoers anxiously trying to figure out just who that character is.)
Sara Holdren, New York Magazine: DeLappe has spoken about her childhood affection for war movies, and how with The Wolves, she was interested in writing a play in which the warriors were teenage girls - a story for "We few, we happy few, we band of sisters." Her intention - to portray girls as "nuanced, very idiosyncratic people" and as powerful athletes, not as "girlfriends or sex objects or manic pixie dream girls" - shines through in her well-observed characters and in the marvelous actors bringing them life. The young cast is superb all around, and though it feels callous to mention just a few, I'm still thinking about Susannah Perkins's furrowed brow and thoughtful stare as No. 11, the deceptive cheeriness of Midori Francis as No. 8, Tedra Millan's hunched shoulders and excruciating sense of social timing as No. 46, and Brenna Coates's all-too-recognizable cool girl, a powerful performance in its initial unlikability and ultimate sympathy.
Joe Dziemianowicz, New York Daily News: The play is skillfully directed by Lila Neugebauer and deftly acted by a tightknit ensemble of 10, which includes the role of soccer mom. One great thing about the play is that the unnamed players who are referred to only by numbers on jerseys bit by bit emerge as individuals.
Adam Feldman, Time Out New York: "I just don't get what the big deal is about, like, self-knowledge," says the stubbornly girlish #8 (Midori Francis). But DeLappe takes all of them seriously. Her hopeful, respectful play is an implicit reproach to those who worry or complain about kids today. Seeing The Wolves for a second time-a hit last year, it has been brought back for an encore run at Lincoln Center, with nearly all of its excellent original cast-I picked up on a number of things I had missed the first time. The soccer here is smart as hell.
Robert Hofler, The Wrap: Neugebauer takes DeLappe's script to deliver one of the most arresting first scenes of a play in memory. Nine female members of the soccer team form a circle to do their stretches, all the while carrying on a dizzying, truly surreal conversation that's the polar opposite of Stephen King's girls' locker room scene in his 1974 debut novel, "Carrie." Rather than being demonically lewd, DeLappe's young women engaged in a matter-of-fact discussion about their periods, ranging from menstrual synchrony to a religious debate on Tampons versus pads; it's a talk that also manages to touch on Harry Potter, the internet in China, their coach looking wasted behind sunglasses on Saturdays, and the Khmer Rouge.
To read more reviews, click
here
!