Photo Flash: Inside the Online Australian Theatre Festival
The program ran December 4th and 5th, 2020.
The Australian Theatre Festival NYC presented an ONLINE festival for the 2020 season, which included 5 commissioned short plays, an online cabaret and an industry panel. The program ran December 4th and 5th, 2020, and streamed online for a week following the premiere. The festival featured over 50 Australian artists and stories over a virtual festival weekend. All events in the online festival were free to view. Led by Artistic Directors Mark Barford, Connor Delves & Jillian Geurts.
The Commissioned Short Plays line-up included:
"Cape Flattery" by Chenoa Deemal & Alana Valentine, directed by Alana Valentine & featuring Chenoa Deemal.
"The Window" by Christine Evans, directed by Alies Sluiter, featuring Anya Banerjee & Jillian Geurts.
"Stranded" by Mark Barford, directed by Mark Barford & Connor Delves, featuring Casey Bradley, Rose Cavanagh, Mark Dessaix, Madeleine Galea, Pia Hagen, Rebecca Ho, Carla Kissane, JD Martin & Emilio Ramos.
"Bad Coffee" by Alexander Hodge, directed by Owen Elliott, featuring Kane Parker & Youssef Sabet
"Permanent Fixtures" by Micharne Cloughley, directed by Benita de Wit, featuring Alanah Allen, Siho Ellsmore, Eleanor Handley & Kaye Tuckerman.
The Commissioned Short Plays were made possible thanks to donations from Mark Bly, Andrew Bovell, Shane & Cathryn Brennan, Andrew & Cathy Cameron, Wesley Enoch AM, Michael Flynn, Barry Kissane, Andrew J. Martin-Weber, George Weinhouse MD, David Williamson AO, Anonymous (2).
Visit australiantheatrefestival.com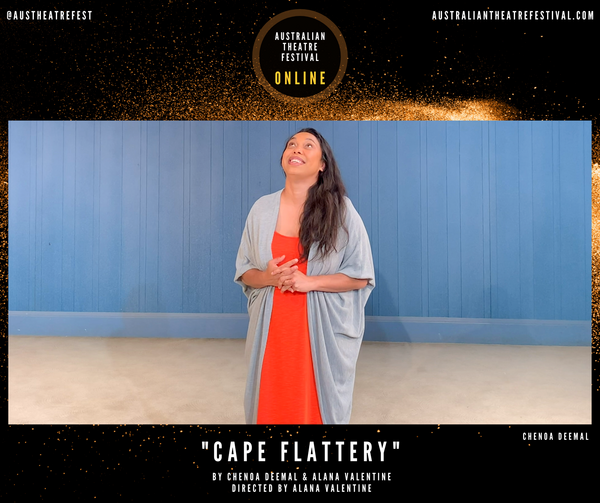 Cape Flattery by Chenoa Deemal & Alana Valentine Directed by Alana Valentine Featuring Chenoa Deemal Australian Theatre Festival NYC - ONLINE Commissioned Short Plays

Cape Flattery by Chenoa Deemal & Alana Valentine Directed by Alana Valentine Featuring Chenoa Deemal Australian Theatre Festival NYC - ONLINE Commissioned Short Plays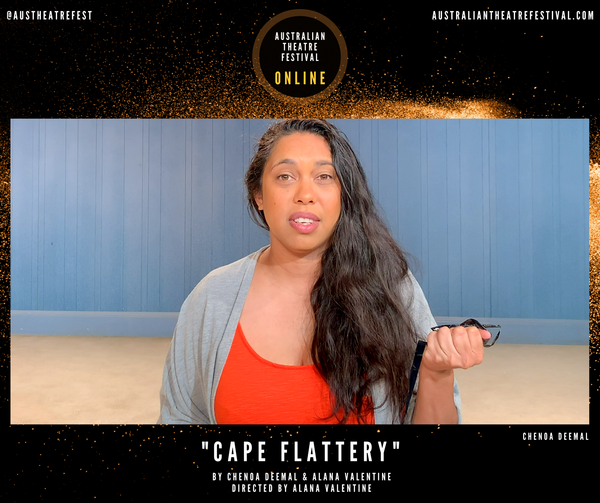 Cape Flattery by Chenoa Deemal & Alana Valentine Directed by Alana Valentine Featuring Chenoa Deemal Australian Theatre Festival NYC - ONLINE Commissioned Short Plays

The Window by Christine Evans Directed by Alies Sluiter Featuring Anya Banerjee & Jillian Geurts Australian Theatre Festival NYC - ONLINE Commissioned Short Plays

The Window by Christine Evans Directed by Alies Sluiter Featuring Anya Banerjee & Jillian Geurts Australian Theatre Festival NYC - ONLINE Commissioned Short Plays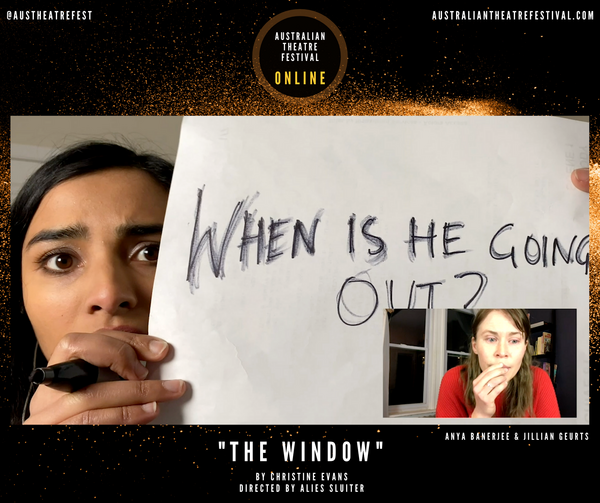 The Window by Christine Evans Directed by Alies Sluiter Featuring Anya Banerjee & Jillian Geurts Australian Theatre Festival NYC - ONLINE Commissioned Short Plays

The Window by Christine Evans Directed by Alies Sluiter Featuring Anya Banerjee & Jillian Geurts Australian Theatre Festival NYC - ONLINE Commissioned Short Plays

Stranded by Mark Barford Directed by Mark Barford and Connor Delves Featuring Casey Bradley, Rose Cavanagh, Mark Dessaix, Madeleine Galea, Pia Hagen, Rebecca Ho, Carla Kissane, JD Martin & Emilio R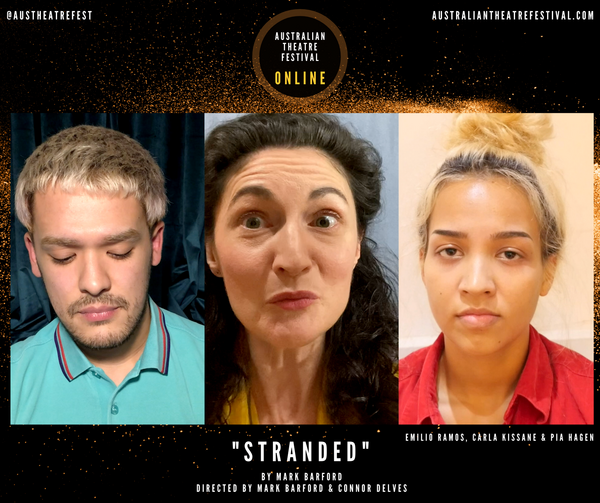 Stranded by Mark Barford Directed by Mark Barford and Connor Delves Featuring Casey Bradley, Rose Cavanagh, Mark Dessaix, Madeleine Galea, Pia Hagen, Rebecca Ho, Carla Kissane, JD Martin & Emilio R

Stranded by Mark Barford Directed by Mark Barford and Connor Delves Featuring Casey Bradley, Rose Cavanagh, Mark Dessaix, Madeleine Galea, Pia Hagen, Rebecca Ho, Carla Kissane, JD Martin & Emilio R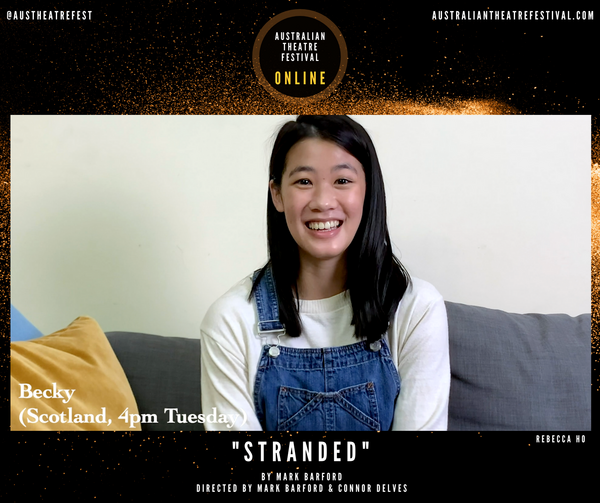 Stranded by Mark Barford Directed by Mark Barford and Connor Delves Featuring Casey Bradley, Rose Cavanagh, Mark Dessaix, Madeleine Galea, Pia Hagen, Rebecca Ho, Carla Kissane, JD Martin & Emilio R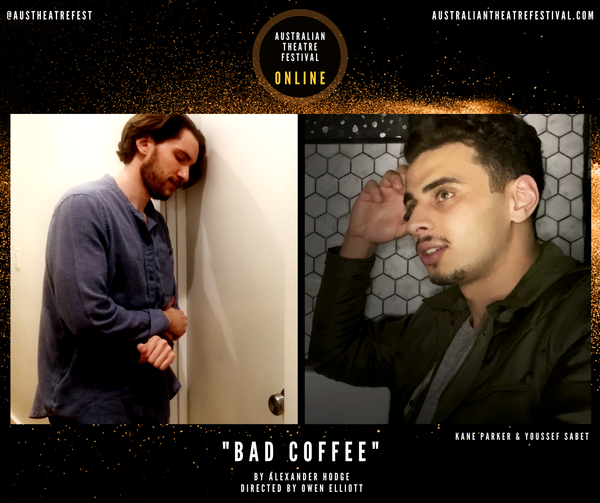 Bad Coffee by Alexander Hodge Directed by Owen Elliott Featuring Kane Parker & Youssef Sabet Australian Theatre Festival NYC - ONLINE Commissioned Short Plays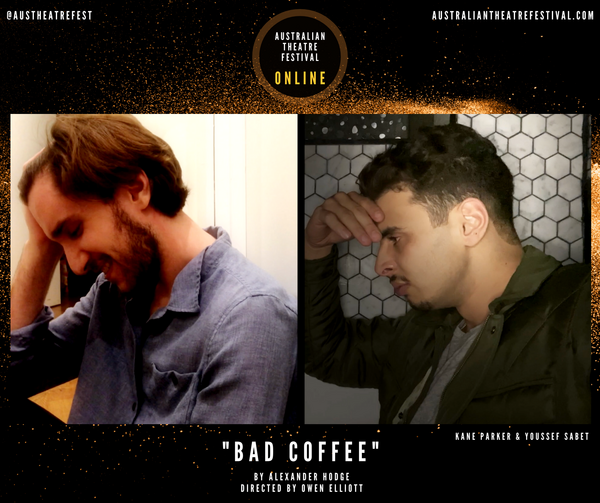 Bad Coffee by Alexander Hodge Directed by Owen Elliott Featuring Kane Parker & Youssef Sabet Australian Theatre Festival NYC - ONLINE Commissioned Short Plays

Bad Coffee by Alexander Hodge Directed by Owen Elliott Featuring Kane Parker & Youssef Sabet Australian Theatre Festival NYC - ONLINE Commissioned Short Plays

Permanent Fixtures by Micharne Cloughley Directed by Benita de Wit Featuring Alanah Allen, Siho Ellsmore, Eleanor Handley & Kaye Tuckerman Australian Theatre Festival NYC - ONLINE Commissioned

Permanent Fixtures by Micharne Cloughley Directed by Benita de Wit Featuring Alanah Allen, Siho Ellsmore, Eleanor Handley & Kaye Tuckerman Australian Theatre Festival NYC - ONLINE Commissioned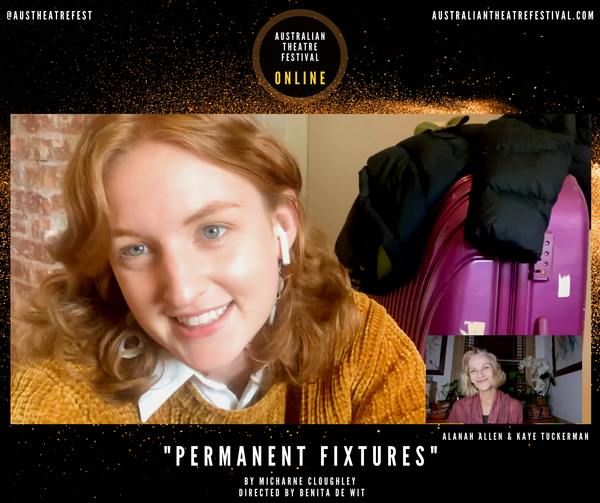 Permanent Fixtures by Micharne Cloughley Directed by Benita de Wit Featuring Alanah Allen, Siho Ellsmore, Eleanor Handley & Kaye Tuckerman Australian Theatre Festival NYC - ONLINE Commissioned