Photo Coverage: THE ATHEIST Opening Night Party
Circle in the Square Theatre (Theodore Mann, Artistic Director and Paul Libin, Managing Director) has joined Culture Project as producer of the upcoming New York production of The Atheist, presented by Culture Project (Allan Buchman, Artistic Director). The dark comedy, written by Ronan Noone, directed by Justin Waldman and starring Campbell Scott as 'Augustine Early,' began performances at Culture Project's temporary new home, Barrow Street Theatre, on Tuesday, October 7th. It had an official opening Sunday evening, October 12.
In The Atheist, Scott plays a crooked reporter who will do anything to get his next front-page story. When Augustine turns a prominent local politician's tawdry predilections into front page news, the scandal threatens to undo the one person Augustine thought was immune - himself. The Atheist is a searing and hilarious play about catching the perfect front-page headline, whatever the cost.
The Atheist returns to Culture Project after a sold-out special one-night-only engagement in May. The solo show also had a critically acclaimed run at Boston's Huntington Theatre Company last year and recently completed an equally acclaimed run as part of the 2008 Williamstown Theatre Festival.
The design team for The Atheist includes Ben Stanton (Lighting Design), Cristina Todesco (Set Design), Alex Neumann (Sound Design) and Emily Ellen Roberts (Stage Manager).
The Atheist will be performed in rotating rep with In Conflict. The Atheist will be performed every other week as follows: Tuesday - Thursday at 8:00 p.m., Friday at 9:00 p.m., Saturday at 4:00 p.m. & 9:00 p.m. and Sunday at 4:00 p.m. Tickets are priced at $45 and are available by calling 212-352-3101 or visiting www.cultureproject.org. Student tickets ($2o) are available at the box-office. Culture Project at the Barrow Street Theatre is located at 27 Barrow Street at 7th Avenue.
Photo Credit: Pablo Pimienta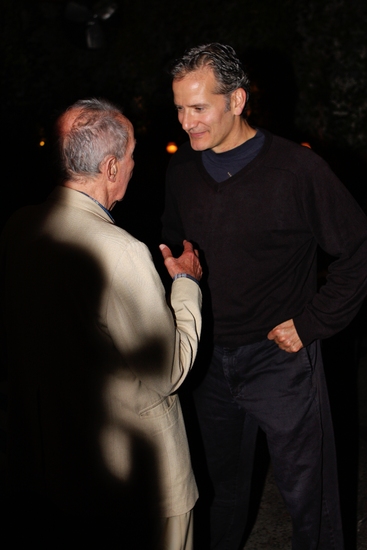 Campbell Scott

Campbell Scott and Lawrence Wright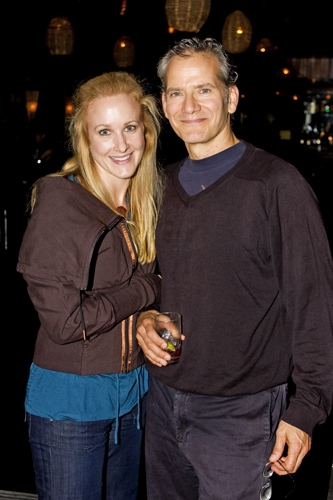 Katie Finneran and Campbell Scott

Katie Finneran and Campbell Scott

Campbell Scott, Ronan Noone and Justin Waldman

Campbell Scott