Keir Dullea And Mia Dillon Star In LOVE LETTERS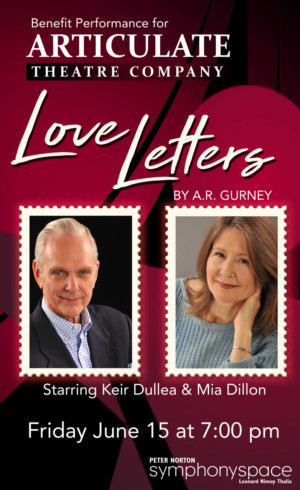 Real life sweethearts, Keir Dullea (2001: A Space Odyssey) and Mia Dillon (TONY award nominee, Crimes of the Heart) bring A. R. Gurney's Love Letters to life in this one of a kind performance. As 'Melissa' and 'Andy,' these two stunning artists bring complexity and humanity to Gurney's timeless play about love, friendship, loss, challenges and the art of letter writing. Underscoring their love for New York's theatre scene, Ms. Dillon and Mr. Dullea share this production as a benefit for the award winning Articulate Theatre Company.
"In the wake of their intense traveling schedule for the 50th Anniversary celebration of 2001: A Space Odyssey, Articulate is especially grateful to Keir and Mia for sharing their time and talents with us," said Articulate's Artistic Director, Cat Parker. "They have always been a part of the New York theatre scene, and have always supported Articulate. We can't thank them enough."
After the show, there will be a Q&A period with Mia Dillon and Keir Dullea, moderated by Artistic Director, Cat Parker. Topics will include movies, theatre, letter writing and much, much more!
Keir Dullea: Keir Dullea is a veteran film, theatre, and television artist whose career spans over 60 years. His 30 feature films include 2001: A Space Odyssey (which is celebrating it's 50th anniversary this year!), David and Lisa, (for which he received a Golden Globe award for The New Star of the Year), Bunny Lake Is Missing with Lawrence Olivier, The Fox with Sandy Dennis, and Madam X with Lana Turner. His Broadway credits include Butterflies Are Free opposite Blythe Danner, the first Broadway revival of Cat On A Hot Tin Roof opposite Elizabeth Ashley, and P. S. Your Cat Is Dead. His off-Broadway and regional theater appearances number in the 50s. His television appearances span from such shows as Naked City and the US Steel Hour to the current HBO production of Fahrenheit 451. He was trained at The Neighborhood Playhouse School of the Theatre where he was taught by Sanford Meisner and Martha Graham.
Mia Dillon: Mia Dillon is an accomplished theatre actress whose Broadway credits include Our Town, The Miser, Hay Fever, The Corn is Green, Agnes of God, Once a Catholic (Drama Desk Award nomination), Da, and Crimes of the Heart (Tony Award nomination, Clarence Derwent Award, Dramalogue Award). She has appeared around the country in regional theatre, most recently at The Hartford Stage in Seder, and Cloud Nine (CT Critics Circle Award), Westport Country Playhouse in Lettice and Lovage, and A Song at Twilight, and Pioneer Theatre in An Inspector Calls. Film and TV credits include all 3 Law & Orders, Brain Dead, Isn't it Delicious, Gods and Generals, Ordinary World, Mary and Rhoda, The Money Pit.
A.R. Gurney: A.R. Gurney wrote plays for many years, and touched many hearts. The most produced are The Dining Room, The Cocktail Hour, Love Letters, and Sylvia. He was feted by Articulate Theatre as part of Circle Rep's cadre of playwrights, during Circling Back: A Celebration of Circle Rep Company. Gurney was a member of the American Academy of Arts and Letters and the Theatre Hall of Fame, and received many awards for individual plays and for the body of his work.
ARTICULATE THEATRE: Articulate theatre is theatre that is well-crafted - verbally, visually, aurally, and most importantly, story-wise. We thrive on being storytellers and using all the elements of that craft to vibrantly bring a production to life. We are committed to challenging and connecting audiences and artists with clearly structured work that is intelligent, thought-provoking, visually striking and timeless. Articulate produces theatre that is based around the three definitions of 'articulate:' clarity, structure and connectivity: challenging and connecting audiences and artists with clearly structured work that is intelligent, thought-provoking and visually striking.
For additional information about Articulate, please visit www.ArticulateTheatre.com