Jackie Hoffman, Lauren Molina & More to be Featured on THE MICHAEL FRIEDMAN COLLECTION Final Installment
The albums will all be available in digital and streaming formats on Friday, March 24.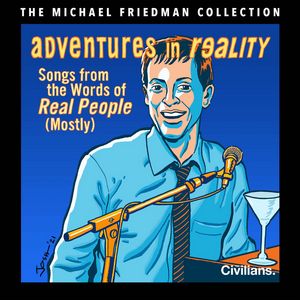 GHOSTLIGHT RECORDS and The Civilians have announced the release of four new albums as the final installment of The Michael Friedman Collection. Adventures in Reality, Canard, Canard, Goose?, In the Footprint: The Battle for the Atlantic Yards, and Mr. Burns, a post-electric play will all be available in digital and streaming formats on Friday, March 24. This extraordinary long-term project will now comprise the premiere recordings of nine musicals from the beloved late Obie Award-winning songwriter Michael Friedman (1975-2017), a founding member of The Civilians. The recordings capture Friedman's innovative spirit and unbridled creativity, now preserved to inspire a new generation of theater-makers. These new albums represent the work of a community of well over 100 artists who came together in spite of the pandemic's challenges. For more information, and to stream or download the albums, please visit MichaelFriedmanMusic.com.
Additionally, The Civilians will honor Grammy-winning industry executive Kurt Deutsch, Senior Vice President, Warner Music Entertainment & Theatrical Ventures and Ghostlight Records at Adventures in Reality: The Civilians' 2023 Spring Benefit. The event, which takes place on Monday, April 3 at 6:30 PM at City Winery (25 Eleventh Avenue), celebrates the jubilant culmination of The Michael Friedman Collection. Tickets can be purchased at www.thecivilians.org/benefit.
The new albums feature music and lyrics by Michael Friedman, with the exception of Mr. Burns, a post-electric play, which features lyrics by Anne Washburn. Canard, Canard, Goose? is written by Steve Cosson and the company. The new albums are produced by Steve Cosson and Kurt Deutsch, with Ghostlight Records and The Civilians serving as executive producers. The albums are co-produced by Ian Kagey and Wiley DeWeese. Andrea Grody serves as co-producer for Mr. Burns, a post-electric play. Adventures in Reality, Canard, Canard, Goose?, and In the Footprint feature orchestrations by Wiley DeWeese, who also serves as music director. Dan Lipton is co-music director for Adventures in Reality. Mr. Burns, a post-electric play features orchestrations by Michael Friedman, with additional orchestrations by Wiley DeWeese and Andrea Grody, who also serves as music director.
These four new titles follow the initial five: The Great Immensity, The Abominables, and This Beautiful City (released in 2019) and (I Am) Nobody's Lunch and Paris Commune (released in 2020). The Michael Friedman Collection is made possible by the generous donors to the Michael Friedman Legacy Fund and by the artistic contributions of his many collaborators.
In a New Yorker essay following Michael Friedman's untimely death at 41, Sarah Larson described him as "a brilliant and prolific composer and lyricist, a pianist, a thinker, a mile-a-minute talker, a gesticulator, a person who dazzled and could leave you dizzied-not just by his talent and intelligence but by his kindness and humanity, which were always at the forefront of his work." Ghostlight previously recorded Friedman's Broadway score to Bloody Bloody Andrew Jackson, The Fortress of Solitude, and Love's Labour's Lost at The Public Theater, as well as Unknown Soldier, Pretty Filthy and Gone Missing with The Civilians.
"Having a cast album available is essential to a musical's enduring legacy and to inspire ongoing productions," says Friedman's collaborator Steve Cosson. "And now, thanks to these new recordings, Michael's shows are part of the future - new people will inhabit them, give them their voices, and step into the wonderfully rich and idiosyncratic world that Michael's music conjures."
Adventures in Reality
is a collection of Michael Friedman songs mostly created for various Civilians shows and cabarets, with lyrics taken from verbatim transcripts of interviews. The album also includes Michael's collaboration with playwright John Guare in a song about Chekhov's Three Sisters with lyrics written by Guare. Meet an art curator and an art patron grappling with beauty, sex, love, and race in two songs created during The Civilians' year-long residency at the Metropolitan Museum of Art. Hear from Occupy Wall Street activists navigating the exhausting work of political protest and democratic change. Step inside the wild imagination of visionary poet Arthur Rimbaud and experience his poetry through a theatrical lens. From a modern-day match maker to an aging porn star, these songs use the real words of various ordinary and extraordinary people, proving that truth is indeed stranger and more wonderful than fiction. The cast includes Nick Blaemire, Cindy Cheung, Carla Duren, Jackie Hoffman, Jo Lampert, Lauren Molina, Dito Van Reigersberg, Brian Charles Rooney, Heath Saunders, Mary Testa, Tony Torn, Alison Weller, and Ada Westfall.
Canard, Canard, Goose?
The Civilians very first show, was created by the company in 2001, marking Michael Friedman's first full-length musical. The show follows a documentary theater company, The Civilians, as they pursue a story about alleged geese abuse in a small town in the Adirondacks. Supposedly, the makers of Fly Away Home (starring a young Anna Paquin), imprinted a flock of geese so that they would follow Paquin's character, only to then abandon them after filming. As the rumor goes, these disoriented geese were left behind to meet their end in the cold Adirondack winter. The intrepid Civilians interview the locals in Long Lake, NY, eventually piecing together the real story. This show, created in the months following 9/11, takes an oblique, metatheatrical look at the confusion, disorientation and tremendous loss that marked that time. The script is written by Steve Cosson from interviews, improvisations, writings, and other contributions by the company, with additional text by Anne Washburn. The cast includes Andrew Kober, Grace McLean, Jonathan Raviv, Maya Sharpe, Kristin Stokes, and Colleen Werthmann.
In the Footprint: The Battle for the Atlantic Yards
chronicles the conflicts surrounding the largest land development project in Brooklyn's history, the Atlantic Yards. This lively play with music is inspired by interviews with the real-life players in the controversy, representing many different perspectives: residents of Prospect Heights and Fort Greene, political leaders such as Letitia James, members of Develop Don't Destroy Brooklyn, union members, and project supporters such as ACORN's Bertha Lewis. The creative team listened to Brooklynites from Borough Hall to barber shops to gain insights into both the Atlantic Yards drama and the ongoing story of gentrification in Brooklyn. The original 2011 production took place at the Irondale Center, located just a few blocks from the site of the Atlantic Yards. This still timely piece examines the ongoing saga of politics and money that determines the fate of New York City and the places we call home. The cast includes Andrew Kober, Grace McLean, Onyie Nwachukwu, Jonathan Raviv, Maya Sharpe, Kristin Stokes, Akron Watson, and Colleen Werthmann.
a post-electric play asks the question: What will endure when the cataclysm arrives, the grid fails, society crumbles, and we're faced with the task of rebuilding? With a script and lyrics by Anne Washburn and Michael Friedman's "songs of horror and resilience" (The Village Voice), this imaginative dark comedy propels us forward nearly a century, following a new civilization stumbling into its future. A paean to live theater, and to the resilience of Bart Simpson through the ages, Mr. Burns, a post-electric play is an animated exploration of how the pop culture of one era might evolve into the mythology of another. Originally commissioned The Civilians, Mr. Burns: a post-electric play premiered at Washington D.C.'s Woolly Mammoth Theatre Company in 2012 and in New York at Playwrights Horizons in 2013, both directed by The Civilians' Artistic Director, Steve Cosson. The cast includes Gibson Frazier, Rebecca Hart, Matthew Maher, Jennifer R. Morris, Maya Sharpe, Christina Sajous, Kristin Stokes, and Sam Breslin Wright.
was a composer and lyricist of enormous versatility and deep intellectual curiosity. He was most well-known as the co-creator of the critically-acclaimed musical Bloody Bloody Andrew Jackson, which premiered in New York at The Public Theater and subsequently transferred to Broadway. Other credits include the musical Fortress of Solitude, based on the book of the same name by Jonathan Lethem, and performed at The Public Theater; Unknown Soldier, which premiered at The Williamstown Theatre Festival; and Love's Labour's Lost, which premiered at the Delacorte Theatre in Central Park. Michael was a founding Associate Artist of the celebrated theater company, The Civilians. His work with The Civilians included Gone Missing, In the Footprint, The Great Immensity, Paris Commune, (I Am) Nobody's Lunch, The Abominables, and This Beautiful City, as well as the score for Anne Washburn's critically-acclaimed Mr. Burns.
His work has filled the stages of most major Off Broadway and regional theaters, establishing a body of work in two decades that is distinguished not only by its artistry, wit and inventiveness, but by its keen insights into the American experience. Often working with verbatim interviews as source material, Michael showed an uncanny ability to draw out expansive ideas from the distillation of a single human voice. He drew on that skill while traveling the country in the lead up to the 2016 election, creating The State of the Union Songbook a series of songs based on interviews for The New Yorker Radio Hour.
Michael received a MacDowell Fellowship, a Princeton Hodder Fellowship, a Meet the Composer Fellowship and was a Barron Visiting Professor at The Princeton Environmental Institute in 2009. Other career highlights include a retrospective concert at Lincoln Center in the "American Songbook" series, and an Obie Award for sustained excellence in 2007, among many other honors. At the time of his death, he was the Artist in Residence and Director of the Public Forum at The Public Theater and was also the Artistic Director of New York City Center Encores! Off-Center.
GHOSTLIGHT RECORDS
has become the leading independent force in Original Broadway Cast Recordings - building a library of over 200 records over the past 23 years, featuring some of the most successful Broadway musicals and solo albums by Broadway's brightest stars. Founded by Grammy Award winner Kurt Deutsch, Ghostlight has won Grammy Awards for The Band's Visit, The Book of Mormon, In the Heights, and Beautiful - The Carole King Musical. Ghostlight has also released solo albums from Patti LuPone, Kelli O'Hara, Sutton Foster, Billy Porter, and more. The label continues to support the new generation of musical theater composers and has developed extensive relationships with Jason Robert Brown, Michael John LaChiusa, and David Yazbek, as well as Lin-Manuel Miranda, Pasek & Paul, Tom Kitt, Joe Iconis, and Shaina Taub. Ghostlight Records is part of the Arts Music division at Warner Music Group.
began in 2001 with a company of artists, led by Founding Artistic Director Steve Cosson, who were interested in making new work at the intersection of the theatrical and the real. They took the name from old vaudeville slang-a "civilian" being anyone outside of show business-and coined the term "investigative theater" to describe their combination of a creative process with field research and in-depth residencies with specific communities. This approach would yield numerous revelatory, exuberant and critically acclaimed new plays and musicals. Shows (by various authors) include Gone Missing, with several US and UK tours culminating in a one-year Off-Broadway commercial run; This Beautiful City, about the politicized Evangelical movement; The Great Immensity, the first major American play about climate change; Another Word for Beauty, created from a residency inside Bogotá's national women's prison during their annual beauty pageant; and Pretty Filthy created from months of immersion in L.A.'s adult film industry. The company also has a rich history of nurturing new work by some of America's leading playwrights and composers, such as Anne Washburn's wildly inventive Mr Burns, a post-electric play, which has gone on to hundreds of subsequent productions around the world and was recently named the fourth best play of the past twenty-five years by The New York Times.