CALL ME FROM THE GRAVE Will Be Presented in Concert-Reading
The award-winning musical will be presented February 6th and 8th, both at 7:00 PM.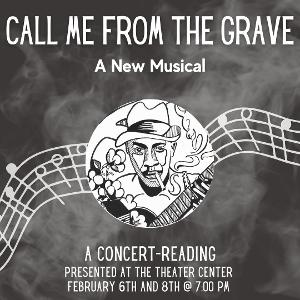 Call Me From The Grave will be presented in Concert-Reading Off-Broadway as a part of the Theater Center's Incubator Program. With music and lyrics by Charlie Romano and a book by Harold Hodge Jr, the award-winning musical will be presented February 6th and 8th, both at 7:00 PM. Tickets can be bought HERE.
Call Me From The Grave explores the life and myth of famed Bluesman, Robert Johnson. Born into a poor sharecropping family in Mississippi, Robert longs to be a famed musician and escape a life of labor. After experiencing a heartbreaking loss, Robert feels he has nothing to lose when he is approached by a mysterious man who offers him a deal: all of his heart's wishes in exchange for his soul. Taking the deal, Robert is thrust into stardom. Torn between the life he dreamt of and the family he left behind, Robert must weigh what really matters in the short time one has to live.
Jamir Brown stars as Robert Johnson. Fairin Moon, Danyele Yvonne James, and Alexandria Reese star as the women in Robert's life: Virginia (his wife), Julia (his mother), and Sarah (his sister-in law) respectively. The cast includes Cedrick Ekra (Son House), Jermaine L. Pearson (Dusty Spencer), Talib Thompson (Charles), Vikram Akwei (Devil), and Shafiq Hicks( Pastor).
The ensemble is rounded out with Amber Hurst-Martin, Caitlyn Joi, Jaida Mae, Stacie Elizabeth Louis-Jacques, Na'zir Postell, Husain Williams , Bradwin Amos, and Kellie Williams.
"People can expect a story of adventure and drama with a bit of of the supernatural," Romano said about the material. "The music will make you want to move and sing as we follow Robert's rollercoaster of a life."
"It's a refreshing story," Hodge added. "Often when a musical set in this time period with predominantly Black characters, the story revolves around Racism. That is not the case with this story. We get to see Black joy, Black hope, and Black love in a story free from White supremacy inflicted trauma."
Call Me From The Grave has been honored wish several accolades, including: O'Neil Finalist (2021), NMI New Voices Award (2020), NAMT Semi Finalist/ Shows You Should Know (2021), and the Stanley Drama Award Finalist (2022).