Interview: Yehuda Hyman Dives Head First Into His Mother's History in THE MAR VISTA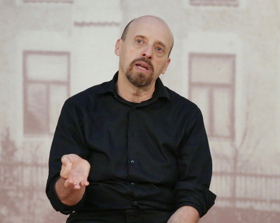 Yehuda Hyman is a Brooklyn-based choreographer and playwright who's new play, The Mar Vista: In Search of My Mother's Love Life will be running at the Ford Foundation Studio Theatre at The Pershing Square Signature Center from March 5 through March 23, 2019.
The comical and heartbreaking play uses dance and music to convey the bond between Hyman and his mother, Sara, a strong-willed, funny, and deeply romantic Russian-Jewish woman with a colorful and mysterious past. A cast of 6 actors, including Hyman himself travels 90 years and several continents in this surprising family saga, which includes Sara's forbidden romance with a Catholic priest, Yehuda's experience as a gay boy growing up in the 1960s in a family of immigrants in West L.A., and above all, the enduring power of lost love.
Yehuda Hyman spoke to BroadwayWorld about the process of developing the show over the last several years and the unique stories it portrays.
---
What is The Mar Vista about and how did it come about as a show?
The Mar Vista is basically a memoir about my mother and her life. Mar Vista means "view of the sea" in Spanish and it's also the name of the West LA neighborhood I grew up. My mother was very drawn to the sea and to the ocean so the play is filled with journeys across continents and longing to be back Istanbul, which is a city surrounded by water. I grew up fascinated by my mother's stories - her stories of romance and adventure and escape and immigration. I had always wanted to do something with these stories and around 2000, I wrote a big draft of a play and then basically threw it away. I couldn't get it to function because it was too far ranging and there were too many characters.
When my mother passed away in 2008, I found that dancing was the only thing that made me feel good. My mother was a not a professional dancer but she would dance anywhere, anytime at the drop of a hat. So I went back to dance, which was crazy and decided to get my MFA in dance at the age of fifty-four, which was really crazy. And while I was doing that, I found a way to make this piece about my mother through dance. So I started just crafting little vignettes at Sarah Lawrence College, where I was getting my MFA in dance in 2014.
At the same time, I got a fellowship at LABA, which is a laboratory for Jewish culture at the 14th Street Y. During my year fellowship there, I was still developing this and showing bits of it, and they kept saying, "Yeah, do more, do more, do more.". Finally, we did three different developmental workshops there and then the whole piece in 2016. It was pretty much under the radar but we did get a strong emotional response from the people who came to see it. A woman came to the very last performance named Barbara Nagal contacted me eight months later and said, "what's going on with The Mar Vista?" And I said, "Alas, nothing," I had been working on it and it still wasn't finished and she said, "Well, I think we have to do something," so she invited a friend of hers, Roseanne Braun, who is a documentary film producer on board we decided to produce it. And that's where we are now. We are going to do a three-week run at the Signature Theatre in the Ford Studio space. It's still a very intimate production. It's most of the same people who've been working on it for three to four years.
How much has the piece changed since it was last performed in 2016?
I've had a chance to go in and rewrite. The basic structure is the same, but I think what's happened is that themes have come out that I've identified as much stronger. The first act is primarily excavating the history of my mother and her passionate love affair in Istanbul, the forbidden love affair that she had there, and then her meeting my father in Cincinnati, who was also an immigrant - he was one of the last Jews to get out of Poland before World War II. But the second act is really strongly about myself as a child (there's another actor who plays myself as a child), as a queer child and that has come out much stronger in this version. There's a long flashback sequence in the first act about my father's life in Ratno, Poland, which he never talked about. That was something that I just took a very strong look at again. It just feels a lot deeper this time, I guess. Every day that we're in rehearsal I go, "let's do this, let's tweak this." Some parts before were even like the first draft of movement and so now I've been able to go back and say, "let's really do this scene," instead of doing like a pencil sketch of it. It's also a very different space. It's more intimate and so it's very, very up close and personal in the space that we're going into at the Signature so that feels very different.
You mentioned that there's an actor who plays you as a child. But you're also in the show yourself, right? Are you playing yourself?
Yes, so the conceit is that I'm trying to make this piece about my mother and I don't quite know how. So there are literally scenes that came out of the rehearsals, almost like a documentary where we'd be working and I'd stop and look at things as the real person. A lot of times I'm sort of narrating or observing and sometimes I'm playing different characters in the play. In the first act, I play my grandfather in Poland who I never met. But yes, I'm in there the whole time. Sometimes I'm just standing or sitting on the side watching my life unfold, particularly in the second act. So a part of the show is about the experience of a writer going in and looking at his life.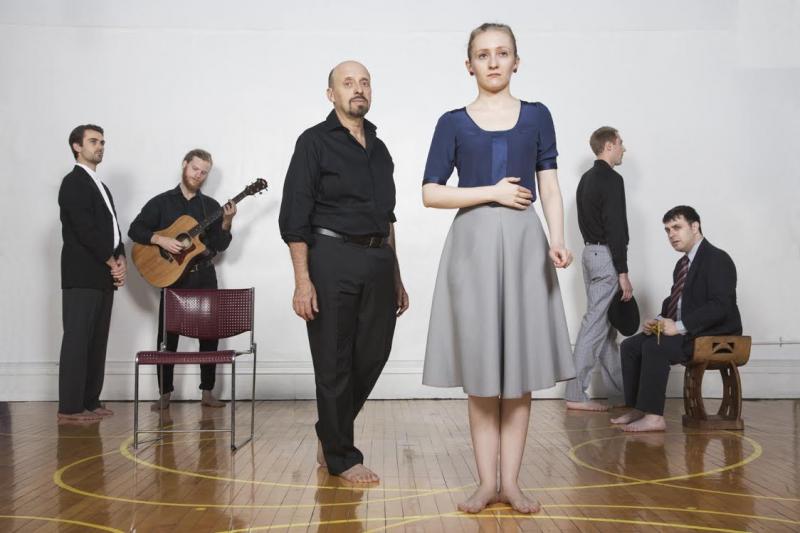 I read that the show is in five parts. How did that come about?
So part of that was just that it seemed so impossible to make this so my recipe was one part at a time. Each part has a title and the first part is called "Leaning Into Moisture," which has to do with the mythology about the different meanings of the ocean and my mother's obsession with ocean, her demand to always be near the sea. But it also refers to moisture as sexuality and the first part is really about my mother's secret affair with this man during World War II in Istanbul. And then the second section is called "The Cincinnati Highball," and it chronicles how my parents, who were both immigrants, met in 1951 in Cincinnati.
That's all of Act One, and then part three is called "Tales of the Mar Vista," and that's really chronicling my growing up in the house of these two parents in West LA, in the neighborhood of Mar Vista in the 1960s. It's done really as a whole bunch of really short vignettes and some of them very funny and some of them very painful. Part four is called, "Hamam," which is the term for a Turkish bath, a steam bath, and it's about me returning to LA with my mother as A VERY OLD, very sick woman and eventually bathing her because she couldn't go that herself. It's also about my finding out some more things that I didn't know about my mother and my father and her lover. And the last part is about my actually going to Istanbul after my mother died and an event that happened on an island she used to go to. She had filled my mind with these very romantic fantasies as a child and I actually went there and had this almost reincarnation experience of her love affair with someone that I met on that island, on that very spot where she would wait for her lover. And that part is called "Antigone," which was the name of the island when she was a child. So it's sort of a full circle of this idea of romance that my mother instilled in me through stories, through dance, through taking me to films, and saying, "look at this, this is romance," and then myself really experiencing that.
What do you think your mother would think of this play if she could see it?
I think she would like it. I think she would be thrilled that there was a play about her, because she was a very dynamic person, she was the kind of person at a party who would get up and dance and she just loved to celebrate life. So I think she would like that. Over a very long period, I had been interviewing her, maybe over thirty years, and at one point she said, "So what are you doing with this? Are you going to write something?" And I said, "Well, maybe." And she said, "Okay." Some of it is very intimate, and she'd say, "Are you going to write about this?" And I'd say, "Yeah, I think so." She'd smile and sometimes she'd say, "I don't know, maybe you should leave that part out." I do think about my father though and I wonder if I'm being fair. So I really don't know how my father or my mother would respond. I think it would be painful for them but that they would also recognize it as being truthful. I hope that I am honoring them by showing their lives in the truth.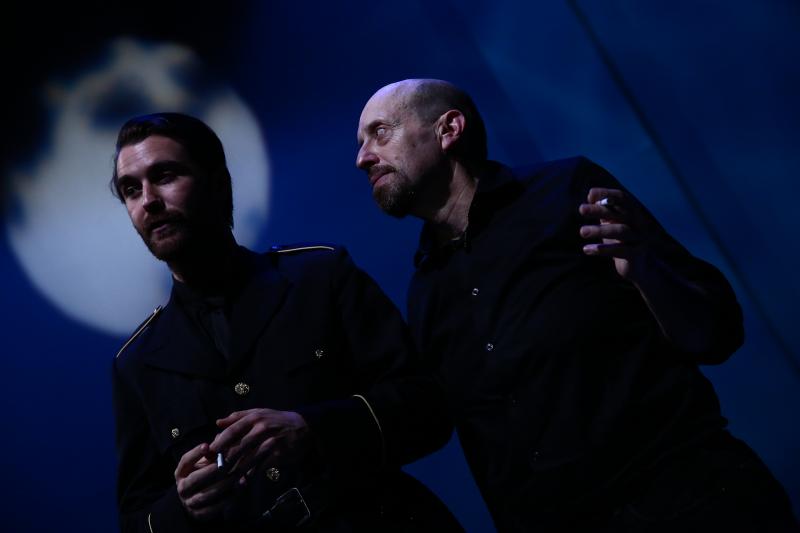 Do you think that your approach to writing this play and that people's response to it has changed at all as we've entered our current political climate and current administration, given that it is a story about immigrants?
About three or four years is when I first started to work on the particular section that involved my father's story, which is really this terrible story. His family was very poor in 1938 Poland and it was very bad already for Jewish people. He had this opportunity to go to America, and he took it with the understanding that he would bring his entire family over and then he never saw them again. At the time, it was wrenching for me to write but I felt like things don't happen that way anymore. But now it's absolutely happening and so the story feels just like today's news. When you want to leave, and you can't leave anymore, and borders are closed and families separated. The story feels very alive in a way that it wasn't before this presidency.
What is your hope for the future of The Mar Vista?
My hope is that I can make this the most complete production possible in this venue at this time. This production is happening because so, so, so many people are believing in it and I'm hoping we can just bring every single morsel of text and movement to life in its deepest intensity. I would love for it to have a life after the Signature production. What that is, I don't know, but I really would love for that to happen. And really, the only reason we're doing this production is because others have come forward like Barbara and Roseanne and said, "This needs to be seen by a lot of people." So we'll see. I hope so.
---
The cast for The Pershing Square Signature Center production features Yehuda Hyman, Amanda Schussel, Ron Kagan, Ryan Pater, Jacob Perkins, and Ezra Bloom. The creative team includes Amy Page (costume design), Lewis Folden (scenic consultant), Zach Blane (lighting design), and Ezra Bloom (sound design). The production team includes Will Jennings (production management), Kate Wilson (production stage manager), Katherine Boener (assistant stage manager) and Adin Walker (associate director).
Tickets can be purchased through Ticket Central (ticketcentral.com), by calling (212) 279-4200, or in person at 416 W. 42nd Street (12-8:00 pm daily). The performance schedule is Tuesdays through Fridays at 8:00 pm; Saturdays at 7:30 pm, and Sundays at 2:30 pm. General admission: $35. Student tickets are also available.
The Pershing Square Signature Center, the permanent home of Signature Theatre, is a three-theatre facility on 42nd Street designed by Frank Gehry Architects to host Signature's three distinct playwrights' residencies and foster a cultural community. The Center is a major contribution to New York's cultural landscape and provides a venue for cultural organizations that supports and encourages collaborations among artists throughout the space.
Photo Credit: Paula Court and Ethan Hill