BWW Interview: Jane Elias' Heartfelt Story of a Father, a Daughter and Survival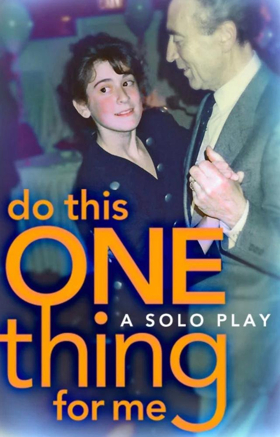 Jane Elias needn't have worried.
"I didn't want people to think, 'Oh no, not another Holocaust story,'" said Elias, playwright of the stunning autobiographical tribute to her Holocaust-survivor father, DO THIS ONE THING FOR ME.
The production is much more than a tale of one human being's will to live.
"I had a lot of trepidation because it's such tricky territory," Elias said. "It was my father's passing that brought it to the forefront of my mind," she said.
"His voice was literally no longer present, and I felt a responsibility to keep his story alive."
This 75-minute piece may echo familiar concepts about death camp survivors but it's a uniquely heartfelt and humorous love letter to Beni, a Greek Sephardic Jew who escaped death from Bergen-Belsen and Auschwitz. The camp was liberated the day he was supposed to have perished.
Elias grew up in Long Beach, N.Y., raised by devoted parents whose dream was to see their daughter happily married. And for Beni to dance with his daughter at her wedding. Preferably wed to a nice, Jewish boy. He ultimately waltzed with his daughter to the strains of "The Blue Danube," but it was in an Elks Hall in Durham, N.C., not a catering hall.
No spoilers here.
When she was in high school, (in the play) Elias was assigned a 10-page, typed essay on World War II. That assignment blossomed into a nascent exploration of Beni's journey through the war. He lost most of his family in the camps. While the solo piece is about her father's experiences during the war, the story is really about the relationship between a father and daughter.
"What happened to him informed how I moved through the world," said Elias, who's been working on the piece since 2012, tweaking it here and there.
"How do I honor his legacy, if not by marrying and having children, then by writing this," she said. Her work became a labor of love. "I was taking a solo writing workshop and didn't have a clear idea consciously," Elias reflected. "But it's about my dad, and my teacher said clearly that's what I was thinking."
Elias became more focused after her father died in 2010. "My creative output exponentially increased after he passed away," she said. "One of the ironic pleasures is my dad wasn't on board with me pursuing acting, and it's because of him we ultimately made this show together.
"I don't think I would have written it if he was still alive," she added. "I wouldn't have arrived at this place."
Beni had been interviewed by the SHOAH Foundation, which was established by Steven Spielberg after the release of SCHINDLER'S LIST to gather survivors' stories for posterity. Elias learned many details about her dad's life in the camps, and sections of the play are taken directly from her father's testimony.
One way Elias sought to honor her father was to go on a group trip to Auschwitz, the March of the Living, and movingly read the names of all of her father's lost relatives. A video of her reading those names was made and sent to him.
"Because more time has gone since he passed, time is different," she said. "The scene in the hospital was a much more recent memory when I first wrote it. Time kind of collapses, and when performing I have a little more perspective now than in the beginning."
Beni's older sister Lena also survived the camps, and saw Elias' show before she died. She loved it. Other relatives appreciated the tribute immensely. "Everyone was so generous, and it tickled my aunt. She had wanted to be an actor, but her parents dissuaded her," Elias said.
"She was happy to have a spotlight on the family. It gave her a little extra joy to see her niece singing Greek nursery rhymes, and I heard her singing along. I heard her say, 'I taught Beni that song.'"
Although Elias' mother is mentioned, the focus is on her dad. Her mother still lives in the same Long Beach home Elias grew up in. Growing up with an older dad - he was 45 when Elias was born - was a challenge, especially since Elias had a fierce independent personality and balked when her dad asked for her to call him every morning to report that she was okay.
"We had a lot of arguments about that, which now doesn't seem like such a big thing to ask," she said. "I was much more adamant in my early 20s," she said with a laugh.
The set consists of one chair, and the lighting is dramatic, as is Elias' ever shifting tones and body language. Transitions from one character to another shift effortlessly, and she creates light moments among the dark memories.

"I have my director to thank for that," she added, referring to Tracy Bersley.

"When we started working together, the initial piece was already written and my hope was to have simple and elegant transitions," Elias said. "It's all about the emotional shifts, just a matter of finding a small thing with the testimony, change of lighting, talking to the camera.
"I'm still struggling with the Jane character," Elias said. Her character ages from kindergarten to adulthood. "I want to make a distinction between them but still be the same person. It's all about talking through the muscle memory," she said.
"During the SHOAH interview there are moments when Beni talked about being separated from his mother in Auschwitz and the realization that he didn't get a chance to say goodbye made him emotional," she said.
Her father was a stoic, resilient when it came to his survival. The play expresses deeply felt sentiment, while never becoming sentimental. Although her father did not want to accompany Elias on her Poland trip, he was supportive once she was there. "I think it was his protective instinct that didn't want me to go on the trip," she recalled. "He didn't want me to experience those places and didn't like that I was going."
Although the piece is very personal and spotlights a horrific time in the Jewish experience, the Holocaust affected other minorities as well. Elias thinks her story is a universal one, essentially a father/daughter relationship.
"Early on, when I was first getting ready to present this, I had to write a blurb about the show. I was hesitant to use the words 'Holocaust' and 'Auschwitz' because that's not what the story is solely about. It figures largely and is important to the piece, but it's a complicated story about a parent and a child," Elias said. "Those dynamics are recognizable in a lot of cultures."
DO THIS ONE THING FOR ME is among this year's New York International Fringe Festival, and runs on select dates from October 14-27. The FRINGE HUB is at 685 Washington Street (corner of Charles Street). For more information visit the website dothisonethingforme.com
The production team includes Adam Platt (original music and sound design), Renée Molina (lighting design) and Stefania Diana Schramm (production stage manager) The production was developed with Matt Hoverman.
Related Articles View More Off-Broadway

Stories

Shows