BWW Exclusive: STILL AT RISK- A Survivor in a Strange Land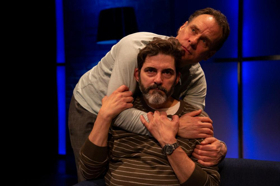 You'd think after Message to Michael-his beautiful first play about love and its second cousin, friendship, during the heart-wrenching onslaught of AIDS-that Tim Pinckney would've bounced right back with another play.
Well, think again-and fast-forward 22 years and three months to last week when Opus Two, Still at Risk, debuted in the 88Community Space Theater at Theater for the New City where it will play through March.
Not the least of its virtues is the fact it is one of the first plays-if not the first-to connect the dots between the Then of AIDS and the Now of AIDS.
This it does via a battered protagonist unsteadily straddling both worlds: Kevin, a middle-aged crank, has emerged alive and kicked from the original plague, made it to a relatively safe shore and now must cope with a new and different generation only dimly aware of the horror he has come from.
It's a track Pinckney knows all too well--hence, the play. More than most, his career trajectory was governed-overruled, really-by the disease.
Just as AIDS was first getting a death grip on Manhattan's gay community, he hit town from upstate New York singing "An Actor's Life for Me"-but it wasn't long before auditions slowly faded to the background and he found most of his time going toward comforting and caring for stricken friends.
He made a profession out of that by joining the Gay Men's Health Crisis, which, on a citywide level, counseled, assisted and secured special services for those with AIDS. Routinely, he started living The Normal Heart.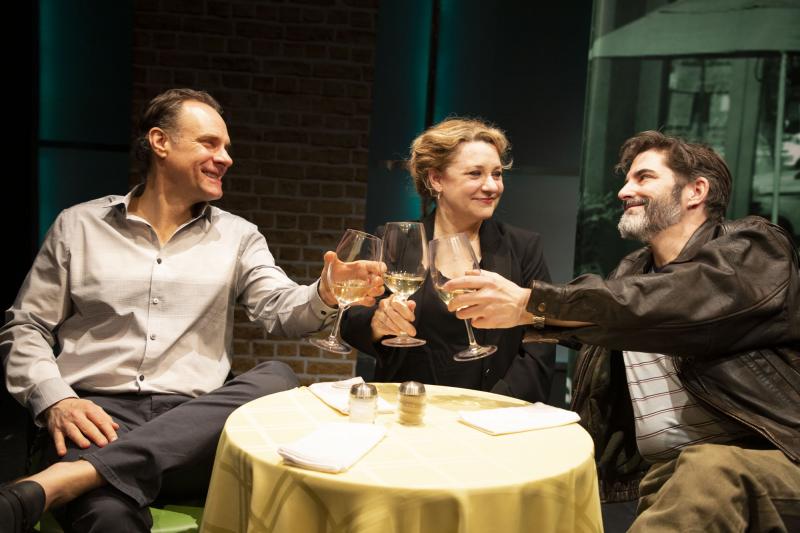 "It was '92, the beginning of the second wave of deaths that we saw. That's when I lost most of the people I lost. The first wave, when we first started hearing about AIDS, killed off guys a little older than me so it wasn't really touching my circle yet, but, by the late '80s, we were living in that circle.
"Working at that agency at that time was so stressful, but it was probably the best thing I've ever done-the smartest, angriest, most engaged thing I've ever done. All of us there were trying to do something-bring about change, make a difference-when our government was doing nothing."
His GMHC gig eventually segued, with a certain Samaritan logic, into his current role for the Actors Fund. For 18 years, he has been producer and, in a pinch, staff writer for its benefit galas. "It's like the best survival job in the world," he trills, "and I so completely believe in what the Fund does."
The job brings him in contact with a vast cross-section of the city, but it was the newer and younger recruits who prompted him to write this piece.
"Through no fault of their own, young people have no idea what we went through and what it was like," he concedes. "At first, it made me feel a little resentful-but, of course, you don't want them to have to go through that. You just want them to understand what happened and how it happened and what you have right now because of it. That's why I wrote this play.
"What it really comes down to, I think, is that this play had to be written. The '80s and' 90s were such a significant period in my life, but writing them up was something I never expected. As a writer, I'm not a journalist. I don't journal every day like a lot of writers do. I'm just not good at it. I did, however, find that by translating prose into dialogue I could convey what it was like. That's how it started. It became clear to friends who were hearing it and those in my writing group that I had a pretty good ear for dialogue.
"I write when I grab time, and I write when I have something to say. This is something I was not trained to do. It's something that I started doing late in my life, in my 30's. I got very lucky because my first play got produced."
It may now surprise you to learn-in spite of everything above--that Still at Risk is a comedy. It's glib, it's brittle, it's often downright hilarious. The old sorrows animating the plot are mostly kept in storage but eventually seep through the laugh lines and take over the work without much of a struggle.
This dime-spinning defense mechanism is something Pinckney's cultivated all of his life. "I've always been a kind of wise ass, and mouthing off has gotten me in lots of trouble. But I wouldn't have it any other way--although I find, as I'm getting older, my filter is becoming nonexistent. I say what comes into my head sometimes." As does his unabashedly direct Kevin.
It's a quality that has served him well in life and career. Message to Michael had the same winning mix--twin measures of heart and humor-"but," asterisks Pinckney, "Still at Risk has more teeth and goes a lot deeper.
"My AIDS years was something I always knew I wanted to write about. I was just never sure how to frame the subject matter, how to tell the story. It took me quite a while. My initial Still at Risk was radically different."
In his first flying leap at the play, the main event motivating the action was a gala saluting AIDS' early heroes. "It had a bigger role and made the play a bit farcical. It was still funny, and I was pleased with that, but it wasn't the story I wanted to tell so I wound up scraping 85% of it and starting over."
A good friend of his, director Carl Andress, caught the last reading of that version. "It was one of those readings where I was sure it was 90% done," Pinckney recalls, "but my agent said it's not there yet. I had to go deeper. So Carl and I conferred, and he came up with some wonderful ideas."
Enough wonderful ideas that Andress is now directing the results, tightrope-walked by a hand-picked, premium cast led by Robert Gomes as the haunted, hot-headed Kevin. Quieter emotional survivors of those dark times include Christopher J. Hanke, Amy Hohn and Jonathan Walker, while Ryan Spahn all by himself represents today's well-meaning if myopic youth who sees the past in long-shot through the smoked glass of the present.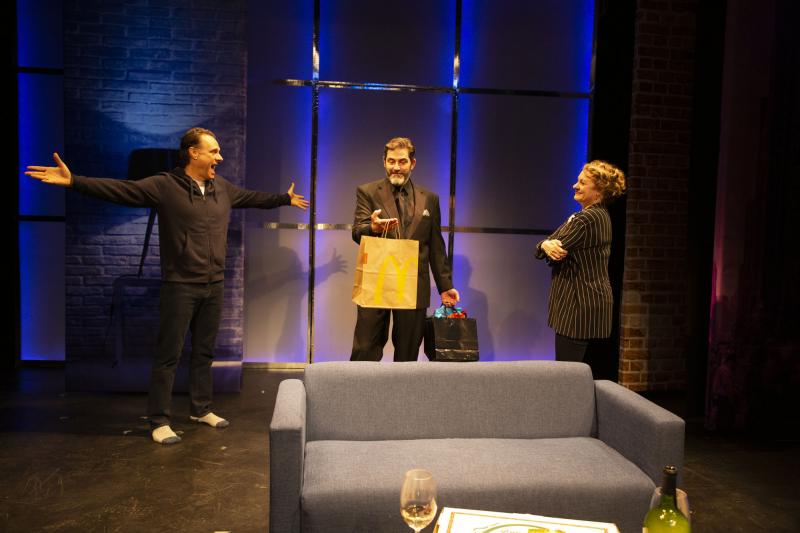 "Once we hit on the format of the play that you will see, it was a lot of tinkering and fine-tuning, some readings, and a 29-hour workshop that resulted in a terrific production at the New Conservative Theater in San Francisco. We bowed in January 2017, were pretty well received and had a very successful run." His agent deemed the play at last New York-ready.
During its West Coast world premiere, Still at Risk was seen by a group of LGTB kids from a local high school. "When kids are in their teens, my feeling is 'I don't know if these kids are going to grab on to this or not.' These kids did. After the show, they stayed and talked to me. It was not long after the Parkland massacre, and one kid said, 'You just have to look in the newspapers. Our friends-kids our age-are being murdered, daily almost, and this government just sits back and does nothing about it.'
"They understood this play because they understood a government letting a small group of people die because it didn't care enough to do something about it. That's exactly what they're experiencing as students. They really feel that the government doesn't think it's important enough to save the lives of our kids as much as it is to line their pockets with more money."
In general, Pinckney believes the story will resonate more deeply with audiences now. "There are a lot of people who are still alive because of the drug cocktails developed back then-patients who are with us now and never thought they would be. I want people who went through that horrific epidemic to feel like what they did mattered, that it was for something, that the world really did shift and change because of what we did and what we made possible. Everything changed because of what we did. The fact that drugs are approved more quickly now--that's all because of what we did."
He still remembers a skinny, sickly kid he registered during his last days at GMHC. "He had KS [Kaposi's sarcoma] on the roof of his mouth and all through his throat so he was having a lot of trouble eating-but he was such a sweet-natured kid. With everything that was happening to him, his attitude was very upbeat-puppy-positive. I got him meals at GMHC, and, whenever he dropped by, he's stick his head in my cubical and say, 'Hi!'
"A year or so later, I was at a Gay Pride dance on the pier, and I felt this tap on my shoulder. I turned around and saw this beautiful shirtless man. He said, 'Tim, how are you?' And I looked at him and didn't recognize him. It was that skinny patient who would drop by my office. I just looked at him. He shrugged his shoulders and said, 'I'm a miracle of modern science.' It is the one time in my life that I can honestly say I burst into tears! He just held on to me, and I just sat there crying. I was so grateful to see him.
"To see someone so robust and happy-taking care of himself, succeeding the way that he was, staying alive after so much death and anger and hatred and horrible experimental treatments-it just knocked me out!"
Still at Risk is dedicated to that kind of surviving and moving on . . .
Photo Credit: Clay Anderson