BWW Review: THE WIZARD OF OZ at Chateau Neuf

THE WIZARD OF OZ chronicles the adventures of a young farm girl named Dorothy in the magical Land of Oz, after she and her pet dog Toto are swept away from their Kansas home by a cyclone. The novel is one of the best-known stories in American culture
L. Frank Baum created this "The Wonderful World of Oz" 119 years ago. The captivating story has has spawned countless adaptations, and is also the inspiration for the musical mega-hit WICKED. The creative team has delivered a beautiful, inventive and masterful version of the classic "The Wizard of Oz". Visually it is pleasantly different to what we are used to, but very audibly familiar.

The 1939 film adaptation bore a close resemblance to the storyline of L Frank Baum's original novel. It was a phenomenal success in its day, winning the Academy Awards for Best Original Song and Original Score.

In 1987 The Royal Shakespeare Company (RSC) did a new stage adaptation (The first being 1945 stage adaptation) designed to thoroughly recreate the film version. The book by John Kane closely follows the film's screenplay, and it uses nearly all of the film's music. It is this version that the Norwegian production is based upon. The original translation was done by Bjørn Endreson but is now revised by Martine Bakken Lundberg and Gorm Jenseg.

My main gripe with this, and all adaptations based directly on the movie is that, as a stage musical, it is not a well written one. Sure some of the songs are timeless classics, but while I feel the score is missing songs for certain characters (The most notably the Witch) there are also far to many reprises of the same songs. Some parts of the text the characters have monologues which would be very well suited for singing.

Andrew Lloyd Webber and Tim Rice felt likewise and tried to correct this "flaw" in 2011, when they revised the classic score when wrote six new original songs together, while Rice revised and extended certain existing songs.

This shows target audience is children, so my gripes with the show as well written musical theatre did not seem bother the target audience at all. They were not there to see a well crafted musical, but a great story (which incedently included singing). As I witnessed last night, the reprises were very much welcomed from the youngest audience-members, and the tunes are irritatingly catchy.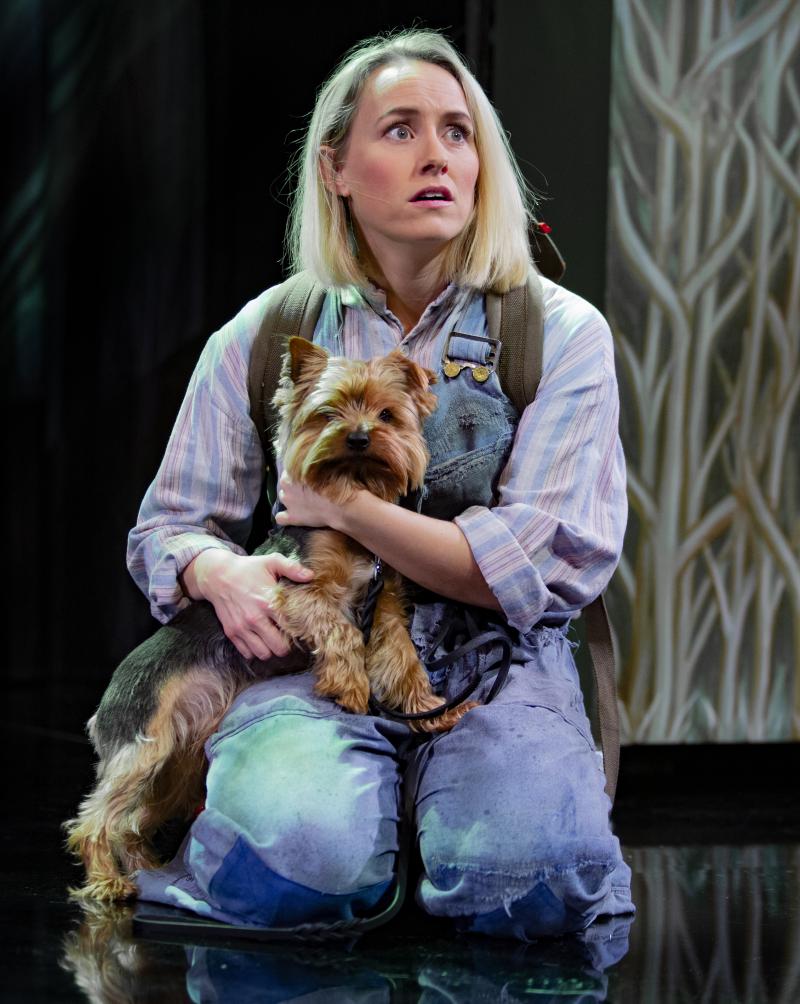 Sofie Bjerketvedt's Dorothy is blissfully juvenile and pure, yet displaying toughness that is much welcomed. Her singing voice is pure with a good belt that never becomes too strong, thankfully. She is also encompasses the ability to act while she sings, which is not always the case.
Her comrades are all very well suited for their roles. Alexander Langset, who has also created the shows choreography, is absurdly brainless as The Scarecrow, with his comical comments (such as fear of matches since he is made of hay) are all spot on delivered. Sindre Postholm as Tin Man is perfect. Although the souce material doesn't allow him much room to showcase his great singing voice, his movements as are all the more impressive. The fact that they have made the part gay is a nice addition. To do changes like this to the source material sometimes feels forced, but here it was very neatly done. Håvard Eikeseth as The Lion is as funny as he is cowardly. He delivers the humor while never trying to get a laugh, which makes it all the more funny.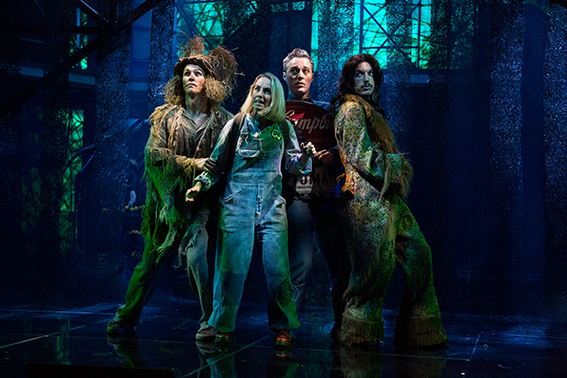 Janne Formoe's Wicked Witch of the West is wickedly evil (pun intended). She is also delivers a very humorous performance, which makes the fact that she never gets to fly her broom, but instead uses a Segway in her flying scenes as a perfect fit, and what an evil laugh. Hilde Lyrån as Aunty Em is very solid and heartfelt, while her Glinda was a little underwhelming. Tom Sterri, as the Wizard, was a good choice. He uses his "old school revue" shtick to great effect.

The scenic design and costumes was the highlight of the evening. Especially the costumes steered clear of the original, and were creative and comic. The LED video design by Mikkel Grythfeldt was in most cases fantastic and as in Flashdance; it makes the Chateau Neuf stage come alive in a way it hasn't done before. The hair and make up was also very inventive and skillfully designed by Cårejånny Enderud.

Mattias Carlsson and Martine Bakken Lundberg has created a breathtaking version of this classic story and I urge parents to tell their children to turn off the videogames, put down their tablets and go to see what a live, fantastical performance can be like.
| | | |
| --- | --- | --- |
| | Donations | Arts Orgs |
Related Articles View More Norway

Stories

Shows