Barter Theatre Announces 2020 Season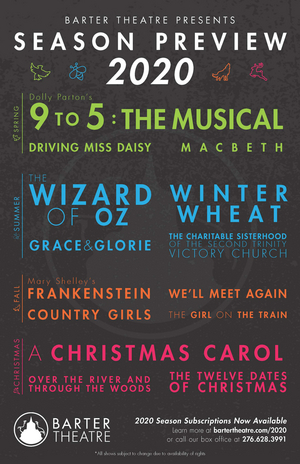 Barter Theatre announces the 2020 season packed with hit musicals, classic literature, new works, and everything in between. As always at Barter Theatre there is something for everyone in the 2020 season.
Macbeth
March 26-April 19
Murder. Power. Lust. Greed. Dark forces fuel the Macbeths' sinister ambition for the crown and their horrifying descent into madness. Don't miss this intimate and action-filled adaptation specifically tailored for Barter's Smith Theatre.
Driving Miss Daisy
April 2-April 25
When Daisy Werthan's son hires Hoke to drive her around town, the indomitable Daisy has no idea that her stubborn chauffeur will soon become a permanent fixture in her life. Over the span of twenty-five years, these two develop an unlikely bond that challenges the idea of friendship during America's Civil Rights era. Featuring two of Barter Theatre's all-time favorite actors - Mary Lucy Bivins and Jasper McGruder.
Dolly Parton's 9 to 5
May 1-May 30
Music and Lyrics by Dolly Parton
Book by Patricia Resnick
Based on the Twentieth Century Fox film
Full of laughter and sidesplitting Southern sass, this Broadway musical comedy is based on the hit movie starring Dolly Parton, Jane Fonda and Lily Tomlin. Come watch these three unlikely friends as they scheme to take control of their company and learn there's nothing they can't do, even in a man's world. Toe-tapping fun for the whole family!
Grace and Glorie
May 21-August 22
A funny, lyrical, & moving play about two strong & stubborn women. Grace, a feisty, cantankerous 90-year-old, plans to live out her life in her ramshackle cabin high in Virginia's Blue Ridge Mountains. She has no use for Glorie, the volunteer health worker assigned to care for her. As the two women get to know each other, they reveal their secrets, dreams & fears in this story about the power of healing and the joy of life.
The Wizard of Oz
June 6-August 23
By L. Frank Baum
Music and Lyrics by Harold Arlen and E.Y. Harburg
There's no place like Barter to see America's favorite musical! Join Dorothy & Toto as they skip down the yellow-brick road with only a Scarecrow, a Tin Man, & a Cowardly Lion to protect them from the Wicked Witch of the West. This joyous classic is a must-see for young and old alike.
The Charitable Sisterhood of the Second Trinity Victory Church
June 18-August 22
Storms have flooded the roads, but it takes more than a little rain to keep the Charitable Sisterhood of Pennington Gap, VA from fulfilling their mission. When these ladies meet to organize a relief effort for homeless Guatemalans, they are greeted with a mountain of community donations - & that pile of stuff is hiding a thing or two. Join us in the church basement, where our five angels of mercy will leave you breathless with laughter as they do their best to save the world... & each other.
Winter Wheat
June 24-August 22
Book and Lyrics by Catherine Bush
Music by Ben Mackel
It's 1920, the world is changing, and no one feels it more than the Burn family of Niota, TN. The family's first tractor is purchased, indoor plumbing arrives in town, & a young girl unexpectedly comes into their lives. Meanwhile, the country is abuzz over the controversial 19th Amendment that would give women the right to vote. In the end, women's suffrage comes down to a single man: Harry Burn from Niota. Little does Harry know that a letter from his mother will change the course of history forever. Inspired by true events. August 18 marks the 100th Anniversary of Tennessee's Role in the Ratification of the 19th Amendment.
Frankenstein
September 4-November 14
When scientist Victor Frankenstein infuses the spark of Life into his Creature, he begins a haunting examination of what it is to be human and the price we pay for playing God. A uniquely theatrical experience, this story is the perfect way to celebrate the Halloween season.
Country Girls
August 28-November 14
Megan hates country music singer Rick Montgomery, and she and her best friend Kimmy have decided tonight's concert will be his last. The two teens hatch an ill-conceived plot to kidnap the country music star in this laugh-out-loud, offbeat comedy. Songs will be sung, shots will be fired, and the girls will discover that revenge ain't all it's cracked up to be.
We'll Meet Again
September 14-November 14
A New American Musical by James Harris
Music Arrangements by Mark Hayes
Featuring Music from the World War II Era
A world premiere from the author of Civil War Voices. Jewish refugee Henry Stern flees Nazi Germany at the age of five to start a new life with his family in the small town of Opelika, AL. Many years later, Henry makes an amazing discovery that gives new insights and meaning to his life's journey. A story filled with joy, sorrow and resilience, this new musical reminds us to embrace and celebrate life.
The 39 Steps
September 15-November 15
Mix a Hitchcock masterpiece with a juicy spy novel, add a dash of Monty Python and you have The 39 Steps, a fast-paced whodunit for anyone who loves the magic of theatre! This two-time Tony® and Drama Desk Award-winning treat is packed with nonstop laughs, over 150 zany characters (played by a ridiculously talented cast of four), an onstage plane crash, handcuffs, missing fingers, and some good old-fashioned romance!
A Christmas Carol
November 20-December 27
The joy of the Christmas season returns with this sparkling production! Come and relive the sheer exhilaration of Ebenezer Scrooge's ghost-guided journey into his Past, Present and Future, where despair gives way to hope, and reclamation awaits all who seek it. A memorable gift to treasure with family and friends that will leave you wrapped in the warmth of holiday spirit.
Over the River and Through the Woods
November 24-December 27
Nick Cristano, a single, 29-year-old, has just been offered his dream job, but it means leaving his hometown. His grandparents, with whom he has eaten Sunday dinner every week of his life, do not take the news well, and they get creative in an effort to keep Nick from leaving. Outrageous plans are made, a blind date is arranged, and stories are told, with hilarious results. The show is guaranteed to make you love your family all over again this Christmas season.
The Twelve Dates of Christmas
December 2-December 30
Mary loves the holidays. Even when her fiancé calls to say he's sick and can't come to Thanksgiving with her family, she makes the best of the day and snuggles in to watch the Macy's Day Parade on TV. But when the parade camera zooms in on her fiancé kissing another woman, Mary's holidays take a turn for the ridiculous. What follows is a year of hilarious and strange dates that bring Mary back around to the next holiday season wiser, happier, and more herself than ever before.
Subscriptions are on sale now at www.bartertheatre.com/subs, and prices will increase in January 2020.
Learn more about Barter Theatre's 2020 season at www.bartertheatre.com/shows.
More Hot Stories For You