Review: NEXT TO NORMAL at The Williamsburg Players is Heartrending and Powerful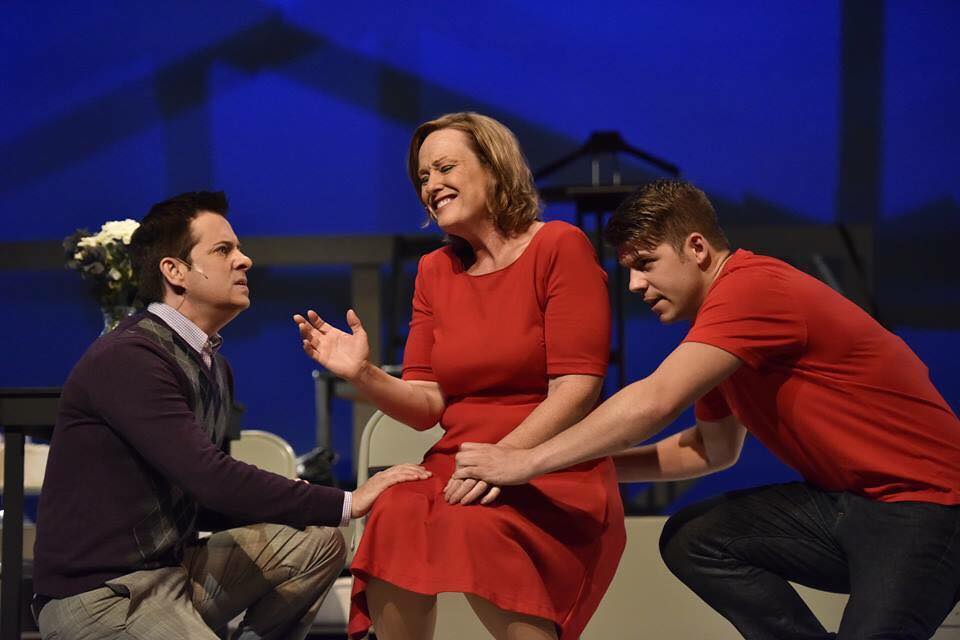 "I don't need a life that's normal. That's way too far away. But something next to normal would be okay."
No other show plucks at one's heartstrings as intensely or often as Tom Kitt and Brian Yorkey's Pulitzer Prize-winning musical drama NEXT TO NORMAL. For approximately two hours and fifteen minutes, audiences are given over to Kitt and Yorkey's raw and tear-jerking masterpiece. Given the intense physical emotion and vocal rigor demanded of its six actors; it's a tough show to tackle, even for professional theatres. To say it's an ambitious undertaking for any community theatre would be a huge understatement, but The Williamsburg Players' NEXT TO NORMAL is an above-the-bar, professional-caliber production that does justice to its heavy source material.
As the opening song suggests, it's "Just Another Day" in the Goodman family household-a house collapsing under the pressures of mental illness. Diana (Rani Wachter), a suburban mom with manic depression, is trying so desperately to hold her family together. Her devoted husband Dan (Jeffrey Seyller) is discouraged by the results of her recent treatments and their waning marriage. Her stubborn teenage son, Gabe (Steven Moeslein), comes home at all hours of the night. Natalie (Sadie Westbrock), Diana and Dan's overachieving daughter, indulges on Red Bull at four o'clock in the morning to keep focused on her schoolwork. Henry (Jack Cherry) is Natalie's pot-smoking boyfriend that brings a sense of normalcy to her existence. As layers of the Goodman family are peeled away by the best doctors in town, Dr. Fine and Dr. Madden (both played by Andrew Schwalm), the audience begins to experience the full weight of Diana's mental illness.
Director Christina Westenberger has assembled some of the finest talent in the region for her production of NEXT TO NORMAL. She's made some bold directing choices, most of which pay off. The breaking of the fourth wall, at times, seems somewhat artificial. On the other hand, she's staged the final moments of the show so powerfully that the Goodmans could be anyone's family. Michael Westenberger's multi-level set is monumental and functional. Brandon Lyles' lighting design is visually appealing and uses strobe lights to great effect during "Wish I Were Here." There are blips where characters could have more light. The sound design from Charles Owrey is impressive in the sometimes acoustically challenging space.
Under Suzanne Daniel's tight musical direction, the principal cast, with occasional assists from background singers Geoffrey Klein, Chelsea Mayer and Phil Poteat, does not miss a note in Kitt and Yorkey's Tony-winning score. Their talents and power are matched only by Daniel's top-shelf orchestra.
Jeffrey Seyller is tender, genuine and brings his best work to the stage as Dan. His pop vocals prevail during the more rock-leaning numbers such as "I am the One" and "A Promise." As Gabe, Steven Moeslein offers impressive tenor vocals. "There's a World" is one of many heartbreaking moments. Bring tissues. Andrew Schwalm showcases his imposing vocals throughout the production.
Jack Cherry is sincere and compelling as Henry. His bright vocals shine during the cautiously optimistic "Perfect for You." As Natalie, Sadie Westbrock gives a nuanced performance with pop vocals worthy of a New York stage. Her "Superboy and the Invisible Girl" rouses even the most reserved audiences.
Leading this first-rate production is Rani Wachter, with a raw and vulnerable performance. She shines as Diana, the portrait of mental illness. Her powerful vocals and emotions reign supreme during "I Miss the Mountains," "You Don't Know," and "Didn't I See This Movie?"
NEXT TO NORMAL is an emotional roller coaster that's unlike anything in the Broadway archives. It's an important story and the kind of powerful theatre that changes people to the core. The Williamsburg Players' production is not to be missed. It runs through July 16 at the James York Playhouse. Purchase tickets here.
*NEXT TO NORMAL has strong language and is not recommended for children.