BWW Review: DANCE NATION at THEATRELAB
Claire Barron is a young playwright that I did not know but now think extraordinary. TheatreLab produces her play DANCE NATION, which dares to delve into the life of thirteen year old girls. This playwright finds a way to tell this fairly ordinary story in some very extraordinary ways. This girl is on fire.
Simply put, Dance Teacher Pat (Chris Klinger) runs a studio in Liverpool, Ohio and is preparing his class of thirteen year old girls to compete in the "Boogie Down Grand Prix" which will take place in Tampa, Florida. He has selected a dance piece based upon the life of Mahatma Gandhi (that is hilarious). The rest of the play is about competing for the role and the girls navigating their way through the joys and terrors of being thirteen just when everything is happening to them and their bodies.
Fairly recognizable plot. Substitute a cappella singing, or cheerleading for the competition. Lifetime movie of the week stuff. Until...
While rehearsing a dance number for "Gandhi," the girls turn into vampires. One more time. Vampires. Fangs, dripping blood, eating of flesh. The dance which began as a serene homage to the Nobel Peace Laureate turns into "Thriller" very quickly. Very disorienting. I don't mind spoiling this plot point because how it's managed is the challenge and beauty of any production of this play.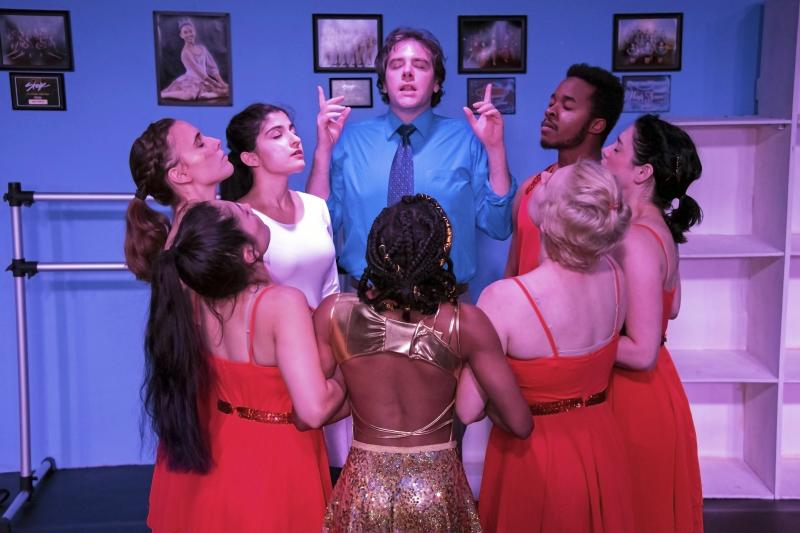 We've walked into an existential freak show and Ms. Barron is absolutely right. Puberty is a freak show.
In other scenes the girls morph into the adult versions of themselves. Both the adults and the children seem disappointed with each other. The women for not being prepared for the fact that life sucks and the children for not being happy with who they've become.
The hyper drive through reality and time connect wonderfully to the pulse of the drama. The growth is so organic, you are not prepared and it leaves you disoriented and confused. My theater companion and I both left the theater saying "What was that?" to each other.
Yet after thinking about it, it not only made sense it hit on all cylinders of my brain. I have seen some very beautiful coming of age stories, but never one with so vigorous an agenda. Like all great dramatists, Ms. Barron is working out some pretty serious demons herself. The brilliant thing is they're our demons too. We were all thirteen. Boys are no different.
Director Maggie Roop taps into her pre-teen demons very well thank you and guides her cast there as well. The ensemble is immediately compelling as all of the girls are played by men and women of all ages. This is extremely effective when the children assume their adult personas. The girls, Lydia Hynes, Trinitee Pearson, Sanam Laila Hashemi, Maquis Hazelwood, Kylie M.J. Clark, Nicole Morris-Anastasi and Amber Martinez are as tight an ensemble as I've seen, especially in their dance numbers.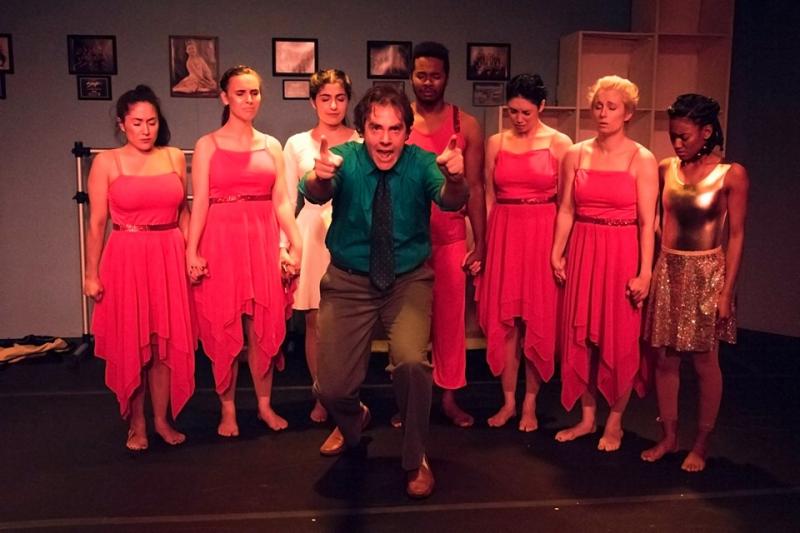 It is through dance that Ms. Barron and Ms. Roop find their strongest voice. Or rather in movement both dance and non-dance. The dance especially is beautifully choreographed by Nicole Morris-Anastasi. The dance is free, expressive and at times primal. There were times when I thought I was watching a tribal nation caught up in the frenzy of ritualistic dance. This ensemble finds its strongest voice in dance. Where they fall slightly short was in the drama. Not every character had the chance to stand out dramatically and when they did the results were mixed.
The show, being true to life has girl's locker room scenes with full nudity. There is plenty of pubescent sex talk. There is also a fairly realistic re-enactment of a girl's first menstruation. When put up against the demonic dripping of the freak show, a little blood didn't alarm anyone too much. There's also an encomium to the "perfect pussy." Unique.
The TheatreLab space, called "The Basement" (because that's what it is) is extremely intimate and perfect for this type of in-your-face "guerilla" theater. Dasia Greg's set was perhaps overly simple but provided wide open spaces for the energetic cast and their dance routines. Ruth Hedberg's costumes gave excellent support, they all looked exactly right and not too fussy (I guess I thought the dance bags looked a little too sparkly. I then began to wonder what kind of money these girls and their families had to support their children's dance careers.) Michael Jarrett's lighting is always clean and expressive and suited this tale very well, with its isolated scenes and multiple fades in and out during the same monologue. Joey Luck's sound effects gave me pause. Stocked with heavy breathing sounds opening most scenes, at times the phantasmagorical nature of the sound effects became a little too Horror House for me.
TheatreLab, as usual, has their hand on the pulse of contemporary theater. Challenging and difficult. Difficult to watch. Difficult to act and mount. Difficult and confusing and required thought. Which is good. Which is what theater should do. Which is what TheaterLab does.
Pictures by Tom Topinka
THEATRELAB goes where no man or woman has wanted to go before. Into the head of a thirteen year old girl.
Related Articles View More Central Virginia

Stories

Shows