THE GREAT AMERICAN TRAILER PARK CHRISTMAS MUSICAL Comes to Slidell Little Theatre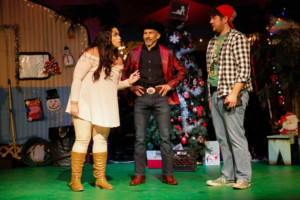 Slidell Little Theatre kicks off the holiday season with The Great American Trailer Park Christmas Musical. It's holiday time down in Armadillo Acres, North Florida's premier mobile-living community, and everyone is filled with warmth and beer. But when a freak bout of amnesia strikes the trailer park Scrooge, neighborly love is put to the test. Be on hand as Betty, Lin, and Pickles jingle all the way with some new neighbors in an all-new, all-trailer-park musical! This companion to the original GREAT AMERICAN TRAILER PARK MUSICAL is just as much of a cat-fightin', sun-worshippin', chair-throwin' good time--but with tinsel and Keg Nog.
"It is an entertaining and funny musical that will leave our audience feeling happy and let me showcase some of our talented performers here at SLT," said Director, Rick Sasnett. The sequel to The Great American Trailer Park Musical finds the residents filled with beer and Christmas cheer, but there is one resident who despises Christmas, Darlene Seward. She is played by Christina Duffaut. "The first time I listened to My Christmas Tin Toy Boy, I knew I wanted to play Darlene," Duffaut said. Darlene is Armadillo Acre's resident Scrooge. She hates everyone and everything but after a freak accident, the residents discover a different side to Darlene. "She tries to come off as someone who does not care, but deep down she is a much more complex and emotionally vulnerable character," Duffaut said, "which is what I love about her."
While Duffaut is no stranger to SLT, her castmate Michael Graves is a relative new comer. He recently played Oliver Warbucks' servant, Drake, in the season opener Annie. He was scene-stealer and is sure to light up the stage this round as well. Graves plays, Rufus Jeter, the redneck with a heart of gold and general handyman with numerous part-time jobs. "The comedic element infused throughout the show is what pulled me to this production," Graves said. "The story is a campy trailer park Christmas found in tabloids. It is seedy and charming but full of compassion", he said.
You also won't want to miss Sasnett's set. It's quite comical in itself as just about everything you can imagine seeing at a real trailer park during Christmas, you may very well see on the SLT stage. It's quite the spectacle. Duffaut and Graves are joined by Dan Toups, Deborah Morell, April Christian, Angela Odom and the show's rock band, Roadkill Ruckus.
Great American Trailer Park Christmas Musical directed by Rick Sasnett. Currently running through December 2nd at Slidell Little Theater starring Christina Duffaut, Michael Graves, Dan Toups, Deborah Morell, April Christian and Angela Odom. Shows are Fridays & Saturdays at 8pm and Sundays at 2pm. Visit www.SlidellLittleTheater.org to purchase tickets. See Slidell Little Theater's Facebook page for details about special event dates including the Good Ol' Fashion Trailer Park Cookout for dinner, dessert and a beer before the show. Slidell Little Theater, 2024 Nellie Drive, 985-643-0556.