Only One Weekend Left To See MURDER ON THE ORIENT EXPRESS At Jefferson Performing Arts Center
Agatha Christie's Murder on the Orient Express is adapted by Tony nominated playwright, Ken Ludwig.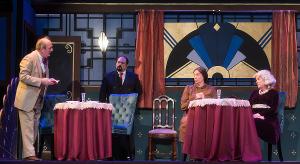 Jefferson Performing Arts Society is presenting two back-to-back shows based on novels by two of the most famous writers of crime and horror: Agatha Christie and Stephen King.
Both shows feature an all-local cast and crew and are onstage at JPAS's East bank and Westbank theaters: Murder on the Orient Express is at Jefferson Performing Arts Center in Metairie, and Misery: The Play will be at Westwego Cultural Center.
Agatha Christie's Murder on the Orient Express is adapted by Ken Ludwig, the Tony nominated playwright (Lend Me a Tenor, Crazy for You) who was asked by the Agatha Christie Estate to choose one of Christie's novels to adapt. According to Ludwig, "I chose Murder on the Orient Express because it is such a stunning mystery in so many ways. The setting is exotic, the characters are colorful, and though the names are changed, it's based on an historical event-the kidnapping of the Lindbergh baby-which dominated the news at the time the book was written."
Misery: The Play is written by William Goldman, who wrote the screenplay for the 1990 movie that earned Kathy Bates an Oscar. The show is being directed by Simone Daniels, a director, writer, and costume designer based in Brooklyn, New York who specializes in new works, ensemble-based work, site specifics and multimedia. The small cast is comprised of married couple Eric Lincoln (Paul Sheldon) and Reagan Lincoln (Annie Wilkes) with a brief appearance by David Haydel as Sherrif Buster.
"The thing I love most about Stephen King is the humanity infused in all his writing. I think sometimes in horror it's only about striking fear in the audience or shocking us--but with King it always feels like the horror is the result of the character's circumstances or actions. This makes adapting his work for the stage a lot of fun," said Daniels.
Misery is currently in rehearsals and opens Thursday, March 23 at 7:30 p.m. at Westwego Cultural Center at 177 Sala Avenue. There are eight performances Thursdays through Sundays through Sunday, April 1. Murder on the Orient Express closes this weekend, with three performances left: Friday, March 17, Saturday March 18, and Sunday, March 19. Tickets for both shows are available by calling the box office at 504-885-2000 or online at www.jpas.org.
Parking is free at both locations. Student and senior discounts are available. Ticket prices range from $25-$65. Walkups are welcome at the box office one hour prior to showtime.
Photo Credit: John B. Barrois