BWW Previews: 'Don't Look Down' and miss out on LES MISERABLES at Columbia Theatre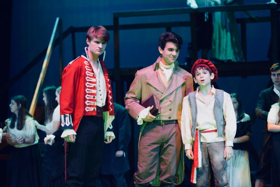 "Life-changing," "Engaging," "Rewarding," "Surreal," "Exciting," "Humbling," "Wonderful," "Extraordinary," and "A Blast and a Half" are just a few of the ways this extraordinary, young cast is encapsulating what it is like to be a part of The New Octavians production of the epic, grand, and uplifting, Les Misérables School Edition-The show that packs an emotional wallop that has thrilled over 65 million people worldwide. Winner of over 100 international awards, Les Misérables is an epic and inspiring story about the survival of the human spirit. The musical, based on Victor Hugo's novel, adapted for high school performers, features one of the most memorable scores of all time and some of the most memorable characters to ever grace the stage. This cast of nearly fifty students, hailing from twelve different schools from the Northshore area of the New Orleans Metropolitan area, is certainly fulfilling expectations. It is always a challenge to produce a show of this magnitude, but for Director, Brent Goodrich, being able to recruit talent from all over our community has made this production not only possible, but even more sensational. "We have assembled some incredibly gifted students and are blessed to be able to put on this historic show at such a historic theater like The Columbia," says Goodrich.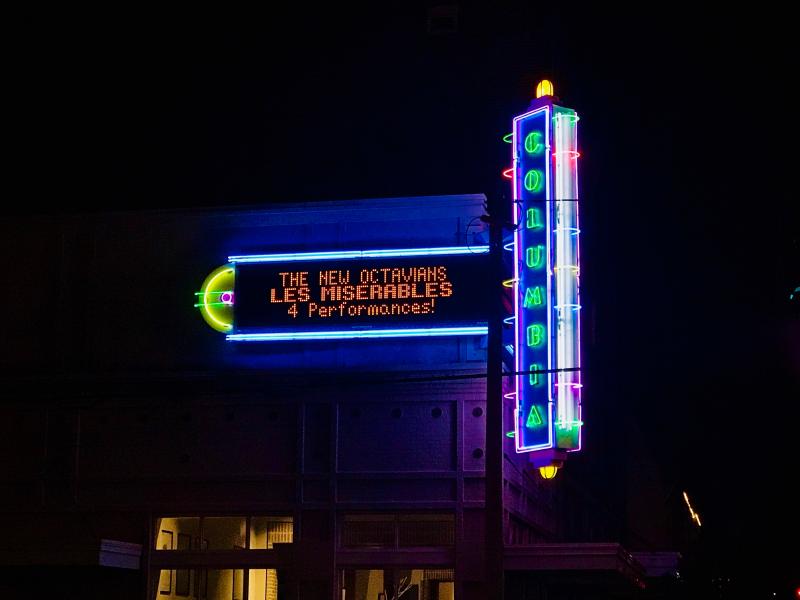 The beautiful Columbia Theatre for the Performing Arts, owned and operated by Southeastern Louisiana University, makes it their mission to promote the arts through relationships with outside organizations like this non-profit group. This elegant building, constructed in the late twenties, is certainly an ideal setting for this monumental sing-through musical. Goodrich, an alumnus of Southeastern, has made Hammond his home and is the Executive and Artistic Director of The New Octavians, where he teaches voice, piano, and acting. Goodrich, who is also the Choir Director and Music Teacher at Saint Scholastica Academy in Covington, loves working with young people, and is thrilled to have this opportunity to do Les Misérables with such a remarkable group of students. Goodrich says he has enjoyed every minute of working on this production, and says the kids have made him cry MORE THAN ONCE! He says, "This is reason why I became a teacher. To give others a platform with which they can create their art. As a teacher you think that maybe one day you can inspire others, but what ends up happening is that your students inspire you."
Les Misérables is a timeless show with a timeless message, and without a doubt, a once-in-a-lifetime experience for these young actors, who shared what it has been like so far:
What is your favorite thing about being cast in Les Misérables, and what message do you hope this show conveys to the audience?
Jean Valjean - Travis Settoon: "My favorite thing about Les Misérables is the music. I hope the audience sees how difficult life's journey can be, and I hope this show helps them discover who they are on their own journeys. I was very excited. I never expected I would have the chance to play such an intense role."
Javert - Jacob Chancey: "My favorite thing about Les Mis is the characters and the music. Both are phenomenal and unforgettable. I hope the message of "Do not judge a book by it's cover" is seen by the audience, because that is a philosophy that I truly abide by. I was just ecstatic to be in the show, but to be Javert, is unbelievable!"
Fantine - Julia Ernst: "My favorite thing about Les Misérables is how classic and timeless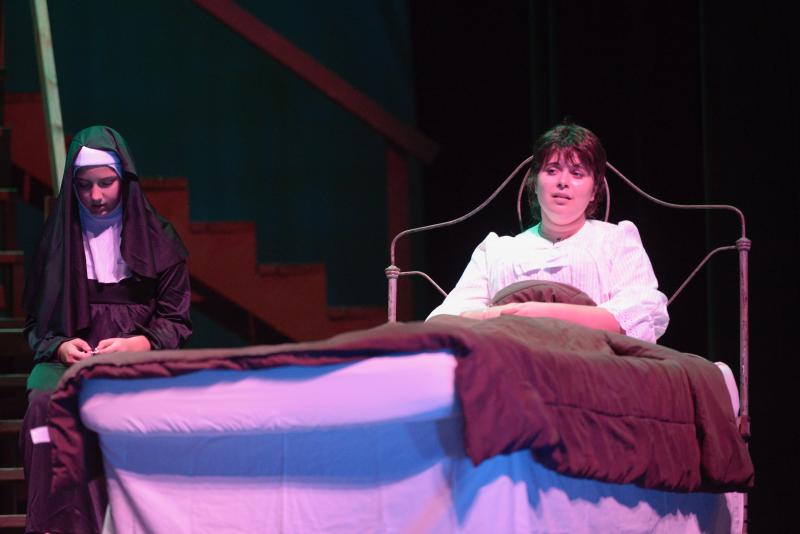 the show is. Timeless is the best way to describe the show because the topics in the show are still so relevant today. Every single audience member can find some aspect of the show to relate to no matter what their age, race, or gender is. I hope that we convey to the audience that no matter what struggles you face, you can always overcome them, no matter how hard the struggle might be. I hope that after seeing this show the audience feels a sense of hope and unity, and that they try to spread that feeling in other aspects of their lives." When I found out I was cast as Fantine in Les Misérables I was over the moon excited. I couldn't even believe that it was real. Fantine has been one of my dream roles since the first time I saw the show at 13. Since then, I have always dreamed about being in this show and playing this role, so this opportunity has truly been a dream come true."
Marius Pontmercy - Justin Mouledous: "Les Mis is such a well-known show. However, it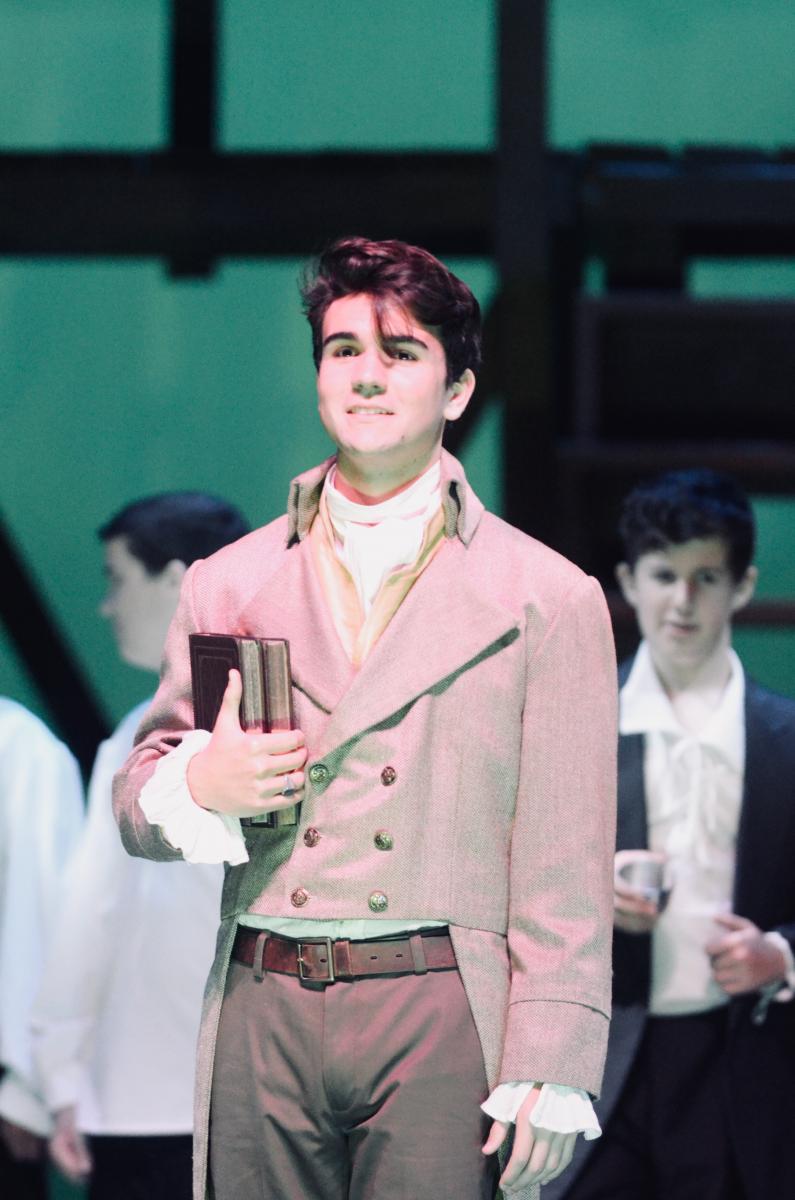 is unique to any other musicals. I think the over arching themes of love and redemption are two very interesting motifs to place together. Through this, the audience is taken on an emotional roller coaster unlike any other show. I just hope that we can convey this message to our audience in the best possible way. I was so incredibly excited when I saw the cast list. The opportunity to meet new people and be part of such an iconic show has been truly amazing. I could not have been more happy to receive the role of Marius. His complexities have really challenged me, and I so glad I have gotten to delve deeper into this character."
Eponine - Abbey Aldridge: "My favorite thing about Les Mis is the story. I think that people should become aware of this beautiful story. I hope to convey the true theme of the story which is all about God's love for us. When I found out I was cast as Eponine, I don't think I've ever been so happy. This is something I've dreamed of my whole life."
Eponine - Emma Pollet: "I fell in love with Les Miserables because of the connections between the characters whose lives are interwoven, and everyone is living in their own world composed of their own hardships and desires. Every character in Les Mis is real. I
think that is why this show has the endurance to perpetually change the lives of others because everyone can relate to it. We all face obstacles, both internally and externally, and once invited into the various worlds of the characters, we begin to feel less alone and more human. This show takes the elements of everyday life (love, sacrifice, resilience), and acknowledges them through the connections between the characters. One of the first songs I learned to sing in a voice lessons was "On My Own", and since then, Eponine has been a dream for me. Eponine has always touched my heart because of her bravery, selflessness, and sheer desire to simply be more than who she is. When I first learned the song, however, I was much younger than I am today. At the time, I did not even know how to begin to relate to her story and emotions, so I feel like this opportunity has been one that I have been able to prepare for for quite some time, using the experiences that simply come with growing up as fuel for my character development. I was so overcome with joy and gratitude when I found out that I was cast in this powerful show, and getting to play Eponine is like living within a dream."
Gavroche - Niccolo Bonura: "My favorite part of Les Miserables is the beautiful music and lyrics. I hope this show will convey a message of acceptance and forgiveness. I was overjoyed when I found I was cast as Gavroche because it has been a dream role for me for a long time."
Cosette - Julia Albright: "My favorite thing about Les Mis is the connection between all of the characters and how every moment in the story links back in the end to a beautiful resolution. The message is clear that God's love comes above our own, and that His love is what allows us to put another person before ourselves. God grants us the grace to survive the unthinkable and love unconditionally. I never believed I would have this opportunity to be in Les Misérables, especially in high school, so I am so grateful to be able to play one of my all time dream roles. Playing Cosette has been a surreal experience. Observing her as an audience member, I never really appreciated her innocence and how she is a light in the darkness for both Valjean and Marius."
Thénardier - Brady Meibaum: "Les Miserables is a monumental show to say the least.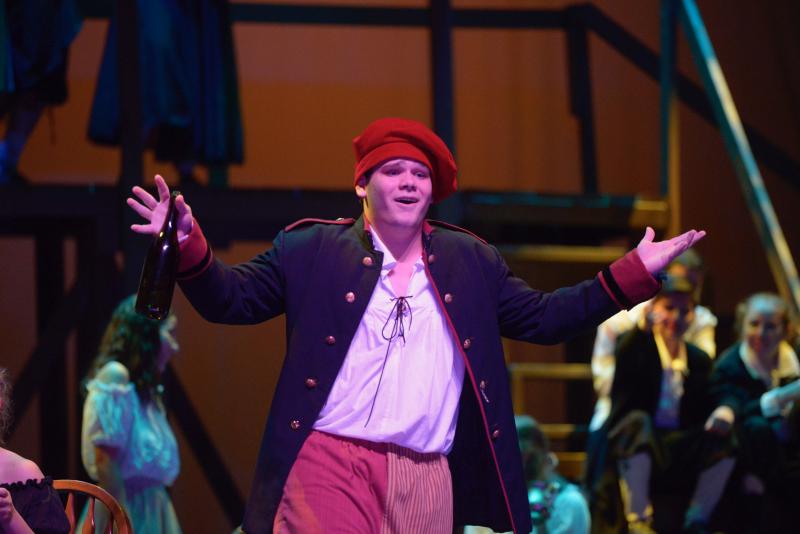 The score is absolutely beautiful, and each character that crosses that stage has a deep message to convey. There's always going to be suffering and hardships in your life, but tomorrow holds the chance to get everything right. Being a part of this show and portraying this character has been really surreal. It hasn't sunk in yet, because it really is something you always dream about, but never know if you'll actually get to be a part of it. We are all excited."
Madame Thénardier - Lauren Pierce: "My favorite thing about Les Miserable is how much emotions go into this show and the emotions you feel when watching it. The message this show conveys to the audience is the importance of love. I was completely overjoyed when I found out. I had worked really hard in my preparation for my audition and trying to connect with my character. Being cast as Madame Thénardier is a dream come true, because she and her husband lighten up the show with their comedy."
Madame Thénardier - Emma Daigrepont: "My favorite thing about Les Misérables is the music. The music is so iconic and poignant. I hope that the show conveys to the
audience to just love one another. We can make the world a better place by love. I was so excited to find out that I was going to be Madame Thénardier! It is my first show with The New Octavians, and I almost didn't audition, so it came as a complete surprise to me. I am also very excited to be sharing the role with my wonderfully talented friend, Lauren Pierce."
Enjolras - Trey Harkins: "I love that Les Mis can convey so many different messages, and I hope the main message people take from it, is that no matter how many things are against you, always fight for what you believe in. When I found out I will be in one of the most iconic shows in history and would be playing one of the most inspiring characters that's ever been on stage, I was needless to say- just a little excited."
What roll does your character have in advancing the theme and what is that responsibility like as an actor in this important production?
Jean Valjean - Travis Settoon: "My character always does what is right, no matter the consequence. It's a testament to the human spirit, and although it is hard to show the internal struggle of Jean Valjean, his job is to advance the message that good comes out of right actions."
Javert - Jacob Chancey: "Javert seems to be one of the driving force of the show. The revolution may have never happened if he wasn't there to kindle the flames of revolution in the people's hearts. As an actor, it can be very stressful because you believe that you have to be absolutely perfect, but I realize that if I do my absolute best, it will end amazingly."
Fantine - Julia Ernst: "I think that Fantine is an extremely complex character, so a lot of
responsibility comes with playing her. Although her time in the show is short, her story is extremely tragic and impactful. As an actress, I always try to dissect the characters story and understand their mindset as much as I can, so I can bring justice to who the character truly is. For me, it is important not to play Fantine as a pitiful woman, but to play her as a strong woman that would do anything for her daughter Cosette. I think playing her this way is a lot more impactful because then when the audience finally does see her breakdown, it is more hard-hitting."
Marius Pontmercy - Justin Mouledous: "A lot of the love aspect of this show sources from Marius, himself. The love "triangle" between Eponine, Marius, and Cosette is such an awesome thing to be a part of on stage. Additionally, Marius' involvement in the revolution inspires Valjean to get involved in an attempt to protect his daughter's beloved. So, Marius' role is pretty significant, and that added pressure really help me push through."
Eponine - Abbey Aldridge: "My character is very relatable to the feeling of heartbreak
that Eponine constantly feels."
Eponine - Emma Pollet: "I think I kind of touched on the themes of love and sacrifice in my previous answers, but it is my responsibility as an actor to tell my own character's story. I mentioned that everyone's individual stories are just as important as the relationships in this show, and I want to make sure I am giving Eponine a justifiable purpose to do what she does. It is easy to mistake her as "that girl who loves that boy who loves someone else", but in reality, she is everything but that. Yes, she finds herself loving someone who does not reciprocate her identical emotions, but she also loves him to the point where she wants him to unendingly experience the pinnacle of fulfillment and bliss. Therefore, she is self- less and resilient, and these qualities are
exposed through the capacity of her love for others. She embodies all of the important qualities that make Les Mis a moving story, which makes her character such a heartbreaking one. As an actor, I feel that it is my responsibility to give Eponine the depth she deserves because she can easily be perceived as a superficial girl who lives her life constantly burdened by rejection."
Gavroche - Niccolo Bonura: "I think my character's job in advancing the theme is to portray a loss of innocence. My character has his childhood robbed from him by violence and poverty. Portraying heavy themes like that is a big responsibility as an actor."
Cosette - Julia Albright: "I think that Cosette plays a major role in the theme of love that dominants the story. It's not simply her romance with Marius, but also she helps Valjean learn what it means to love again. He offers his life to God and to sacrifices everything for Fantine by taking her daughter as his own and raising her the way her mother
always dreamed she would be able to. Valjean and Fantine both give their lives so that Cosette can live. That is what the message of the show truly means. The last line of the epilogue touches me the most: 'To love another person is to see the face of God,' is the love that is spread through each character and depicts its' true power more than anything else in life ever could."
Thénardier - Brady Meibaum: "Les Mis is a pretty intense show to say the least, so he and Madame Thénardier are important to the audience to give comedic relief amidst all the tragic events. They provide those bits in the show where the audience member can wipe their tears away and laugh a bit. The role carries a lot of responsibility, but the character itself really takes on a lot of the load by showing the darker side of nature. Thénardier is the kind of person who looks out for himself and takes from others to advance in life no matter how little they have. His character flaws allow him to ignore the really bad things happening around him and not let the events affect he and his family. It allows him to be really transparent with the audience showing them that he's a crook and a fool, but deceivingly charming."
Madame Thénardier - Lauren Pierce: "The Thénardiers show the audience that not everything is serious all the time, and they bring lightheartedness to the show. My responsibility as an actor is to make sure I am funny and my jokes are clear to make the audience laugh."
Madame Thénardier - Emma Daigrepont: "I think that Madame Thénardier's role is truly comic relief. The show is so heavy and depressing so when the Thénardiers come in, the audience gets a little mental break. It is very difficult however because you have to get an audience to laugh at you after tons of people just died, but it makes my job much more rewarding."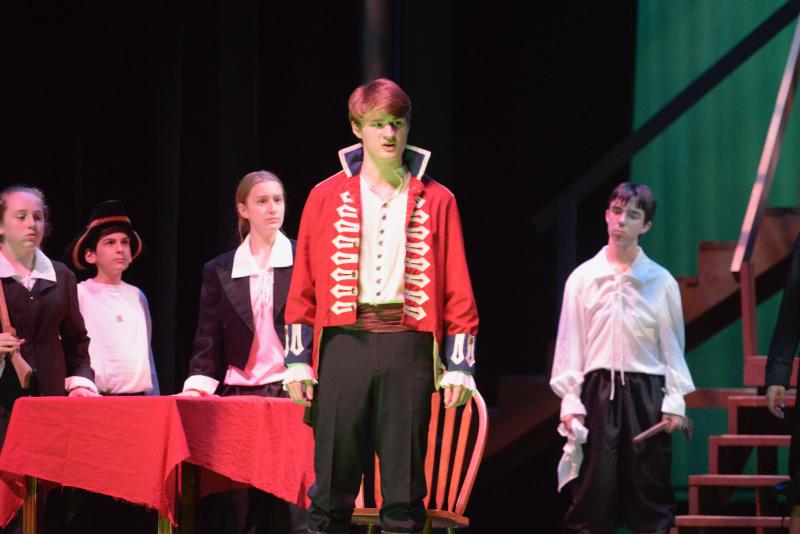 Enjolras - Trey Harkins: "I think as the main leader of the student revolutionaries, my character helps drive the people to revolution. I think to always be ready for each day and focus on each task at hand."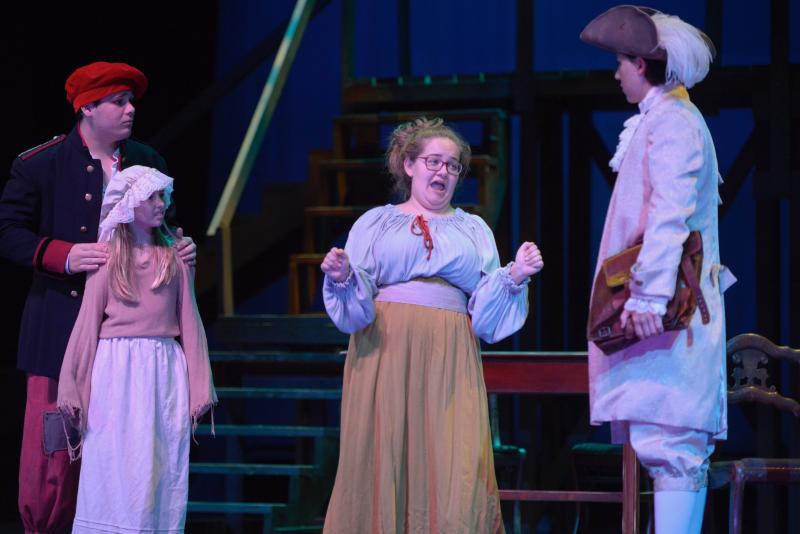 Before this production, tell me one other role and/or one experience you had as an actor/singer that you are most proud of?
Jean Valjean - Travis Settoon: "I have been invited to do production in New York with the I-theatrics Junior Theater Academy twice. Some of my favorite roles before Les Miz, are Danny Zuko from Grease, Don Lockwood from Singing-in the Rain, Jr. and Rooster from Annie."
Javert - Jacob Chancey: "I am extremely proud of my role as Lion in Wizard of Oz."
Fantine - Julia Ernst: "I am a classically trained opera singer, and my vocal teacher is Dr. Maryann Kyle at the University of Mobile. I recently attended a month long, collegiate program called IPAI for opera in Keifersfelden, Germany. The amount that I learned about myself and my voice while at the program is truly mind blowing to me. After the program was done, the faculty met and decided who they wanted to come back for next years program, and they chose me for their fellowship program. So, next summer in July of 2019, I will be back in Germany for IPAI's Musical Theater program. I am so honored and excited to have been blessed with this opportunity."
Marius Pontmercy - Justin Mouledous: "I'd have to say that my most recent role as Galileo, in Archbishop Hannan's production of We Will Rock You, has to be my proudest. He was super complex as well and kind of a little crazy, so he was super fun to play around with. However, at this point Marius is my favorite."
Eponine - Abbey Aldridge: "I played Lady Bug in James and the Giant Peach. In the show my character acted as a maternal character to James. This prepared me to play Eponine because I got a glimpse into the experience of true love and what it truly feels like to die for someone."
Eponine - Emma Pollet: "Earlier this year, I had the opportunity to play Cinderella in my school's production of "Cinderella," as well as design my own transformation ball gown. This was one of the most magical experiences EVER, and I am forever grateful for it. It was so cool to play a princess and also be my own fairy godmother (in a way!). Not to mention the wide eyes of the adorable little Cinderellas in the audience!!"
Gavroche - Niccolo Bonura: "Another role I am proud of prior to this production is James in James and the Giant Peach Jr.
Cosette - Julia Albright: "My favorite role before this was playing Hodel in Fiddler on the Roof. That play has a similar message as Les Mis, sharing that God loves us in all things, good and bad. I am really looking forward to playing M'Lynn in Steel Magnolias this fall at my high school. She is someone who is forced to overcome great loss, and this is challenging, but exciting at the same time."
Thénardier - Brady Meibaum: "I am most proud of all the productions I have been in at St. Paul's High School, but probably my favorite would be one of the jurors in Twelve Angry Men."
Madame Thénardier - Lauren Pierce: "Before this production, I'm most proud of my first lead, Aunt Sponge in James and the Giant Peach Jr. Madame Thénardier and Aunt Sponge are very similar so it helped me prepare for Madame easily. Aunt Sponge helped me show others what my passion is and what I have been working on so hard on for so long."
Madame Thénardier - Emma Daigrepont: "I think that one role I had that I was most proud of prior to Les Misérables was Toffee in Zombie Prom. I was originally auditioning for Candy. I sang a little bit of Toffee's songs at the audition, but wasn't expecting to actually get the role. That was one of my first MAJOR leads. It was a very emotionally and vocally demanding show, and I am very proud of myself."
Enjolras - Trey Harkins: "For sure, Mr. Cladwell in Urinetown, but this role is probably going to top that!"
With music and lyrics by Claude-Michel Schönberg and Alain Boublil, the London production has run continuously since October 1985, making it the longest-running musical in the West End and the second longest-running musical in the world. Set against the backdrop of the French Revolution, Les Misérables tells a captivating story of redemption through broken dreams, unrequited love, passion, friendship, and self-sacrifice. In 19th century France, Jean Valjean Travis Settoon, is released from 19 years of imprisonment for stealing a loaf of bread, and he is relentlessly pursued by police
inspector Javert, Jacob Chancey who refuses to believe Valjean deserves freedom. Hopeless, Valjean steals silver from the Bishop of Digne, Justin McCleskey, a holy man who had just offered him food and shelter for the night. In the spirit of redemption, the Bishop lies to police to secure Valjean's release, making Javert even more determined. Touched by the Bishop's love, grace and generosity, Valjean vows to start an honest life under a new identity. The silver affords him a second chance at life, becoming the mayor and a wealthy factory owner. At his factory, he has a fateful encounter with one of his workers, Fantine, Julia Ernst, who is discovered to be sending money to her
illegitimate daughter, Young Cosette, Emmy Blessey/Brynn Beard. The child is being raised by the unscrupulous Thénardiers, Brady Meibaum, Lauren Pierce/Emma Daigrepont, and their daughter Éponine Abbey Aldridge/Emma Pollet. Fantine is fired for this offense and forced into a life of prostitution. On the streets, she gets arrested by none other than Javert, and thinks he may have discovered his old friend Valjean, who happens to be interceding on behalf of Fantine out of guilt for her plight. Always striving to do the next right thing, Valjean takes Fantine to the hospital where she is tragically dying from a terminal case of tuberculosis, and makes a promise to care for her daughter, Cosette. Escaping Javert's ever-clutching hands, he finds Cosette being mistreated at the Thénardiers Inn, and is forced to bribe the unscrupulous pair for custody. He obtains another identity for the two of them and they begin a new life. The love he has for this child is true, and he vows to be a good father to her.
Years later, the only government official sympathetic to the plight of the poor is dying, so students Marius Pontmercy, Justin Mouledous, and Enjolras, Trey Hawkins, rally together with street people and a young lad named, Gavroche, Nicollo Bunura, to discuss a revolution to overthrow the government. Student leader, Marius, bumps into a young woman on his way to meet his friends and instantly falls in love with the now, grown-up, Cosette, Julia Albright. When he arrives at the small café, he finds his friends, led by Enjolras, organizing a group of idealistic students as the death of the official is announced. The daughter of the urchin Thénardiers, Éponine, Abbey Aldridge/Emma Pollet, who grew up with Cosette also happens to be friends with Marius. At his insistence, she leads him to Cosette, where the two profess their love for one another, as Éponine laments her unrequited love. She fatalistically decides to join the revolution so she can be near him. A series of events makes Valjean concerned he has been discovered again by Javert, and makes a plan to flee with Cosette.
The following day, the revolution begins as the students make their last stand at the street barricade, where their are lots of twists, turns, and tragic loss. It is there where Javert and Valjean have a final encounter that leaves Valjean free to save the life of the student revolutionary Marius, who he knows, has captured the heart of his adopted daughter, Cosette. Marius, unbeknownst to him, was carried away from the barricade that night by Valjean. He is alive, but bereaved with survivor's guilt. Mourning his friends, he is comforted by the love of Cosette. Fearing that his true identity may be known, Valjean shares the truth of his past with Marius, and makes him promise never to tell Cosette, and flees into hiding without saying goodbye to his beloved daughter. Months later, on their wedding day, the Thénardiers crash the reception and it is accidentally uncovered that it was Valjean who had saved Marius' life that day at the barricade. Marius and Cosette
find out her father was hiding at a local convent and leave their own wedding to rush to Valjean's side. There they find him sadly, dying from a long-term heart condition. In the tear-jerking epilogue, as he is slipping away, Valjean perceives the spirit of Fantine appearing to take him to Heaven. Cosette and Marius beg for another moment with him, but he hands Cosette his confession of his past life, and the spirits of Fantine and the Bishop guide him to paradise, where he joins the spirits of the others who have gone before him.
The New Octavians has ONLY 4 Performances at the historic: Columbia Theatre
220 E. Thomas St. Hammond, Louisiana 70401 Box Office: 985-543-4371
Thursday, September 13th 7:00 PM
Saturday, September 15th 2:00 PM & 7:00 PM
Sunday, September 16th 2:00 PM
Check schedule for shared role assignments:
Thursday Evening/Saturday Matinee: Beard (Young Cosette), Daigrepont, Pollet, Blessey (Young Eponine)
Saturday Evening/Sunday Matinee: (Blessey (Young Cosette), Pierce, Aldridge, Beard (Young Eponine)
Tickets on sale now at www.columbiatheater.org Tickets will also be available at the box office before each performance. $21 Adults $11 Students
Recommend Rated PG-13
Other cast members include:
Brady Brown, Trey Vito, Karen Van Mullem, Ian Hoover, Gabriel Bonura, Samantha Hawkins, Graham Mizell, Kamryn Hecker, Maria Guay, Emily Blackburn, Carsyn Avegno, Stephen Barksdale, Anna Black, Chloe Blissett, Graden Casse, Meghan Drane, Claire Dubreuil, Elise Falkenstein, Ella Frazier, Ryan Hoover, Avery Johnson, Olivia Lowentritt, Lana Mercante, Emma Miranda, Katie Miranda, Tucker Moyer, Dominic Muguira, Becca Pisciotta, Alleyna Sampey, Jacie Stogner, Chloe Thames, Lauren VanMullem, Damien Wootan