BWW Interview: Jeremy Benton Brings the Magic of WHITE CHRISTMAS To New Orleans
This year, New Orleans has had just about as white of a Christmas as we've seen in quite a while. With the excitement of last week's snowfall and Christmas coming up on Monday, the touring production of Irving Berlin's WHITE CHRISTMAS couldn't have come to the Saenger Theater at a more perfect time.
While the stage show has some different details from the classic movie that we all know and love, the story line is the same. Bob and Phil return from the Army, find themselves with a successful career in show business, and use their fame and talent to help out their general whose inn is in a bit of trouble.
Astaire Award Nominee Jeremy Benton, who plays Phil Davis in this production, is a perfect fit for this show. He is a smooth tenor with an absolute gift for dance and has a real handle on what it means to bring classics to the stage as he has performed in shows such as 42ND STREET, ANYTHING GOES, and CAGNEY. We had a nice chat about what brought him to love these classics so much and what is so special about that era of music, as well as some of the things we can expect from WHITE CHRISTMAS.
How did your involvement in musical theatre begin in the first place?
I'm originally from a very small town outside of Nashville, Tennessee so not particularly close to anywhere near New York or Broadway or any of that. Basically, I think I thought I invented tap dancing when I was like six years old in the yard and danced around and always sort of had a... my mother's side of The Family is very musical. They weren't professional, but they sang and played piano, and my grandfather toured with a gospel group when he was younger, about my age. I was always surrounded by music on my mother's side. So I knew that I liked music. My grandmother played piano and she loved Irving Berlin and Cole Porter and Gershwin and all the American songbook stuff. I grew up around it, but I remember my grandmother, I think, one Sunday morning... they used to have those movie marathon mornings with the old movies. So it would be like Gene Kelly day or Fred Astaire day or whatever day, and I think they had a marathon of Gene Kelly and Fred Astaire movies on back to back. Anyway, I think she sat me down in front of it when I was nine or ten and I just was hooked. I saw "Moses Supposes" in SINGING IN THE RAIN and I wanted those shoes. I was obsessed with those shoes, and my mom was like well we're not gonna get the shoes and like bang around the house and annoy me. M. Little sister was taking dance already, so I started taking dance and luckily I had a dance teacher in that little small town who was really an excellent dance teacher. Her name was Cherri Coleman. She said at the time, "You can't take anything unless you're taking ballet," which at the time was very shocking to a little ten year old boy from the dirt roads of Tennessee. But, I happen to be really good at all of it. Much to everybody's surprise I took to it naturally, and then of course tap. Tap was my happy place, and I just really took to it. Long story short, I started in a ballet company first and didn't perform in musical theatre until I was sixteen. I had done many, many ballets before. I had never spoken a word or sung a word on stage. And then I got kind of persuaded to auditioning for a show called BRIGADOON when I was about sixteen, I think, by a girlfriend at the time. She didn't get it and I did so that didn't go very well, but I got cast as one of the leads in this production of BRIGADOON. The character's name is Charlie Dalrymple, and he has two beautiful solo songs and a big dance feature so I discovered musical theatre and sort of got into it that way. When I did that show I was hooked. I knew I wanted to be an actor, but I also danced and I got to sing so musicals seemed like a good fit.
You got thrown in the deep end it sounds like with musicals going from nothing to all of a sudden you're a lead!
Right! I went from never doing one to having two solos. And, I remember being so nervous more about the singing than the dancing. The dancing was sort of second nature at that point. But two beautiful songs... BRIGADOON has one of my favorite scores. I remember singing "Come to Me, Bend to Me" was one of the songs, and then "I'll Go Home With Bonnie Jean" was the other song. Of course I also had to master a Scottish accent at the same time, so that was... let's just do everything at once.
I love what you said about your teacher telling you that you have to know ballet first. I've taken ballet off and on for the majority of my life and my teacher also told us if you ever want to learn anything else you have to know this first.
Right, and especially if you're doing like the old movies... the MGM... I call it ballroom tap. Like Fred Astaire and Ginger Rogers, that's not just hoofing around. They were very elegant. They knew how to hold their port de bras. Ginger Rogers always said you have to have all of this technique so that you can then make it invisible and look like you just rolled out of bed doing all this stuff. Ballet is the basis. Ballet is sort of the basis of all that, and it helps your body to know how to stay healthy in a way. I'm still doing it, so thank goodness that my teacher wouldn't let me do anything unless I was taking ballet.
So you were exposed to all of these classics when you were younger. What kind of kept you going down that road? You've done shows like ANYTHING GOES, 42ND STREET, AN AMERICAN IN PARIS... all of these super classic shows.
It's my newfound joke that I've told now, because I just closed a show out in LA about Jimmy Cagney's life, and I played Bob Hope in that. I'm playing the Danny Kaye role in this. I'm about to do SINGING IN THE RAIN where I'm playing the Gene Kelly role. So my joke is I only play old, dead, tap-dancing, Hollywood movie stars. That seems to be my career. I've played Fred Astaire in the original company of BACKWARDS IN HIGH HEELS, which is a story about Ginger Roger's life. I just did a play about Ethel Merman and Ray Bolger, so there's definitely a theme going on here. What I think it is, is first of all I think it has to do with my look. Everybody sort of says I look like I was born in another time period and have one of those Donald O'Connor classic kind of faces. And, also, I'm just drawn to the music. Cole Porter, Irving Berlin, Gershwin, Harold Arlen, Johnny Mercer... all of these great American songbook composers I'm just really... I feel like my soul just is sort of happy around that music. It's not just the dancing, I think, for me. But also I'm really, really drawn to that music and that incredibly... you know, when music was really crafted and structured, and the lyrics and the melody. I'm just really drawn to that. I think it's a good mixture of being in love with that type of music and also having a skill set that allows me to be a song and dance man. Plus I love the comedy. I love musical comedy. One of my favorite actors of all time is Gene Wilder. I just adore him, and those types of classic looking guys that can be a leading man, but they can also make you laugh. I'm drawn to those types of roles, which is pretty much the character I'm playing in WHITE CHRISTMAS. I said Danny Kaye because that's who played it in the movie. The stage version has its own script and it's its own sort of creature I call it. It's very much like the movie, but you sort of have to create your own character or you just wind up doing imitations of things and that always falls flat. The point of that is that I basically... Phil Davis is the name of the character in WHITE CHRISTMAS... it's basically just me being myself on stage. It's the easiest role I've ever had. So, yeah, I think I'm drawn to the music. The music is really what I love. Of course I would like to do... and, knock on wood I tend to work throughout the year doing a lot of shows that I love... but, I would love to do something out of... you know, I want to do like a LEAGALLY BLONDE and play Emmett or some of these roles that are sort of like the nerdy but loveable guy that sings sort of a pop score. I never get to sing any of that stuff, and I could do it, I just think you get a brand and people go oh ok Jeremy does song and dance man classic stuff, and you kind of have to sometimes break out of that brand and wave your hand in the air and go hey I can do other stuff, too!
Hearing you talk it sounds so much like how I grew up in what I used to watch and listen to. I never knew until I got older how weird it was for like an 8 year old to know who the Gershwins were. Did you ever have a moment when you were like oh wait other people don't know what this is?
Well yeah, definitely, especially in Tennesse where it's the country music capital and I'm enjoying "Fit As A Fiddle" or "Someone to Watch Over Me" or something like that. But, I did like other music like that. Also I love classical music. I listened to and fell in love with a lot of that of course being in ballet companies. That's another nerd factor of me growing up talking about oh I really love Mendelssohn's Twelfth Night and people are looking at me like I'm an alien. And I'm like sorry I also like George Strait, too.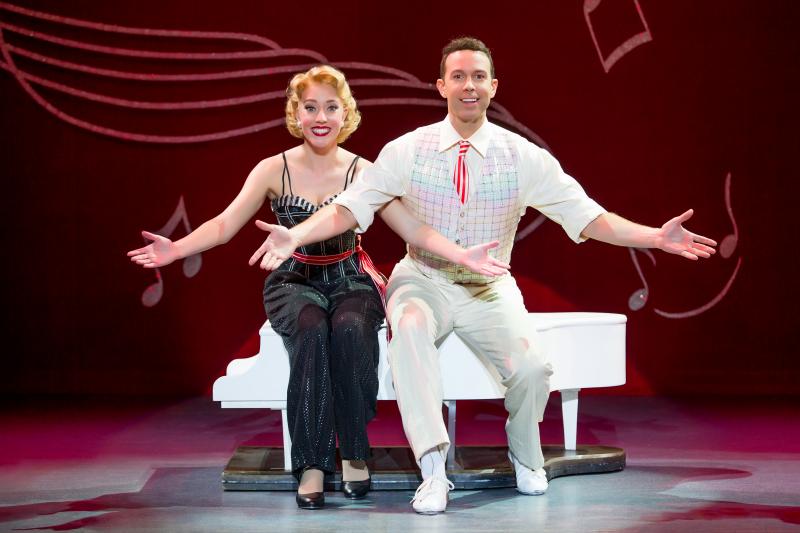 I know there's probably not many people who haven't seen the WHITE CHRISTMAS movie because I feel like it's on TV on a loop during this time of year, but for those who maybe don't know the story can you tell me what it's about?
Yeah, well I think the movie and the stage version, which are slightly different but still basically the same story line, there's two best friend pals: Bob Wallace and Phil Davis. They were in the Army together in World War II, and they get out. They had a general that they were scared to death of, but also adored. His name is General Waverly. They get out of the Army and they become song and dance men entertainers... on the Ed Sullivan Show... big time Broadway stars. Phil is sort of a happy go lucky skirt chaser they would call them... girl crazy... and, Bob is sort of the pensive, thinking about his career and no time for women, no time for relationships guy. Anyway, long story short, I trick him into going to this club. We meet the Haynes sisters, Betty Haynes and Judy Haynes, played by Rosemary Clooney and Vera-Ellen in the movie. And, of course, the dancing couple they always fall in love really fast. That's what the dancing does. The dancing takes you to ok we're already dating at the end of the dance. So we dance, we like each other, I trick Bob into going up to Vermont with the girls because they had a gig up at this inn. I trick him into going, and so we wind up going up there. We get to the inn, and lo and behold, our beloved General Waverly is actually the owner of the inn, which isn't doing that well. So, we come up with a plan to secretly try out our new show there to get a lot of business for the general because he's having some financial hardships. And then there's a big misunderstanding from our lady that plays Martha Watson. In the stage version there's a big misunderstanding because she thinks that by a phone call from New York, she thinks that Bob Wallace is actually trying to buy the inn, not save the inn. The big misunderstanding, we come to find out that it's not, everybody gets along, and it starts snowing... the end.
And it starts snowing and everyone makes up and it's happy!
You're right! And Bob and Betty get together when she finds out that he's not a scoundrel after all, that he's actually very honorable. It's different than the movie because in the movie there's... the stage version fleshes out these characters a little bit more actually. Martha Watson at the end... she has a much bigger role, she's played by Karen Ziemba who is just an incredible performer. She's a Tony Award winner. She was in the first musical I ever saw in New York when I was a freshman in college, CRAZY FOR YOU. I've always wanted to meet and work with her, and now she's here so it's just sort of dreamy. John Schuck, who has been around forever and been in everything, is the general. Also it's... I think sort of the theme of the show is... there's definitely a military theme because we're honoring this great general who served and got injured and left the Army and all this stuff... but, it's also about he... I think it summarizes the show at the end when the general sort of says, "You know, I know something yesterday I didn't know today" because he overheard Bob singing a little lullaby to his granddaughter. He says, "If you're worried and you can't sleep, count your blessings instead of sheep," which is Irving Berlin sort of magic. I think that's it. It's not a show... the stage version or the movie for that matter... isn't a show that's like a Christmas review where every song has to do with Christmas. It's basically... we don't even sing anything about Christmas until the end when it snows. That's what I like about it because it's not two hours of back to back Christmas songs, and it's that classic musical theatre formula with the song and dance guy duo and a song and dance girl duo that get together. And, the score is incredible and the arrangement for this particular show is incredible. I love singing to the arrangements in this show.
I want to ask you about the costumes because I know when you're dancing there are certain things that are easier to wear than others. When you see pictures of the production, the costumes are absolutely gorgeous. What's it like to dance in them?
Carrie Robbins is our costume designer. The costumes just absolutely pop. They look like you're in an old Technicolor movie, and they're just gorgeous. It's funny that you asked that because I also always joke that my autobiography will be titled "Dances in Wool." That seems to be my entire song and dance career because the wool suits look the best and that's what everybody had. But, dancing in them is a different story. I mean they move. They're made beautifully. There's a gentleman in New York... his last name is Scafati... and Scafati makes all the men's clothes basically for Broadway, and he's a tailor, and... men's clothes are a little different from women's, and he takes a lot of time. So everything is beautifully made, beautifully structured, but it does get kind of hot. I look at Judy... my friend Kelly, my dance partner Kelly [Sheehan] who plays Judy Haynes... we're dancing and she has on this skirt and like this little silk sleeve, and it's very lightweight and it's flowy, and I have on wool pants, a shirt, a tie, tucked in, with a wool jacket. And so she looks great after a number and I look like I swam there. I'm dripping wet. But, that's what you gotta wear, and I wouldn't have it any other way because the suits all look fantastic. But, it is funny... when we get to the different cities, my dressers... we all have incredible dressers... my dresser comes up to me and she has the box that travels with me and it's like this huge towel, an ice pack, and an electric fan, and they're all looking at me like what in the world are these?! And then we do the show once and they go oh I see. There's the Act II opener called "I Love A Piano," and it's a huge tap number. It's not in the movie. Bill and Judy begin it, we tap, and the girls come out, then the guys come out. It just keeps going and going. Not only do I have two microphones on, but also the pants that I wear have a microphone in them because we have tap mics on that run down... the wires run down our leg to the shoes. So I have three microphones on, but it's funny because the pants that I wear in that you would think oh those look lightweight because they're not wool, but they're actually... I think they're plastic with sequins or something on them. I don't know. So that's a pretty sweaty number, but again, it looks like a million bucks. I'm sure you'll get a chance to see the show. You'll love that number. That number tends to be... I mean if you don't at least smile when you're watching tap dancing something's wrong with you. It's definitely a huge tap number and people tend to really just love it.
Well it's so impressive and not many people do it anymore.
Yeah and people actually, I've had a lot of people ask are we actually tapping or are the taps recorded, and Kelly and I just look at each other and go well no we're actually tap dancing, and then I explain to them that we have tap mics... microphones in our tap shoes, which is why it sounds so clear. The sound is really great. You'll hear it. You can really hear the taps very well, so I guess people are maybe wondering why they can hear it so well. Is it recorded? Trust me, we are definitely making all the sounds ourselves... That's why Phil looks like he's sweating to death.
So this show has a Christmas theme to it, but the whole show doesn't revolve around Christmas necessarily. But since it's been labeled this Christmas classic, does it feel odd to do this show other times of the year?
I think that's why this is just a limited tour. We've been open... this is the fourth city, and then we close in New Orleans. That's our last city. We'll close on Christmas Eve... that Sunday which is kind of perfect. Some years in the past they've gone beyond Christmas Day. A couple years we even went into New Years, which is fine because it's still sort of the winter holidays I guess. But, yeah, it's never been done out of the season except I think in the original when they were putting the show together years ago at the Muny in St. Louis which is a summer season, I think they put it together there and sort of called it Christmas in July or something like that. It's definitely a holiday show. The title alone lends itself to only being like November and December. Luckily we've never had to figure that out. We've never had to do WHITE CHRISTMAS in March, which I don't think anyone would be ready to come see that even though it's not a show that's actually about Christmas. The movie title and the show title is called WHITE CHRISTMAS so I think that alone sort of limits you to doing the show only in November and December.
My last question for you is this... I believe that every show has a message or something we can learn from it. What is the takeaway from WHITE CHRISTMAS?
I think it's about friendship. I think it's about finding out... it's sort of 50/50. Some of it is oh my gosh the person I love has been in front of me the whole time. That's sort of a theme I think. But, like I said with the general, I think at the end of the day and at the end of the show the general's line really sums it up because he had been wanting to go back into the Army and wanting for something he didn't have. I think that's something that a lot of us do. We focus on the things that we don't have, which I think is sort of a human nature thing to do. But, I think at the end of the show, I'm so glad the show sort of wraps up with the general sort of discovering in front of everybody that he knows something today he didn't know yesterday, and like I said earlier, he learned a lesson from an Irving Berlin lyric which is, "If you're worried and you can't sleep, count your blessings instead of sheep." You'll fall asleep counting your blessings, which I think is in non-poetic Irving Berlin terms is basically be grateful for the things you have and stop pining for the things you don't, and you'll sleep better and be a happier person. I think when you do that, you're also a little more grateful for the people that you have in your life. I think that's a really, really good Christmas theme because we get wrapped up in... like me today shopping here... we're like commercial consumer addicts and we think about shopping all the time, and it's kind of like let's appreciate what we do have. I think that's what the takeaway is. And, I can't say it any better than Irving Berlin's lyrics. He's the best. He's like my favorite of all time. I think Irving Berlin... he wins and then a close second is Cole Porter. I just love Cole Porter.
WHITE CHRISTMAS opens at the Saenger Theater tonight! It's a wonderful Christmas treat for your friends and family, and it's sure to be a toe-tapping hit. Come out and support Jeremy (https://www.jeremybenton.net/) and the rest of the cast, and bring a little Christmas to your home a few days early this year. Visit http://www.saengernola.com for tickets and more information.
Related Articles View More New Orleans

Stories

Shows