BWW Review: MAMMA MIA! at Beatrix Theater Utrecht - Put on your lycra glitter outfit and channel your inner Dancing Queen!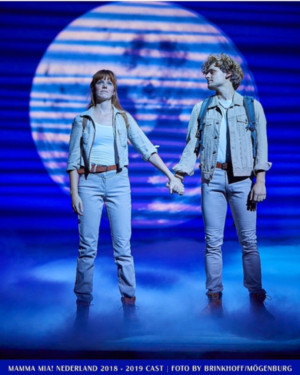 MAMMA MIA! is a musical phenomenon.
Since the premiere of the original show in 1999, 60 million people worldwide have seen 50 different productions performed in 16 languages.
In The Netherlands alone, this is the 3rd production of this show over the past 15 years.
Returning to their home theatre, Mamma Mia! has once again landed at the Beatrix Theater in Utrecht.
The plot is simple, yet intriguing. Sophie (Jolijn Henneman), daughter of Donna (Antje Monteiro) former lead singer of girl group Donna and the Dynamo's, is getting married to her boyfriend Sky (Soy Kroon). She wants her father to walk her down the aisle, yet she has no clue who her father is. So she decides to invite her 3 possible dads to her wedding on a Greek Island, where she was born and raised. Donna has no knowledge of this. When the wedding guests slowly arrive at the scene, the plot thickens...
MAMMA MIA! is a jukebox musical, using the hits of ABBA. It's a happy mix of well-known hits, such as Super Trouper, Dancing Queen and The Winner Takes it All.
The Dutch translation is in the skillful hands of Coot van Doesburgh, who succeeds in making the audience forget the original lyrics, making them fit flawlessly in the show.
Jolijn Henneman portrays an endearing Sophie. Her voice is angelic and she gives her character the vulnerability it needs. Her rendition of I Have a Dream (Ik Heb Een Droom), which is beautifully chosen as the epilogue in song, is a dream indeed.
Soy Kroon who plays Sky, is a great match for Jolijn's Sophie. His vocals are warm and soothing.
Returning to a big musical production, and rightfully so, is Antje, playing Donna. Her Donna is stubborn, yet strong. Stunning vocals and shining bright in the up-tempo songs. Her emotional take on The Winner Takes It All (De Winnaar Krijgt de Macht) is a perfect build-up of all past emotions, and Antje knocks it out of the park.
As for the lovely men of Donna: Sam (Dieter Troubleyn), Harrie (Zjon Smaal) and Bart (Emiel de Jong). They portray three very different men, but have one thing in common, their (past) love for Donna. Some scenes needed a little bit more chemistry with Donna though. It would take it to the next level, and the men deserve that.
Donna and her BFF's Tanja (Sophia Wezer) and Roos (Hilke Bierman) are delightful. Such a pleasure to see so much genuine fun on stage. Sophia as Tanja is just sheer joy. Very strong vocals and her solo Does Your Mother Know (Weet je Moeder Dat?) is one of the highlights of the show. Hilke has a great sense of comedy and charms the audience. The seduction scene with Bart (Emiel de Jong) is witty and smart.
Altogether Mamma Mia! is joy to watch. The ensemble is awesome, performing strong choreographies and supporting vocals. The music of ABBA is timeless and the cast gives a high energy performance, which will without any doubt bring a big smile to your face.
For more info: www.stage-entertainment.nl
MAMMA MIA! is now exclusively playing in the Beatrix Theater, Utrecht
Photo credit by: Brinkhoff/Mögenburg
Related Articles