BWW Review: Nashville Rep's All-Star Cast Shines in NOISES OFF
There comes a moment in Act Two (or maybe it's Act One - on second thought, maybe it's the second Act One, although it could be the third...) of Michael Frayn's Noises Off, now onstage at TPAC's Andrew Johnson Theatre, in which Martha Wilkinson comes onstage, hits her mark, cuts her eyes at another actor and with perfect timing reaches out to touch his arm, her expressive face showing every word the audience needs to hear, eliciting guffaws and applause as her reward.
In less than sixty seconds, Wilkinson delivers a master class in comedy that very few people are capable of and, once again, she proves why she's Nashville's gold standard of comedic actors. It's a brief moment, to be sure, but thanks to Wilkinson's impeccable timing and Rene Copeland's focused and razor-sharp direction, it's a highlight of the latest Nashville Repertory Theatre show now onstage at TPAC's Andrew Johnson Theatre through November 5.
While Wilkinson assays the play's starring role of British TV doyenne Dottie Otley, who's leading the British tour of a new comedy ("Nothing On," by the fictional Robin Housemonger) that's ridiculously plotted and portentously implausible, director Copeland surrounds her with a bevy of Nashville actors bent on delivering the goods in this latest local revival of Frayn's insane farce, which is fresh off its own Broadway revival.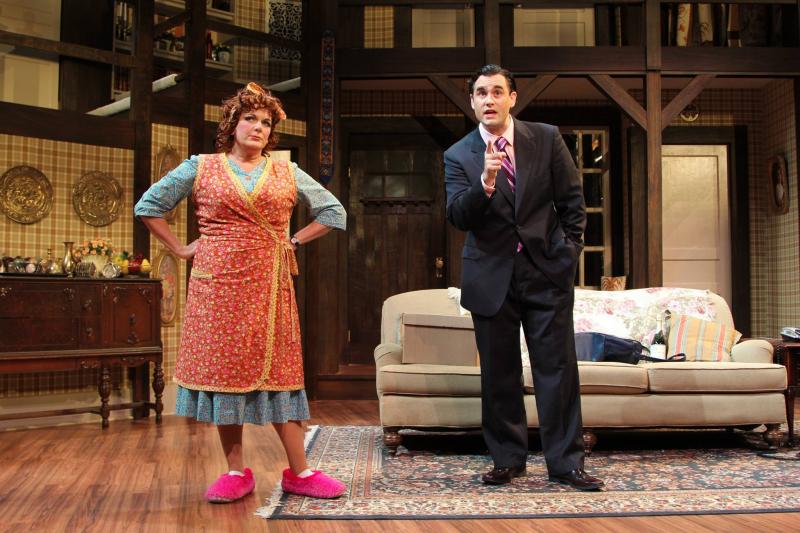 Frayn's superbly written script, which affords audiences a glimpse at the offstage and backstage goings-on that accompany the mounting of a new play - and take it from me, it has parallels to the openings of shows from Broadway to Bismarck to Bristol to the West End...and back again - and the hilarious hijinks and hyperbolic happenings that are just a part of a life in the theater. It's a world that the accomplished Copeland, Nashville Rep's producing artistic director, is very familiar with: Her own theatrical resume boasts a wide range of projects that run the gamut of creative expression and she's worked with legions of actors whose foibles and peccadilloes are the stuff of onstage/offstage farce-worthy legend, with enough drama (we would venture to guess) to fill the pages of multiple new plays/journals/film scripts and/or threatening letters of cease and desist.
It is essential, therefore, that for Noises Off to truly succeed, to transcend the stagebound constraints of words on a printed page, it needs a director who is brave and courageous enough to let her cast do what they do best (also, one who knows how - and perhaps, more to the point, who - to cast a show effectively) and to give them wings as it were, while retaining just enough control to prevent the proceedings from devolving into a sort of onstage bedlam. Madness is required for Noises Off, of course, but give actors an inch and they are likely to take a kilometer.
So, in a sense, Noises Off might be the dramatic equivalent of shooting fish in a barrel (well, sardines, to be precise) - an opportunity to gather a posse of favorite actors and set them loose on a cleverly constructed stage and see what happens. But as easy as it might seem, particularly while you watch the onstage/backstage action unfold in front of you (from the standpoint of the audience member), it requires a great deal of rehearsal and repetition to deliver a well-timed and wonderfully engaging night at the theater.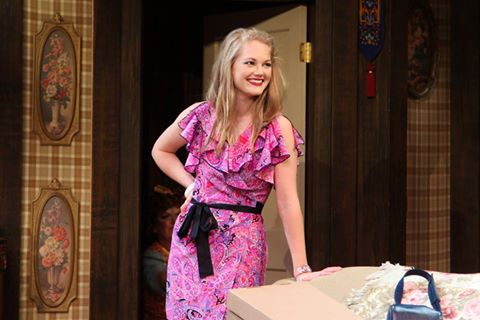 To that end, Copeland's cast represents an all-star, and we daresay overwhelming, amalgam of talents, the likes of which Music City audiences have come to expect from Nashville Rep: Wilkinson delivers what would be a star-making turn, if not for the fact that she's been a star many times over in her illustrious career, and Dotty Otley claims a special asterisk on her resume of confidently portrayed roles; Eric Pasto-Crosby is the demanding, unctuous director Lloyd Dallas, struggling to ride herd over this particular passel of cats masquerading as stage actors; Jenny Littleton is the cheerful backstage purveyor of gossip and onstage leading lady whose delivery of a line is like music to the ears of a tinhorn critic; the always charming Steven Kraski plays the easily distracted (and nosebleed-prone) Frederick Fellowes, who's paired with Littleton's BeLinda Blair as onstage marrieds, showing an uncanny ability to garner laughs; Jacob York effectively plays Wilkinson/Ottey's current paramour, a situation you know instinctively will be upended at some point as the company staggers from one theater in the hinterlands to the next, in hopes of shaping a potential West End smash hit; Brian Webb Russell, Nashville's journeyman actor too long off the local stage, plays the drunkenly doddering Selsdon Mowbray with the perfect blend of bemused ignorance and cheeky staginess, as only he can do; and, finally, Nashville theater's current "it" girl - the blonde and beautiful Morgan Davis (whose burgeoning resume in likely coveted by actors a generation older than the recent Belmont University grad) plays the vapidly vacuous - or is it "vacuously vapid"? You make the call, gentle reader - Brooke Ashton with disarming grace, proving what a fine actress she is by acting badly, very badly.
They are joined in this roller-coaster of a comedy (which Copeland directs at a breakneck pace that is, by turns, exhilarating and scary), by Chase Miller (fine as the production's jack-of-all-trades Tim Allgood) and Cori Anne Laemmel (as stage manager Poppy Norton-Taylor), who take on the tasks of all the crewmembers who ensure the curtain goes up in time (whether it's a three-minute call, two-minute call - or whatever the hell it may be, depending on the queue of old-age pensioners heading to the loo) in a continuing succession of venues that a touring production may call home.
The show's design aesthetic is remarkably subtle, while somehow over-the-top in the best conceivable way: Resident scenic designer Gary Hoff delivers yet another eye-poppingly gorgeous set (and it revolves, to reveal the seamy underbelly of the glamourous theatrical life), which depicts an ancient home in the English countryside that has been modernized with multiple bathroom suites, handy bedrooms and lodging for the live-in housekeeper: In short, he provides the requisite multiple doors to ensure there's much slamming and such to punctuate Frayn's hysterical lines and there is a staircase that provides the backdrop for pratfalls and a good deal of hopping around.
TrisH Clark's costume design dresses the actors beautifully, underscoring their onstage portrayals and helping them find their characters in the process. Kyle Odum's impressive sound design makes certain every line is heard and while the repartee, at times, is less than clever, it's undeniably funny and deserves to be heard in the furthest recesses of the Johnson Theatre.
Michael Barnett's lighting perfectly illuminates the proceedings and helps audience members to focus their eyes where needed. Finally, Evelyn Thornhill's properties design - which oftentimes is the unsung star of a Rep production - is particularly impressive in this prop-heavy show, which gives her the chance to display her own magic bag of tricks.
Noises Off. By Michael Frayn. Directed by Rene D. Copeland. Presented by Nashville Repertory Theatre, through November 5. At TPAC's Andrew Johnson Theatre, Nashville. Running time: 2 hours, 45 minutes (with two generous 10-minute intermissions). For details, go to www.nashvillerep.org.