BWW Review: Heightened Silliness Meets Speculative History: LORD GORDON GORDON at History Theatre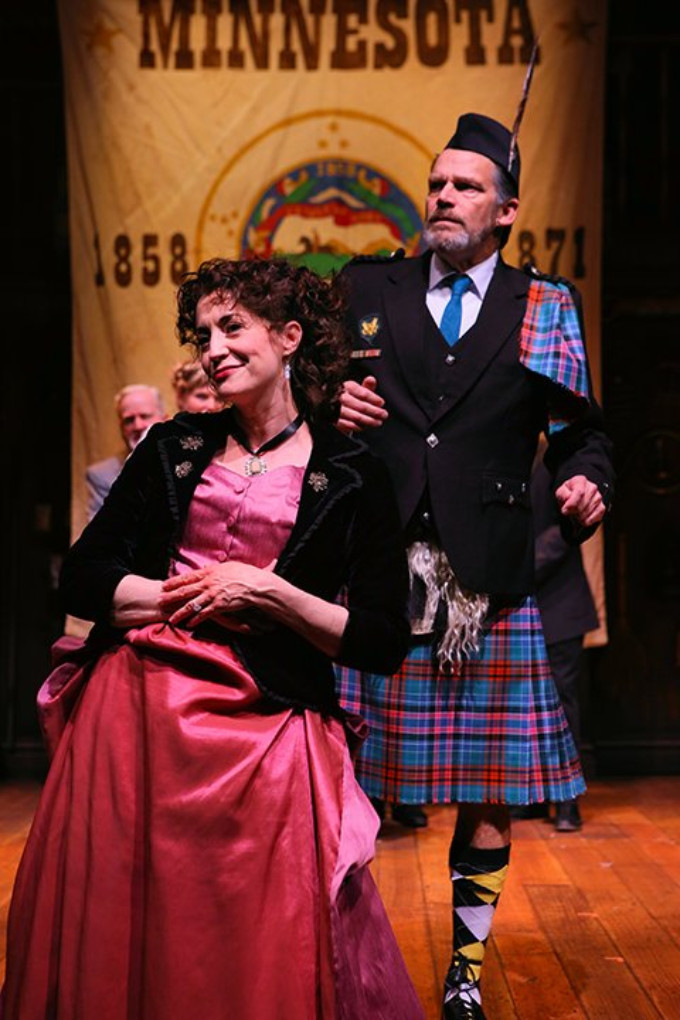 The History Theatre is having fun this month, with a world premiere by the popular writing duo known as 'Hatchling': Jeffrey Hatcher (book) and Chan Poling (music and lyrics). LORD GORDON GORDON is a romp of a musical in the tradition of con man stories like THE MUSIC MAN. It's based on little known true events in Minnesota and New York in the 1870s--events that eventually led to the fleecing of a bunch of investors (including the wealthy robber baron Jay Gould) and a Minnesota militia marching on Canada.
Yep, that's right. A gifted grifter showed up in Minnesota, kitted out in kilts and brogue, together with his ostensible valet. He managed to convince the local movers and shakers that he could bring 60,000 Scots to settle along the new railroad tracks, promising a boon to early investors in the scheme. Remarkably, those who fell for it included a congressman and a presidential candidate and Minneapolis' mayor at the time.
Lord Gordon Gordon, as he named himself, headed for New York with their dollars, where he proceeded to defraud none other than the infamous robber baron and railroad magnate Jay Gould, before escaping to Canada. The outraged Minnesota investors were ready to mount a war with the Mounties to get LGG back before...but enough spoilers.
The artistic team has a hoot of a good time with this obscure tale. The History Theater gave it a reading a year ago, and artistic director Ron Peluso has now staged it fully, as the final show in the theater's 40th season.
Students of the American musical with its relentless romance narrative will not be surprised that the authors of LORD GORDON GORDON have chosen to add a love interest to the plot--Sarah Belden--about whom there is scanty historical detail.
Of course, if I were a composer and I had a singing actress as fine as Jennifer Baldwin Peden in the role, I'd want to write a ballad or two for her as well. Do I buy that she would fall for the wicked Scot? Not really. Do I care? Not much.
Emotional verisimilitude is not the point here, nor is edification. This show is all about surprises, historical and theatrical: if you're feeling playful, you'll be entertained. If you want your theater to supply you with food for thought, or ask big questions, or wrestle with contemporary dilemmas, stay away. The show runs through June 3 in Saint Paul.
Poling has a way with lyrics, and some of the best poke fun at the unwritten WASP-y code of ethics known here as "Minnesota Nice." Early on, the company sings "Perhaps it's just a Midwest trait/The way that we self-deprecate!" And the Act 1 Finale, sung after the locals realize they've been had, is titled "Nice and Mad." Music director and pianist Andrew Fleser is tucked into a corner of the set where he can see and be seen. He ably leads his four man ensemble, which is out of view, through a variety of musical styles-tango, ballad, show tune, folk song, rag, and even an operatic parody. Musical arrangements are by Robert Elhai. Though there were a few balance issues with the sound the night I saw the show, most words come through clearly.
And the nine actors who carry all the speaking roles can all sing well, which this show really needs. Mark Benninghofen in the title role is a stylist, not a powerhouse singer, but he delivers. I found the romance between two leads who have been around the block a few times a refreshing respite from young lovers. Five more male actors (Adam Qualls, Gary Briggle, Jim Ramlet, Randy Schmeling, and Eric Morris) stay quite busy as a singing and dancing ensemble. But they are outdone by the two female ensemble members, Katie Bradley and Jen Maren, who morph from respectable Minnesota wives into whores, then judge and attorney, then presidents, then Mounties...and I lost track.
Director Peluso keeps the shenanigans moving briskly, aided by four teens from the Saint Paul Conservatory for Performing Artists. Dressed in black, with Lone Ranger style eye masks and derby hats, they manipulate all manner of props (designer: Abbee Warmboe) to help tell the story. My favorite was a pint sized train, though the Mounties' horses (full size and miniature) were fun, too. The stage area is kept open to facilitate small dance numbers by the company (choreographed by Tamara Kangas Erickson) but surrounded by a two level wooden rustic lodge. Set designer Eli Sherlock has packed the walls with a crazy assemblage of objects: kitchen implements, multiple musical instruments, sports equipment, model ships, trick portraits, and various versions of the taxidermist's art, including, in pride of place--you guessed it--a walleye.
Photo credit: Scott Pakudaitis