BWW Review: GUESS WHO'S COMING TO DINNER at The Guthrie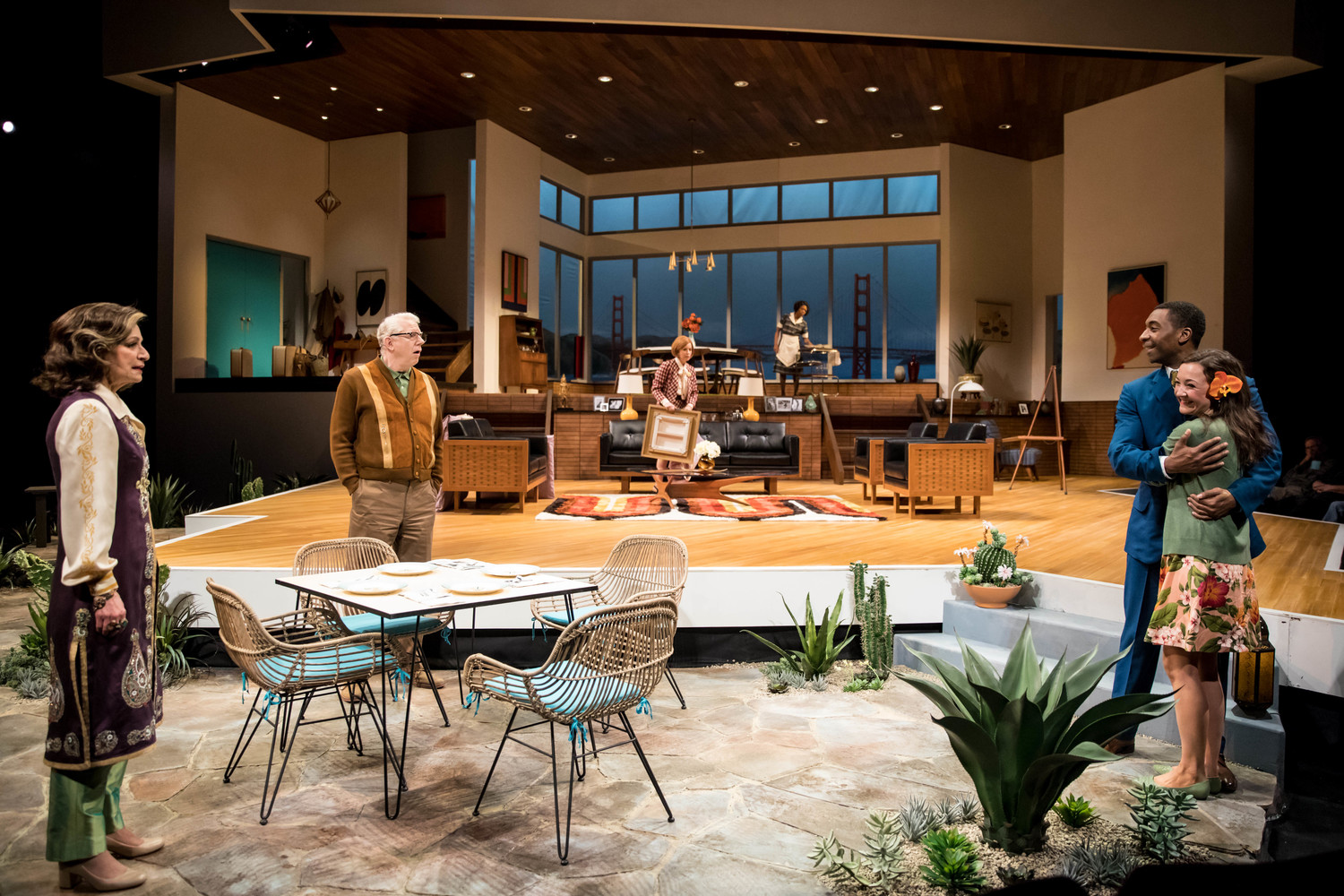 The Guthrie can be counted on to mount beautifully designed and lit shows on its two main stages, peopled by fine actors under crisp direction, and this production of Guess Who's Coming TO DINNER is no exception. Playwright Todd Kreidler, who worked for many years with August Wilson, penned this adaptation of the iconic screenplay from the famous movie from the 1960s. Staged on the thrust space, the production is also surprisingly funny, without demeaning any of the characters. It stands in dialogue with the Guthrie's last production on the proscenium stage: Danai Gurira's FAMILIAR.
Both plays are about a young interracial couple announcing their intent to marry to the woman's parents. Guess Who's Coming TO DINNER is set in 1967, when affluent white parents with progressive beliefs are forced to examine their implicit biases by the arrival of the black doctor with whom their daughter has fallen in love. FAMILIAR is set in the present, and the affluent family is first generation African-American, having immigrated from Zimbabwe, faced with a fiancé who is a white human rights worker. Both scripts use humor to defuse and defang tension across the actor-audience barrier.
I imagine that the artistic leadership at the Guthrie hoped to generate useful conversation in their subscriber base with the inclusion of both these shows in the main stage season, Cheek by Jowl. I hope that is happening, too. Certainly one take away message is voiced by the character of the black dad, in Guess Who's Coming TO DINNER: that our national dilemmas around race in some ways stay 'forever the same.'
The resignation inherent in that line resonates, even in the face of what is undeniable progress toward equality in some measurable ways. I've come to believe we cannot make much further headway with fundamental racial issues unless we attack them in concert with the interlocking systems of class and gender.
Guess Who's Coming TO DINNER takes on gender in some fruitful and subtle ways. Interspersed with ensemble family fireworks, Kreidler has written a smattering of same gender two person scenes in which a kind of genuine connection is forged across difference (racial or class). The two dads, different as they are, come from a generation well acquainted with the violence that can be visited on racial renegades, and both oppose the marriage initially because they fear for their kids. The two moms find an empathic link when they learn of a deep grief each has reason to feel. And--most tellingly--the black mom and the black domestic who works for the white family bond, initially through music that comes from the rural south where they both grew up. That joyous (and beautifully sung) moment is dashed at the appearance of the white mom, giving us a chance to see how intraracial solidarity so often goes underground in the face of the dominant culture. Each woman character speaks her mind in ways that change the course of events.
Both FAMILIAR and GUESS... are set in upper class households and the visual significance of that, in sets and costumes, is pervasive. Guess Who's Coming TO DINNER does address class obliquely. The Draytons, the white couple, live in a gorgeous split level home with floor to ceiling windows overlooking the Golden Gate Bridge. The place is decorated with modern art by identifiable mid-century American artists, in keeping with the fact that Christina Drayton (Sally Wingert, rather elegant and decisive here) owns an art gallery that counts San Francisco's richest people as clients. Her husband Matt Drayton (David Manis, whose significant comic chops never overwhelm his character's fundamental anguish) is a Type A newspaper publisher with progressive leanings who is on doctor's orders to slow down.
They employ Matilda Binks, known as Tillie, played commandingly by Regina Marie Williams. She has the first entrance and the last moment in the show and is far more central than her status as a domestic might suggest. She's been with the family for years, and has the authority to order Matt about. She also provides a tidbit of humanizing information about Matt to Dr. John Prentice (a credible JaBen Early) and the audience that is crucial. At first emphatically suspicious of the doctor's motives, and unafraid to tell him off, she's also the first to convert to supporting the young couple; it's clear that she has an other-mother connection to young Joanna (a charmingly girlish Maeve Coleen Moynihan). Still, each member of the family feels entitled to order Tillie about, assuming that she can stay beyond her usual hours, oblivious to the fact that she has a life outside of the one they see.
And even though Dr. John Prentice is a well-known expert on tropical diseases with a book to his credit, and thus has risen into the top ranks of the professional intelligentsia, his parents are hard-working upper middle class at most. John Prentice Sr (played well by a fulminating Derrick Lee Weeden) is a retired school administrator who worked weekends as a night watchman to give his son the opportunities that led to medical school and his distinguished career. His wife, Mary, is ably played (and sung) by Greta Oglesby. Largely silent in her early scenes, she is an alert and wary listener. When the time comes it is her passionate defense of love as both personal miracle and potentially radical social action that leads to what reconciliation is achieved.
Young Joanna Drayton is described by her fiancé accurately as a 'radical optimist.' It's hard not to assume that while some of this results from inborn temperament, it survives into her 20s in part because of the insulation from trouble that her family's wealth and position have afforded to her. By contrast, Dr. Prentice admits at one point that he has forged his distinguished career overseas in part because he knew he would face discriminatory barriers here in the United States.
There are two other characters in the play, beyond the central families, who serve to define poles of better and worse racial attitudes. Better is represented by Monsignor Ryan (the affable Peter Thomson), longtime friend of the Drayton's, an Irishman fond of tippling and golf but firmly on the side of racial reconciliation and loving kindness. Worse is represented by Hilary St. George (Michelle Duffy, in the most thankless of the available roles), Christina Drayton's business partner in the art gallery, whose racist and classist attitudes are just barely obscured by her superficial good manners.
All the actors must navigate no fewer than six sets of steps or stairs on the terrific set, designed by Matt Saunders. This provides some of the flavor of French farce, and also ever present peril in an ostensibly safe domestic setting. That home can be a prickly place is underscored too by the cactus garden that surrounds the living space. And one of the script's best lines goes to the elder Prentice, who leaves the gathering in a huff at one point, but returns some time later, having realized that as a black man sitting in a car parked on the street in this neighborhood, he is a likely target for the local police. Twin Cities audiences know too well that this is so.
This script and production do not attempt to actively challenge our social status quo. They are neither particularly inspirational nor aspirational. Instead, they attempt to hold up a mirror to a particular segment of the theater going public (white wealthy folk) and give them a chance, from the safety of their seats in a dark theater, to contemplate what they would do if questions of racial equity came directly home to roost rather than appearing on the news, at what seems a safe distance on most days. Is that enough? I wonder.
Guess Who's Coming TO DINNER plays at the Guthrie through May 27.
Photo credit: Dan Norman
Related Articles View More Minneapolis / St. Paul

Stories

Shows