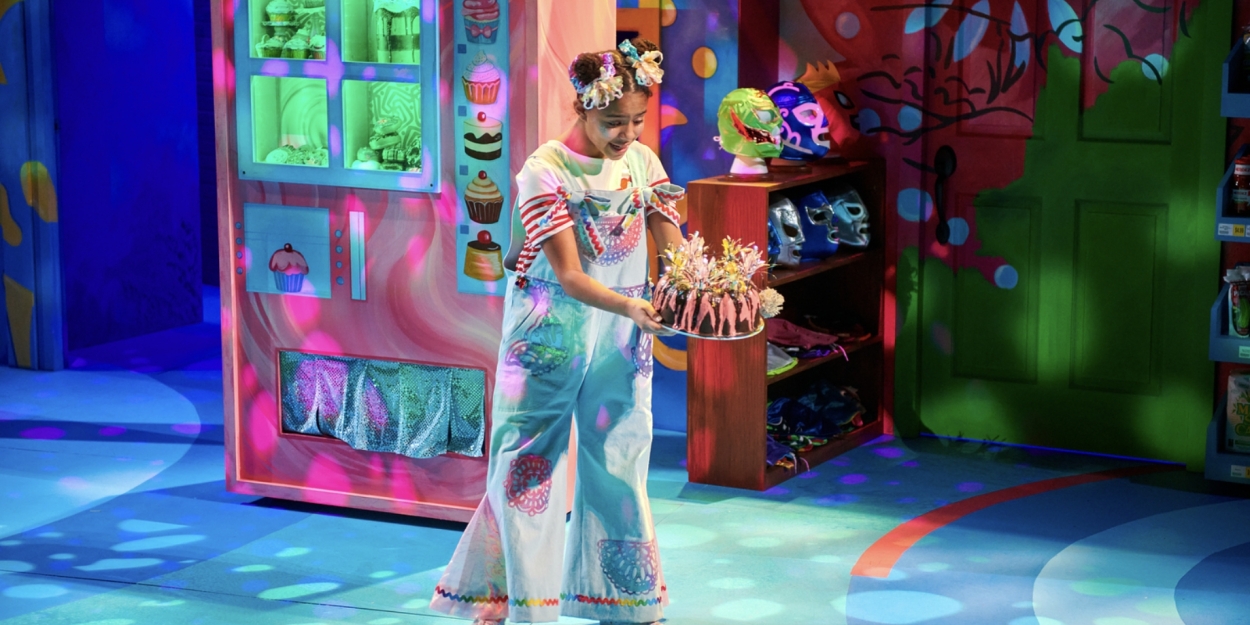 Review: CARMELA FULL OF WISHES Charms Little Ones at First Stage
A Colorful Play for Children 3+
Now playing at Milwaukee's First Stage is Carmela Full of Wishes, a play based on the picture book by Matt de la Peña and adapted by Alvaro Saar Rios. Directed by Michelle Lopez-Rios, it's a show geared toward ages 3+, which was particularly exciting for me. My young niece is just shy of three years old, but I decided to take my chances and make Carmela her first-ever theater experience. Spoiler: she did great, but more on that later.

Carmela Full of Wishes is the story of a simple day in the life of our protagonist, Carmela. But the day in question is actually Carmela's 7th birthday! And her birthday wish has already come true: she's finally old enough to join her big brother as he runs the family errands in their neighborhood. En route to visiting the laundromat, bodega, key shop, and more, Carmela finds a lone dandelion sprouting from the sidewalk. Her brother tells her to make a wish before blowing the fluff away. During the entirety of their little journey, Carmela imagines the different things she might wish for. Which will she ultimately choose?

Upon entering the theater, we're greeted with colorful, energetic set design by Regina Garcia. Striking primary colors swirl from the stage floor to the walls with a telephone wire suspended above, from which dangle a pair of bright red Converse sneakers. It was fun to point out the various points of interest in the set and see what my niece also spotted. She liked the painted doors best.

There are two young casts for Carmela Full of Wishes: the Nieves Cast and the Paletas Cast. We enjoyed the Paletas Cast this past Saturday afternoon. Making her First Stage debut is sixth grader Isabella Dixon-Ruiz as Carmela. She charms from the get-go and, as our primary narrator, confidently keeps things running smoothly -- from her lines to her scooter skills.

Carmela's costume, designed by Jazmin Aurora Medina, is particularly eye-catching: overalls, but embellished with stenciled pink and purple butterflies and shiny flared bell bottoms that even my niece called out in delight. with her hair done up in a pair of space buns, her whole look completes Carmela's wishful, sunshiny personality.

The other lead youth performer in this play is Carmela's Big Brother, played in the Paletas cast by 15 year-old Steven Cuevas Ruiz, who is also making his first stage debut. I particularly like his artist bio in the online show program: "This is my first show here, and I have loved every second of it. It is hard work, but it pays off in the long run." Cheers to Ruiz -- his hard work is indeed paying off!

My favorite Big Brother moment from Ruiz is during Carmela's dream sequence: she imagines Big Brother is actually over-the-top nice to her, rather than always giving her a hard time. It's a cute scene that snagged lots of laughs.

In the adult cast, we see First Stage favorites Karen Estrada as Mami and Parker Muñoz as Papi. Estrada is a particular delight, not only playing Mami with larger-than-life, huggable warmth, but a handful of other small parts like an old woman and the bodega owner who has misplaced her cat. Each of these small moments really let Estrada's natural good humor shine. Also note: the fluffy cat puppet, designed by Danielle Jordan, is a total crowd pleaser. As for Muñoz, he gives us a heartfelt Papi in a touching dream-sequence song and dance with his little Carmela.

Other show highlights come from props and staging choices. From a field of orange flowers dancing around Carmela to conversations with her fuzzy dandelion to a flurry of bubbles representing hundreds wishes, these moments of stage magic are just that: magical.

And the seemingly ordinary -- laundry day, grocery shopping -- speak to young kids in a surprisingly special way. These are tasks any child can relate to and even get excited to participate in, once old enough. At least, I know my little niece sees the allure in things like washing machines, just like Carmela. In short, this story nicely blurs big imagination and the simple realities of daily life in a way that's sure to resonate with lots of children.

On to the crux: How did a child of almost-three do at Carmela Full of Wishes? She sat nicely on my lap, mostly observing quietly, perking up at times, and saying "meow!" aloud when she first saw the cat puppet. The show itself is about an hour long with one intermission -- the perfect pacing. At the end, I asked if she had fun, and I got back a big grin and giggle in response. A successful first theater outing? I'd say so. All thanks to First Stage and Carmela Full of Wishes.