BWW Review: THE CONSTRUCTIVISTS Bring Gruesome & Gripping Storytelling to Milwaukee with THE PILLOWMAN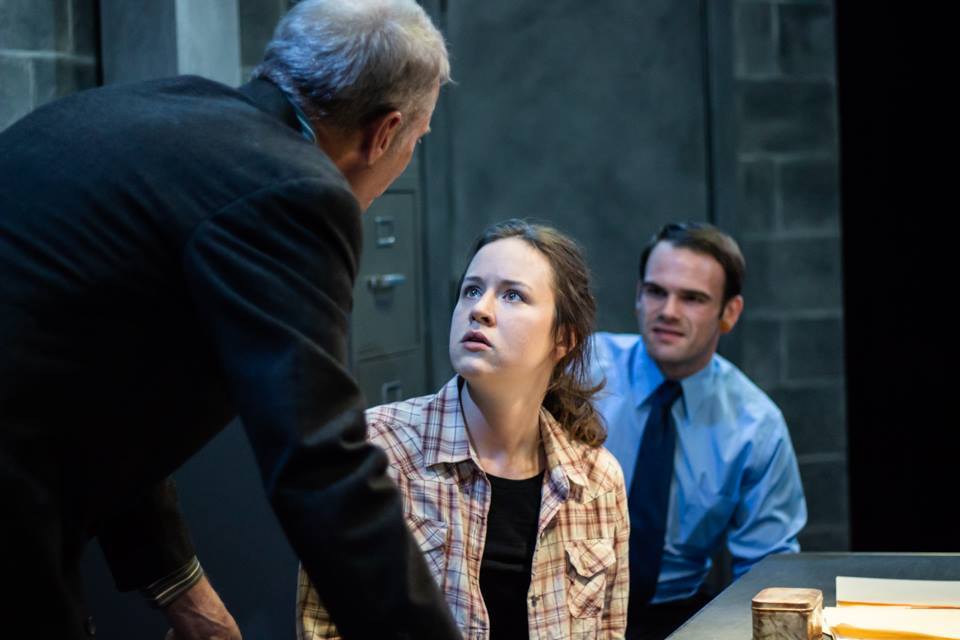 "Don't be afraid to laugh," we were told as took our seats at the Underground Collaborative. The tiny theater is located in the basement of the Grand Avenue Mall - an appropriate vibe for work put on by The Constructivists, a company whose mission is to create viscerally-driven theater, "exposing and exploring the complexity of human nature and the perils it creates." Martin McDonagh's The Pillowman is certainly fraught with peril and, despite the invitation to laugh at this blackest of so-called comedies, rather limited inclinations to do so. This play is as dark and gruesome as can be; it's also two hours of phenomenal storytelling.
Set in an unknown totalitarian state at an undisclosed time, McDonagh's play centers on a writer named Katurian who is in police custody under suspicion of murder. There have been a handful of children recently killed in town, and each death matches the despicable and deadly details in Katurian's writings. Katurian's slow-witted brother, Michal, is also in custody as a suspected accomplice.
What sets this Constructivists version immediately apart is that their production of The Pillowman features a female Katurian - a role that is originally male. Director Jaimelyn Gray even sought the permission of the author to cast Rose Grizzell in the leading role. "With an open audition process, we seek to find the best actor for every role," Gray says. "I'm sure this won't be the last time we'll have to ask a playwright for permission to cast a man in this role, a woman in that role, or a non-binary actor in such and such role."
The Pillowman is a thought-provoking, and conversation-starting play in its own right, but bring a woman into Katurian's shoes and those conversations become next-level. One might consider Katurian's ruthless treatment from good-cop Detective Tupolski (Jaime Jastrab) and bad-cop Detective Ariel (Rob Schreiner): How does a female Katurian inform our ideas of violence against women vs. violence against the accused? Is it more or less surprising to learn that vividly-written tales of torture, abuse, and murder flow from the pen of a woman, rather than a man? Sure women in literature can be evil, but rarely are they this twisted. And in reality, such serial murders are, by a landslide, committed by men.
A female Katurian also affects relationship dynamics throughout the play. The nurturing relationship between Katurian (Kat) and Michal is less surprising when staged as a woman protecting her little brother. It would be curious to see this same mothering intention portrayed by a male actor, as originally intended.
But with Logan Milway as Michal - somehow simultaneously sweetly endearing and sadly sickening - paired with Grizzel's Kat, it's easy to buy into the Constructivists version of The Pillowman. These two play wonderfully off each other, as at home in their shouting matches as they are in their moments of tenderness. Similarly, the detective duo played by Jastrab and Schreiner are good for eliciting everything from timid laughter to hold-your-breath tension. Gray has assembled a great cast.
When all is said and done, this isn't a play for the faint of heart or the overly squeamish. It's more so a good fit for demographics such as: people who are big into murder podcasts and theater lovers who find joy in incredibly riveting storytelling. Stories, gory though many of them they may be, are at the heart of The Pillowman, as is the question of legacy and the act of dying to escape the tragedy of living.

If death is iminent for us all, does it matter when we die? And what's more important: Life as we live it or what we leave behind? McDonagh will leave behind a macabre masterwork in The Pillowman, and the Constructivists company can live easy in the now, secure in the knowledge that they're doing his work justice.
Related Articles View More Milwaukee, WI

Stories

Shows