BWW Review: Rollicking ALL NIGHT STRUT Brings Music & Nostalgia to the Milwaukee Rep's Stackner Cabaret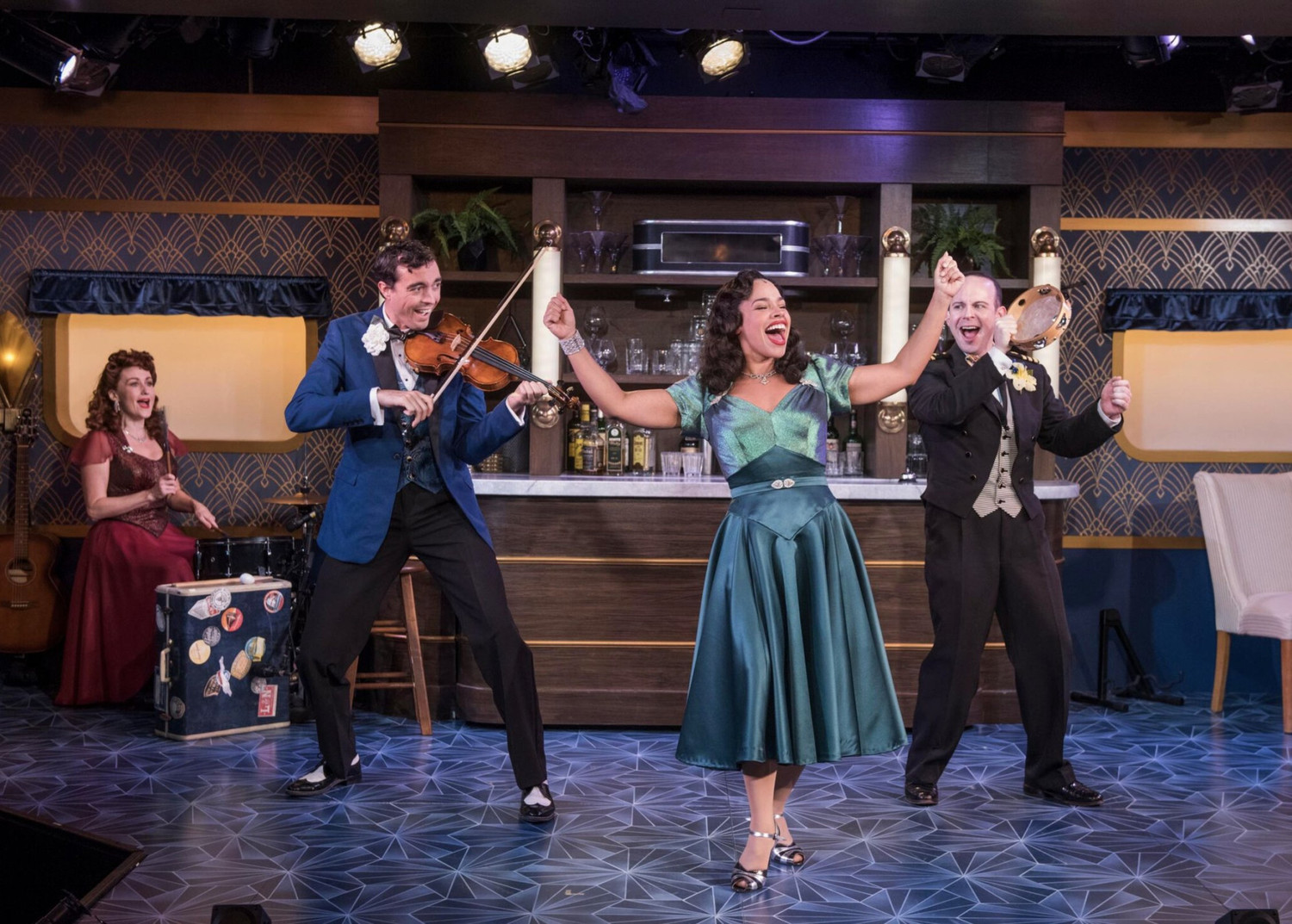 On Opening Night in the Stackner Cabaret, a few minutes past show time, the clatter of silverware slowed and chatter turned to murmurs of anticipation. Out of the blue came an ear-piercing train conductor's whistle - the first word of welcome in The All Night Strut.
The scene is set like a glamorous mid-century dining car, the likes in which one might expect to find Bing Crosby crooning about snow. Instead, the conductor snags some laughs before taking his place at the upright piano in the corner. First stop: Chattanooga!
Enter the remaining four in this cast of five, their bags packed for a journey through America's songbook of the 1930s and 40s. Think this repertoire could spell a snooze fest? Think again. This is an upbeat, lighthearted musical revue that flows breezily through nearly thirty tunes from "Minnie the Moocher" to "White Cliffs of Dover" to "As Time Goes By." For a healthy dose of nostalgia-and a reminder that these are songs worth remembering - you couldn't ask for a better setlist.
You also couldn't ask for a better, more-talented cast of five. Each artist is a triple threat, belting and boogying while running through a slew of instruments: piano, stand-up bass, violin, guitar, trombone, sax, trumpet, and drums - plus fascinatin' rhythms courtesy of snapping fingers and tap shoes.
The Conductor, Jonathan Spivey, often holds down the piano and trombone, but breaks for the likes of "Java Jive," a surprisingly standout, cheeky little number in Act One. At times, it's these more obscure tunes that sneak up and delight you. If you haven't heard "A Nightingale Sang in Berkeley Square," Brian Russell Carey's acoustic version is the only version you'll need. His voice has a lovely easiness to it, as does Nygel D. Robinson, who soulfully croons "Brother, Can You Spare a Dime?"
For the ladies, Kelly Faulkner returns to the Cabaret to do what she does best: sing her heart out. From the terrifically fast-paced "In the Mood" to the tender, tear-jerking ballad "I'll Be Seeing You," Faulkner's range, both in music and mood, shines. Katherine Thomas rounds out the quintet with deep, effortless warmth in her voice. Oh the miraculous things she can do when she sings! Thomas' rich tones are an absolute treat; her presence, radiant.
The All Night Strut does a good job of giving each of these marvelous artists a moment in the spotlight, but it's just as entertaining to see them play off each other. Act Two's "Beat Me Daddy, Eight to the Bar" is a frenzy of on-stage chemistry: All five performers crowd around the piano, taking non-stop turns playing solos, duets, and trios, while the upright spins for all to see the flurry of fingers tickling the ivories. At one point, Robinson and Spivey hold Carey's legs aloft as he plays-like a keg stand, piano style.
As with the whole of The All Night Strut, it's just plain fun. Moving into the holiday season, isn't that what we crave from live theater? This musical revue boasts the right kind of energy for the whole family-parents, grandparents, and even youngsters who might be primed appreciate that music is a snapshot in time. These melodies and lyrics captured the mood of a war-time nation, and whether those songs hold up on their own merit, or whether nostalgia plays a part, it's a pleasure to hop on board and visit the past through the songs of The All Night Strut.
Photo credit: Michael Brosilow
Related Articles View More Milwaukee, WI

Stories

Shows