Interview: Chris Hoch Says JAGGED LITTLE PILL at Wharton Center is Helping People Be Seen Across the Country
See the Tony and Grammy-winning musical in East Lansing, January 31st to February 5th only!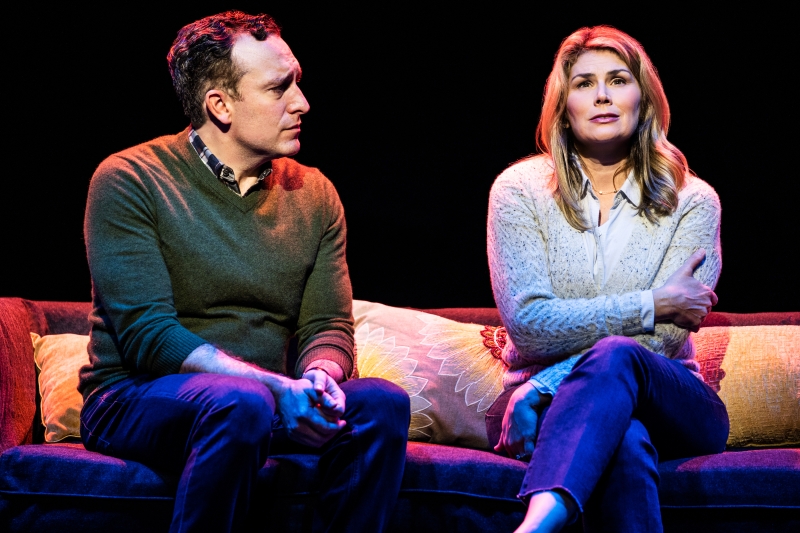 "You Oughta Know" that the 2019 Broadway musical Jagged Little Pill is making its Michigan debut at Wharton Center in East Lansing from January 31st to February 5th. This musical, with a score based around the iconic '90s album of the same name by Alanis Morissette and a script by acclaimed stage and screen writer Diablo Cody, ended up receiving 2 Tony Awards in addition to the Grammy Award for Best Musical Theater Album.
BWW Michigan had the pleasure of speaking with Chris Hoch, who plays Steve Healy in the North American tour of Jagged Little Pill. Read our conversation below!
---
BWW Michigan: Can you give us a brief overview of yourself and your career in theatre?
Chris Hoch: [My bio] pretty much says it all. I graduated from Carnegie Mellon and did all of those things [in my bio] and now I'm touring here.
I've haven't seen Jagged Little Pill yet, though I know the music well. Can you summarize the story for other people who haven't seen it?
It's a story about a woman, Mary Jane Healy, her family, and her extended family. Not to give too much away, but I think they try to make themselves the perfect family and how they eventually find a new definition of what that is.
Can you tell me about your character and the role he plays in the story?
Steve Healy, who is Mary Jane's husband, is just trying to figure out what's going on with her, what is happening with the rest of [his] family and trying to keep it together in some way.
You have a significant background in theatre. What initially drew you to Jagged Little Pill when the opportunity came your way?
Well I auditioned for it a couple of times. I've always really liked Alanis Morissette. I loved that album when I was a kid. And I also was, and am, a big fan of Diablo Cody; I read the [Jagged Little Pill] book, I was a big fan of Juno and all of her other stuff too I [also] really love. I also am a big fan of Diane Paulus, [the director].
What has been the most rewarding aspect of telling this story across the country so far?
It's really great how the audience responds. We tackle a lot of issues in the show and it's great when it helps someone, which it seems to do a lot. I think a lot of people who don't usually feel seen in theatre are seeing themselves in the show, which is lovely.
The show utilizes the iconic Alanis Morissette album, Jagged Little Pill, as its primary score. What is your favorite song from the score to sing or watch someone else sing?
I think my favorite is probably "Uninvited," which is actually not from the album Jagged Little Pill - it's from the soundtrack of the movie City of Angels. I think Heidi Blickenstaff just sings the hell out of it and it's also staged and choreographed really well. That to me is the high point of the show.
Do you watch that from backstage?
I do, since I have an entrance after it. So I get to watch her. In terms of artistry, that seems to be, for me, the apex of the show.
As you mentioned, Jagged Little Pill tackles a lot of heavy and important topics. How do you prepare to do that every night?
I just try to focus and leave myself open to my fellow actors and to the script. Everyone has their own process, but I try not to whip myself up into a state because then sometimes you push and you make it about yourself as opposed to your scene partners and the story. I try to get into a relaxed kind of place where I can take in the stimuli that I'm getting and communicate with my fellow actors.
On the flip side, how do you wind down after doing a show?
It does take a little bit, just because it's kind of odd when you're working at night. For most people working 9 to 5, it would be kind of strange to just go to sleep at 6. As I get old in this business I've learned to be able to power down and shuffle it off pretty quickly.
Is there anything else people should know before coming to see the show in East Lansing?
I think if you take the ride you're going to really enjoy it.
---
Tickets for Jagged Little Pill are on sale now at Wharton Center's official ticketing outlets: online at whartoncenter.com, at the Auto-Owners Insurance Ticket Office at Wharton Center, or by calling 1-800-WHARTON.
To keep updated with Jagged Little Pill as they travel around the country on their national tour, visit their website at jaggedlittlepill.com, and follow them on Twitter at @jaggedmusical, on Instagram at @jaggedlittlepill, and on Facebook at facebook.com/jaggedmusical.
Note: This interview has been edited for clarity.