Gay Men's Chorus Of South Florida Will Perform Co-Commission Song Cycle SONGS OF THE PHOENIX
The performance is on Friday, March 24, 2023, at 8:00 pm in the Lillian S. Wells Hall.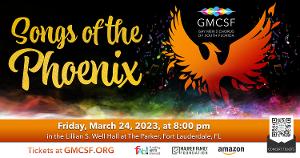 The Gay Men's Chorus of South Florida (GMCSF) joined forces with the San Francisco Gay Men's Chorus and other choruses nationwide to co-commission a world premiere song cycle entitled Songs of the Phoenix, curated by Broadway Composer Andrew Lippa. The commission includes an unbelievably diverse group of talented artists, encompassing various musical styles and multi-generational groups. In addition to original songs by legendary writers, the commission includes an unbelievably diverse group of talented composers, encompassing a dazzling diversity of genres, cultural backgrounds, gender identities, and sexual orientations. This concert is about tenacity, unity, and triumph! Songs of the Phoenix is sponsored in part by Amazon, The Maurer Family Foundation, and Funding Arts Broward.
Tickets are now on sale at gmcsf.org and through Ticketmaster. For more information on GMCSF, visit their website gmcsf.org or call 954-763-2266, Monday through Friday, 10:00 am to 6:00 pm, EST.
About: The Gay Men's Chorus of South Florida (GMCSF) brings song to the community through large-scale, mainstage concerts in high-profile venues, community-based engagements, and volunteer projects. GMCSF has grown to over 170 members in our short history and has become the largest gay men's chorus in the southeastern United States. Under the direction of Artistic Director Gabe Salazar. The Chorus has earned a strong reputation for excellence, garnering prestigious invitations to perform throughout the South Florida region. Sponsorship and advertising opportunities can contact the Director of Marketing and Sponsorship, Edward Otto Zielke, at marketing@gmcsf.org.
Mission: We sing so that LGBTQ+ people can live their truth through quality music experiences that inspire audiences, open minds, change hearts, and affirm our common humanity.
Vision: A diverse world united.